R-silaxin's Track Build Thread
---
Well, here goes... Started my teardown today... For Sale Thread is up for all street parts...
Here's my parts list I have planned to price and purchase over the next week...
FIRST PURCHASES
1. Bodywork- Armor Bodies ***
2. Windscreen- Hotbodies***
3. Brakelines- Fren Tubos***
4. Case covers/Sliders- Woodcraft ***
5. Tank Sliders- ETI Kevlar sliders ***
6. Tank Grip- Stomp Grip ***
7. Rearsets- Woodcraft sold for Vortex ***
8. Exhaust Slider- Advanced Performance ***
9. Chain- DID ERV race***
10. Battery- MOTY 8 Cell ***
11. Fuel Module- Bazzaz ZFI and AFM ***
12. Shark Fin- Woodcraft ***
13. Damper- Ohlins sold for GPR V4 ***
14. Levers- Shermoto ***
15. Stahlbus Oil Drain Plug- Agg Racing ***
16. SBK Reservior Kit- Agg Racing ***
17. Smog Block Offs- Agg Racing ***
18. Angled Valve Stems- Agg racing ***
Fluids- Oil: Motul 300V 10W40, Coolant: Engine Ice, Brake Fluid: MotulRBF600 ***
SECONDARY PURCHASES
1. Clip ons- Woodcraft ***
2. Grips- Motion Pro Dual Compound ***
3. Throttle- Motion Pro Revolver***
4. Tires- Pirelli Supercorsa SP's***
5. Tire Warmers- Moto D Racing
6. Gear Indicator- Agg Racing***
7. Lap Timer- XT mini ***
8. Tire Pressure Guage- Agg Racing
9. Radiator Guard- Cox Racing ***
10. Suspension- Ohlins
Tertiary/Additional Purchases
1. Stahlbus Speed Bleeders-BAUCE Racing***
2. Geartronic 2 Gear indicator***
3. Too much to remember...
***= PURCHASED
Here's a few pics after I finished tonight... Going to finish the teardown tomorrow morning... Then start pricing around, and start ordering parts!
So siked! Chime in with your opinions/tips... Any advice welcome! This is my first build/track season...
---
RIP Richard Bishop. You're a great friend and someone I will never forget.
MY TRACK BUILD THREAD
http://www.r6-forum.com/forums/showt...05#post2428805
MY TRACK DAY THREAD
http://www.r6-forum.com/forums/showt...655&highlight=
MY YOUTUBE CHANNEL
https://www.youtube.com/user/adam2cox
MY FACEBOOK
http://www.facebook.com/profile.php?...79&ref=tn_tnmn
MY XBL GAMERTAG
: AmericanGingers
---
Last edited by R-Silaxin; 01-06-2013 at

10:12 PM

.
Re: R-silaxin's Track Build Thread
---
Good start! In for updates
---
RIP Matt (Ghost R6). You will be greatly missed. Be smooth and the rubber turning till we meet again.
Quote:
"I refuse to tip toe through life to arrive safely at deaths door".
Quote:
There is more to squidliness than just your gear.
Build Thread
Re: R-silaxin's Track Build Thread
---
I like that shelf behind your bike haha. Looks like a nice place to store your gear and stuff. Anyways, glad you finally started to officially tear down your bike and rebuild it! Nice looking list you have there. Let me know if there's anything I can help you with!
Adam
---
CMRA #620
Wreck It Pandas #68
My 2008 R6 race build
Re: R-silaxin's Track Build Thread
---
Quote:
Originally Posted by
ChiefSmokeDawg
View Post
That go kart looks FUN! I can't wait to drive that bitch into your pool hammered when I visit!!
:
LOL Chief if you really do visit, let me know. I'll make the drive out for SURE
---
CMRA #620
Wreck It Pandas #68
My 2008 R6 race build
Re: R-silaxin's Track Build Thread
---
I'd go with the Hyperpro damper
---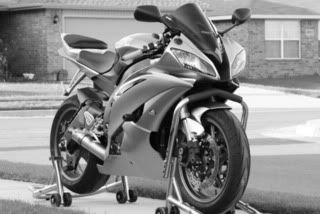 Full Titanium Sato GP
Woodcraft Clip-Ons
Graves Smog Plates
Fren Turbo Type 4's
AggRacing Rear Wave Rotor
Pazzo Shorties
Bazzaz ZFI + AFM

Future Mods:
Track time +++
Brembo RCS
HyperPro RSC

Currently Active Users Viewing This Thread: 1

(0 members and 1 guests)