07 R6r turbo
---
I know it's been done once or twice but I plan on putting a turbo (off a 2.0) on my r6r. I know the turbos a little big and I know my r6 already has a relatively high compression ratio. I don't plan on racing or stunting the bike but I do think a turbo r6 would be the shit. So far I have a Garrett turbo w/waste Gate turbo xs blow off valve odds an ends piping. I will fabricate the headers myself. I also plan on getting turbo timer, controller meth/water injection, and possibly an external waste gate. Looking for any info or help not looking to answer why I don't just get N r1. as far as the turning idk if my best option is power commander and auto tune or haul it to the shop and have them dyno it.
Re: 07 R6r turbo
---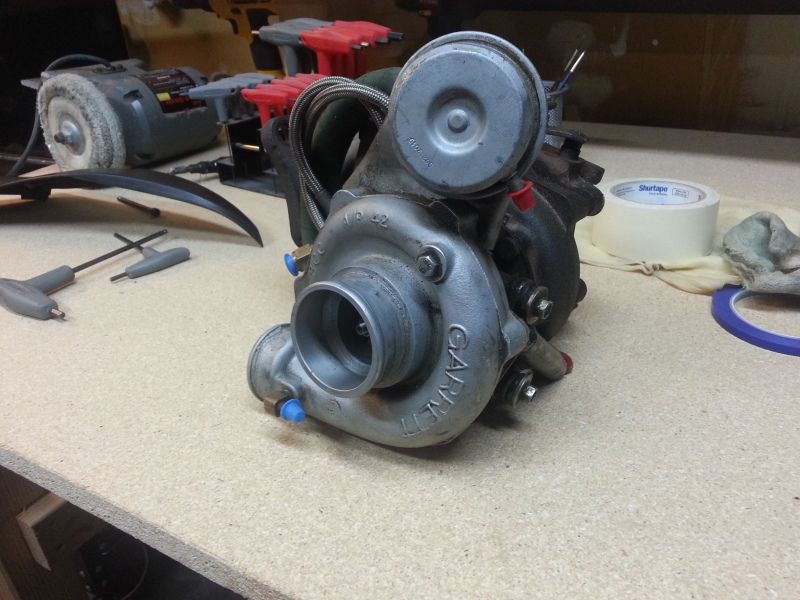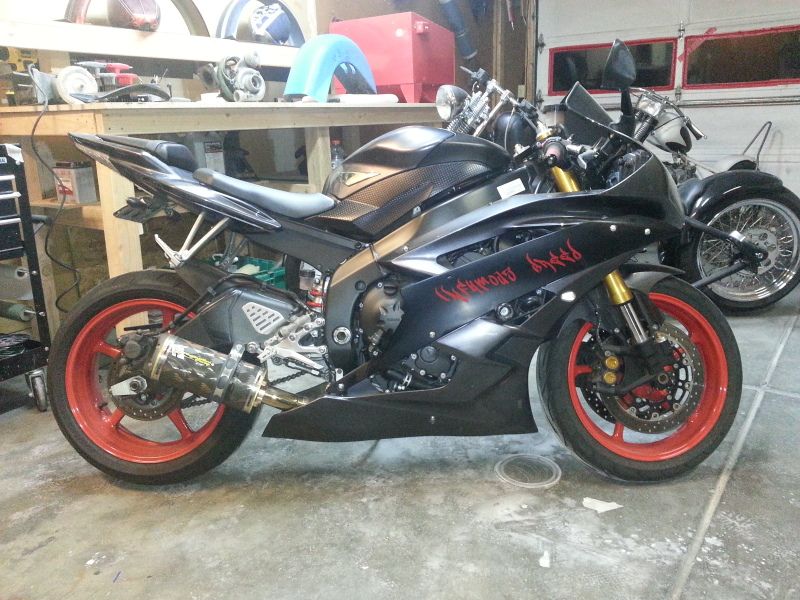 ---
Last edited by IRON_INC; 10-29-2012 at

03:09 AM

.
Re: 07 R6r turbo
---
well look at it this way. A 140hp R6s might last 15-20 races before a complete tear down is required. (a very generous service life)
Not sure why you think you need a turbo timer... these bikes do not like to idle and adding a turbocharger to lubricate... Id suggest getting a YEC oil pump and crank up the idle.
But thats the very least of the issues youll have.
Become familiar with rebuilding the rotating assembly because you will be in there pretty often when you start adding boost.
Re: 07 R6r turbo
---
---
RIP Matt (Ghost R6). You will be greatly missed. Be smooth and the rubber turning till we meet again.
Quote:
"I refuse to tip toe through life to arrive safely at deaths door".
Quote:
There is more to squidliness than just your gear.
Build Thread
Just made this great wheelie.. did you see it?!
Join Date: May 2010
Posts: 63
Re: 07 R6r turbo
---
oh yeah and don't forget a big fat intercooler, yeah buddy!, I think its a waste of money but that's just me, the way it is now is fast enough for me to kill myself so imagine with a turbocharger.
My R6 eats me.
Join Date: Jan 2012
Posts: 21
Re: 07 R6r turbo
---
why would u have to rebuild it if you were only running like 4 psi? im sure it would take away at the life of the motor but not that much.
what the what?!
Join Date: Apr 2012
Location: Colorado Springs, Colorado
Posts: 37
Bike: 2005 R6, 2008 CRF250R
Re: 07 R6r turbo
---
This is going to be pretty cool, can't wait to see it once its done.
---
2005 R6 - Olson shorty exhaust, shermoto levers, Dunlop Q2's, Woodcraft Frame sliders
2008 CRF250R - JO suspension, Pro circuit cam, pro circuit ti valves/springs, beryllium valve seats, ported and polished head, stroker crank(since I destroyed the falicon crank
), full hinson clutch, ti/carbon full Yoshimura RS-3 system
1995 Chevy S-10 ZR2 - 2 inch lift, cammed 350
2005 R6 Street Build
Just made this great wheelie.. did you see it?!
Join Date: Feb 2011
Posts: 50
Bike: r6
Re: 07 R6r turbo
---
Interested because I have thought about this. Friend had a turbo r1.


my two cents.. Why bother with the turbo timer and EWG... Turbo timer = useless, just idle the bike for 15-30 seconds after you stop.. and why get an EWG when you already have an IWG ? You realize there is not a lot of room down there...


*edit*

2 month old thread with no updates... looks like project fell through
Currently Active Users Viewing This Thread: 1

(0 members and 1 guests)
Similar Threads
Thread
Thread Starter
Forum
Replies
Last Post
08 R6 Turbo

ark_r6

Drag Race Section

86

05-14-2013

12:28 PM

turbo for R6?

FFwarrior

General Discussions

65

11-10-2011

01:21 AM

R6 Turbo - 223 BHP

anparkinson

General Discussions

29

12-31-2010

03:24 AM

Keep R6 or go HPF turbo?

bimmerboy

Off Topic Talk

14

08-12-2010

12:46 AM

WTB: Turbo

93mx3klze

Bikes + Parts + Gear Wanted

0

09-17-2009

07:50 PM