1st R6 Ride, Comparison to 02 R1
---
I took my new to me 2005 R6 out for a short ride today. Hereís my first impression.
OmmaGod! OmmaGod! OmmaGod!
I really, really like this bike. I just finished putting this bike together (see:
Salvaged R6 Rebuild
) so my intentions for this ride were to just take it out and make sure everything felt straight and tight. I ended up staying out for about an hour, and thatís only because it was 38 degrees out. I was bundled up ok, but I didnít have my electric gloves on (no battery leads for this bike yet) so 15 minutes into the ride, my hands were numb. The fun I was having enabled me to stay out an additional 45 minutes Ė but love at first ride will only go so far.
Not being a moto-journalist, I really only have my 02 R1 to compare this bike to so much of this is based on that comparison. I found myself riding in between 8k and 10k under normal conditions, a good deal higher than I ride the R1 which I thought this was excessive at first, until such a time as I rung the bike out to 14500 RPM. 8-10k rpm felt quite normal after that. I was also able to ride on some open road at a relaxed 6ooo rpm and the bike is quiet and composed. There is clearly better wind\weather protection for the legs than the 02 R1 and the stock seat was very comfortable. Even when compared to the Corbin on my R1. The shorter reach to the handlebars makes for a significantly more comfortable ride (even though my R1 has heli Bars), but under hard acceleration I would prefer more of my weight forward. I sit nearly upright on the R6. As a result, I felt like I was hanging on for dear life when the bike starts to pull. Tucking in fixes this but I had to do so consciously. The R1 places you in a tucked position automatically due to its ergos. I know I will be dropping the tubes down when I take it to the track which will take care of that, but for street riding the position is a welcome change from my R1. The R6 will likely take over commuting duty from the R1. I have ridden other 600s before, most recently an F4\F4i and ZX6R. This bike seems to have more midrange than either. Even coming from an R1, I can say with some confidence that I don't think power is going to be an issue with this bike. The front wheel comes up with almost no problem. Bouncing it up at 10k is absolutely effortless, and easily felt more controllable than the R1. I will have to work on the suspension, not because of the bike but rather because of my weight. The bike became unsettled over rough terrain under hard acceleration and head shake came a bit too easy for my taste. In the bikes defense, itís not sprung for someone of my weight, and I have not even tuned the suspension yet. It still has the stock settings. The bike feels absolutely planted and smooth at speed in sweepers and tight turns alike on smoother ground. I think I can already state that the 05 R6 handles better than the 02 R1, but I will refrain from making such claims until I become more familiar. But the very fact that I felt comfortable enough to ride the R6 semi aggressive on my first ride out with it speaks volumes. I expected more bite from the front brakes. Theyíre not bad, but compared to my 02 R1, they needed more of a pull. Feel was better however, and there was no evidence of fade but I didnít push it hard enough to be sure. Only the track will tell. Also note that I am comparing the brakes to my R1, which has braided lines, fresh high quality brake fluid and brand new HH rated pads. These are among the very first mods I intend to make on the R6.
Iím not certain Iím ready to give up on the power of the 02 R1, but for pure fun itís hard not to like the R6. I have always enjoyed that the R1 allows me to be lazy with regard to shifting, but I found the fact that I had to work to make the R6 go made it more engaging and therefore more fun. I thought at first that having the R6 and R1 would be kind of pointless; I mean why have two sportbikes? What I have found thus far is they are vastly different bikes, both fun but in different ways.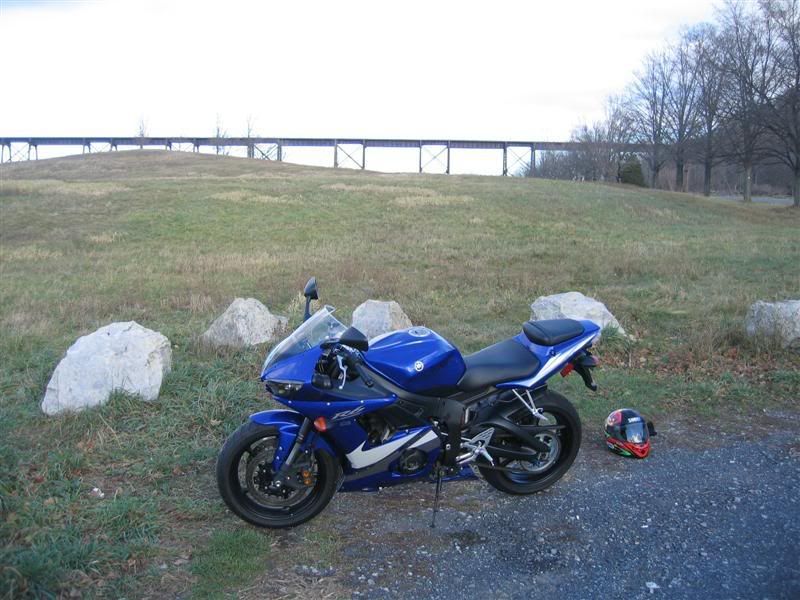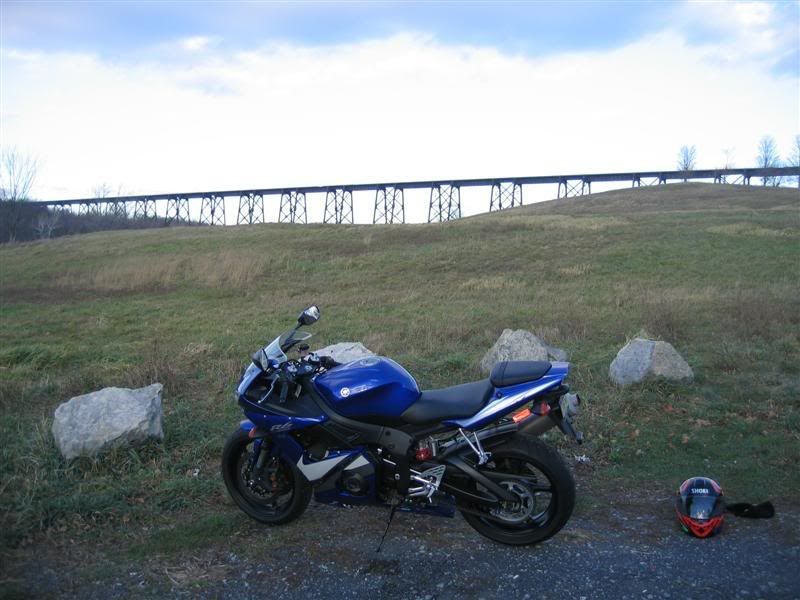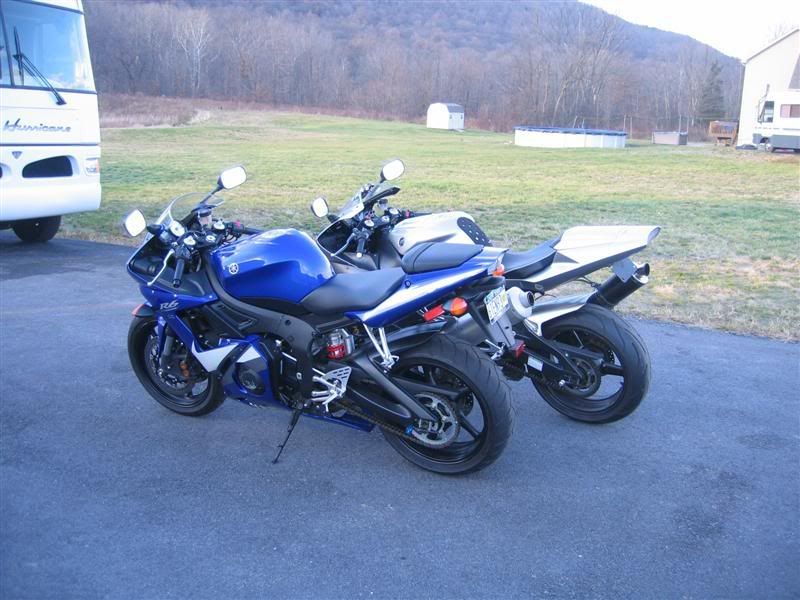 ---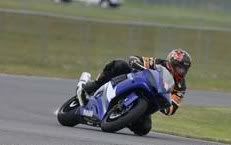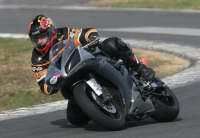 2005 Yamaha R6
2002 Yamaha R1
2003 Suzuki DR650
2005 Kawasaki Brute Force
2002 Harley V-ROD
---
Last edited by eduardobibm; 12-02-2006 at

05:33 PM

.
Re: 1st R6 Ride, Comparison to 02 R1
---
nice bike, great write-up btw
Re: 1st R6 Ride, Comparison to 02 R1
---
---

My R6 eats me.
Join Date: Sep 2006
Location: capecod ma.
Posts: 16
Bike: 99r6
Re: 1st R6 Ride, Comparison to 02 R1
---
exactly why i bought my r6
my last bike was a kawi zx11 and i used it as a dailly commuter too. i used to get bored as hell. when i wasn't on the throttle the zx11 felt like a luxury barge. no shifting, no twisting..after i sold it i put down bikes for a while. just figured i out grew them. then i had a friend who bought a honda 6rr and asked me to custom paint it for him. i told him i couldn't get to it for a couple of days. he said he'd drop it off anyway because he didn't have time to ride it anyway and if i wanted to ride it go for it. wow... i had a hard time getting off that bike to paint it
riding it for a all of about a 1/2 hour i felt like i'd been riding it for a year. guess it brought me back to what i enjoyed about bikes.i spent the next few days riding it every chance i could.after riding that for a few i started to think back to before my zx11. i had a 6r ninja, i put MANY miles on that thing and loved that bike. so i'm looking forward to getting on the r6 this summer.
also thinking on selling something to buy a track bike. if i need something for bruit straight line power i've still got my 600hp twin turbo mustang, tipping the scales at 2,900
---
Last edited by blacknwhiter6; 12-03-2006 at

06:58 AM

.
2006 Oakland R6(s)
Join Date: Jan 2006
Location: Oakland Cali
Posts: 101
Bike: 2006 R6s
Re: 1st R6 Ride, Comparison to 02 R1
---
Funny being a 600 owner i want a R1. When i got my 06-S i really walked in the dealer to get the R1 but they scared me off it with claims of super high insurance and what not (which was a lie for me it was $5 extra then the r6). But I do love me r6 and i wouldn't have gotten as far as i have with stunting (wouldn't have stunted at all) if i had got the R1. But i do want to ad one to my arsenal to be the shiny race modded spotless bat out of hell fast bike.

O and what you said about the "headshake" you will come to find is a common problem with r6's but a good steering dampner fixes that. I weigh 220lb (most of the time i was about 210lb) so yea it feels pretty bad with the stock suspension setup but once you set it, the ride is solid.
Moderator Narcissist
Join Date: May 2006
Location: Temple, GA
Posts: 18,902
Bike: 2009 White R1
Re: 1st R6 Ride, Comparison to 02 R1
---
Absolutely beautiful bike, it is...and you couldn't have made a better choice! Welcome to the Blue '05 R6 club!!!
and me too...I agree, nice write up!
---

Raven lover
Join Date: Jun 2005
Location: Orlando,Florida
Posts: 12
Bike: 05 R6 Raven
Re: 1st R6 Ride, Comparison to 02 R1
---
Welcome to the R6 club. I brought my Raven 05 R6 last week. My previous bike was a 99 R1. The R6 has impressed me with it's power and responsiveness, and it is more fun to ride than my R1 because of it's gearing. The R6 keeps me on my toes because you have to be in the right gear to get it to GO. Keep us posted.
Currently Active Users Viewing This Thread: 1

(0 members and 1 guests)