How to shorten exhaust??
---
I have been searching and havent been able to come up with the best way to trim down or shorten an exhaust. I have a Yosh TRS with carbon fiber sleeve on my 05 R6 and would like it to be a little louder and shoter. Any pictures or advice, besides buying another slip on, would be great. Thanks.
Re: How to shorten exhaust??
---
I am also interested, any way to do it without buying a new exhaust
Re: How to shorten exhaust??
---
i think there are short canisters or shorty exhaust available. do a lil search. i just cant find the link at the moment. i had it bookmarked on my old pc.
Re: How to shorten exhaust??
---
i know there are shorter exhaust, but i am not looking to buy a new one and have heard of people cutting there exhaust down. Just dont know how to do it...
Re: How to shorten exhaust??
---
Ive read you can cut the can down by drilling the rivets on the oulet end.Removing the end cap cut the can to desired length.Re-install the cap drill the holes for the rivets & install new rivets.Been wanting to do this, but i can't bare to cut my akra!
---
C.A tail,Bl.Gauges,Shaved seat,FrZr DB screen,GPR,HIDs,PC Hardware,DID gold,Vortex sprkts,K&N-K&P filters,HEL lines,Full Akra,Fr Sliders,PC3,Vc Stacks,Fr.Euro sig,Custom Cowl
Re: How to shorten exhaust??
---
I've seen people that've done it to stock exhaust cans, but not aftermarket one. I'm sure the process is the same, it's just a matter of whether or not you want to risk ruining your can!
---
Re: How to shorten exhaust??
---
thats what is stopping me, if for some reason i mess it up. I dont have the cash for a new one

I have some reinforced dremel cut off wheels, that should cut thru CF just fine shouldnt it
Re: How to shorten exhaust??
---
Here is the post that I made of cutting mine down but mine was stock. Before i done mine though all I could find was people cutting down aftermarket exhaust's. so there shouldnt be a prob. finding the info just do a google search it was so simple to do mine and I believe after market is even easier becaus most of them the pipe runs straight threw instead of going all over the place like the stock exhaust...
To Shorten the Can:
Using a chop saw with a metal cutting blade
Drill out the rivets of the end cap and set that a side, measer 8 inches back and mark it
Go to the chop saw and get it all level, make sure you got some kind of eye protection cause sparks are all crazy and cool looking
Cut the pipe and if you cut far enough back you should have cut the end baffle out which is a series of pipes that direct the exhaust all over and weighs approx 7-10 lbs
Bend the inner pipe up that comes out of the middle baffle to line up more with the end cap
Slip the end cap on mark were to drill wholes
Drill them out and slip the cap back on set the rivets
Put pipe back on and enjoy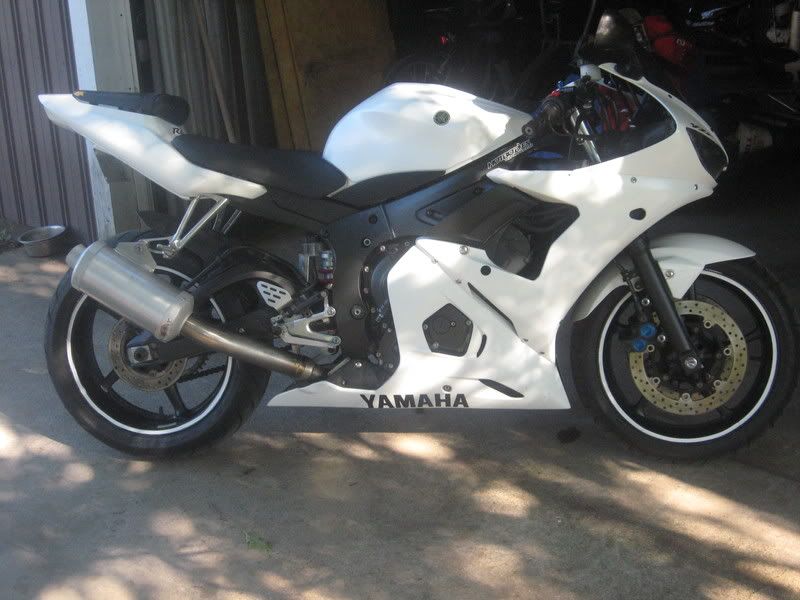 Here is what the inside will look like once cut in half!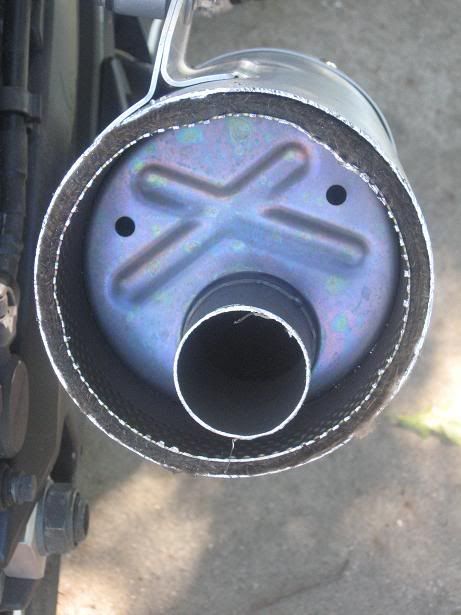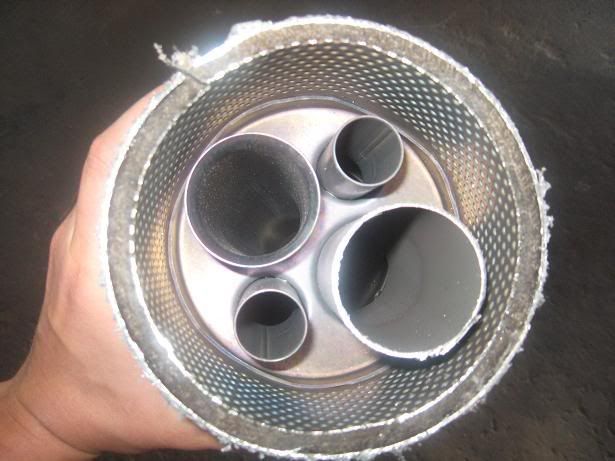 I know that if somone would have shown me that I would have done it alot sooner! It shows How simple it is!
Re: How to shorten exhaust??
---
very simple i did it with my yoshi trs and i loved it!
---
Re: How to shorten exhaust??
---
It also sounds badass on the stock r6 exhaust. My cousin did it and power is alot better and saves you alot of money.
---
2008 Yamaha Special/Limited Edition R6!!!!
SBK Leo Vince Full Exhaust
6000K HID
Custom Fender Eliminator kit
Greggs Customs Flushmount
Pazzo Gold Shorties
905 Race Railz
Hidden Speaker and Amp for Ipod
Puig Double BUBBLE Dark Smoke WindScreen
Sprocket Specialist 520 Conversion +5 rear, stock front
Powder Coated Gold Wheels
Projector Headlights
BMC Race Filter
Galfer SS Brake Lines
Currently Active Users Viewing This Thread: 1

(0 members and 1 guests)