My R6 eats me.
Join Date: Jan 2012
Posts: 11
2002 R6 Carb Clean
---
Hello,
2002 R6 with 10k miles sat for about a year with gas in it. Now it idles rough and maxes out at around 90mph in 6th. I figure the carbs need to be cleaned so I'm doing that, along with replacing the fuel filter and air filter...maybe the spark plugs too.
1. What's the best method to clean the carbs? I'm a little confused...in doing research, some people mention that one doesn't have to completely take apart the carbs. Others say you have to take them completely apart and clean or let soak overnight. How should I proceed? This is where I'm at now:
2. Does one method of cleaning not require to sync the carbs again?
3. I noticed some hard deposits in the hole where the carbs attach to the engine, as seen in the image below. Should I do anything about this?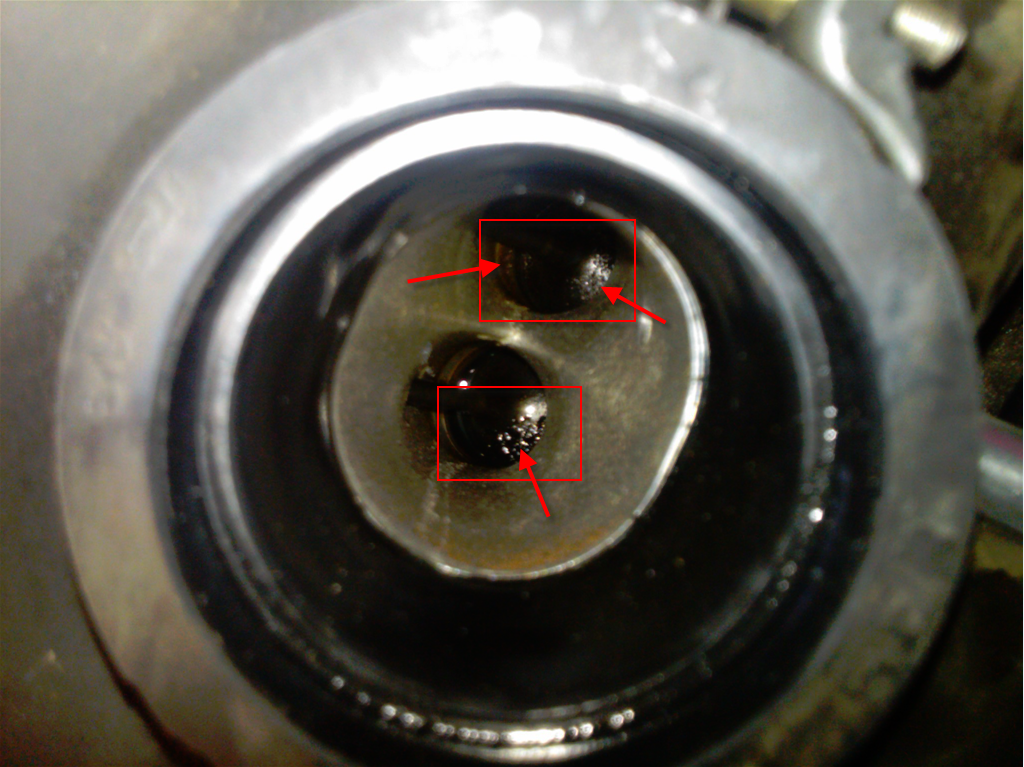 4. Any other suggestions on maintenance I should do? Already flushed radiator, changed oil, flushed brake lines, lubed chain, new brake pads.
Thank you.
Re: 2002 R6 Carb Clean
---
At least remove the slide diphragms before spraying cleaners, etc in there or they can disintegrate. I think the 02 thread in signature has pics of when I did it, etc.

REally, you just need to pull the jets, clean em, etc. You also need to clean the bolw and inspect that the float needles aren't sticking, etc. Check float height looks even, etc.
---
CONTACT/EMAIL ME HERE
R6 ECU FLASH Click Here
My 02 Thread
My 08 Thread
RIP BALLISTIK: We miss you Ricky!!!
Ask about:-STAHLBUS- -WOODCRAFT- -MOTUL- -FERODO- -BRAKE TECH- -BMC- -Battery Tender-LEO VINCE- -NGK- -EBC- -Canyon Dancer-
My R6 eats me.
Join Date: Jan 2012
Posts: 11
Re: 2002 R6 Carb Clean
---
Thanks for the reply Chief.

I just finished...it didn't seem too dirty/clogged; I've never done it before so I don't really have anything to compare it to though. The main jets all seemed to be unclogged. There were two pilot jets that appeared to have smaller holes (Maybe clogged a bit) inside, but they're already so tiny to begin with so it was hard to tell. After I cleaned those two, they matched the others so we'll see...
My R6 eats me.
Join Date: Jan 2012
Posts: 11
Re: 2002 R6 Carb Clean
---
Haven't ridden it yet, but I just started it...runs so MUCH better!
Currently Active Users Viewing This Thread: 1

(0 members and 1 guests)