R6 FAQ - (Updated 11-26-14)
---
---
07 R6, MJS Header, GYTR slip on, smog block offs, K&N, flashed ECU, PCV, AutoTune, -1/+2.
---
Last edited by OhioYJ; 11-26-2014 at

05:34 AM

.
Re: R6 FAQ, Fuel Controllers, Exhaust, Maps
---
I decided to do this thread to help explain the differences, advantages, and disadvantages of the two major fuel controllers, PCV and Bazzaz.
Why only those two? Those are the most commonly used fuel controllers. I will very briefly cover the PCIII but it should only be used on bikes which the PCV does not work on. The PCV has many advantages over the PCIII and they are essentially the same price. Also I will briefly bring up the YEC but this isn't as of a main stream solution yet.
I will also be bringing up the FlashTune interface. If you are considering a PCV or Bazzaz, you should also consider the FlashTune interface. It has several advantages over both the PCV and Bazzaz, but also has a few downsides. I suggest you fully read the
FlashTune section
, and warnings before going this route.
------------------------------------------------------------------
Why do I need a fuel controller?
------------------------------------------------------------------
Whenever an aftermarket exhaust is added it will lean out the fuel mixture. A fuel controller adjusts the mixture to help ensure nothing is damaged, optimum power, and smooth out the power band. Most people running an aftermarket exhaust/mid pipe will notice a few hi-cups while accelerating, a fuel controller helps smooth those out. That being said even a stock bike can see an improvement from a fuel controller.
------------------------------------------------------------------
How they work:
------------------------------------------------------------------
Fuel controllers do nothing more than modify the signal the factory ECM sends to the injectors. The fuel controller goes in between the factory ECU and the injectors. The fuel controller is also hooked into the TPS signal. Then based on how much throttle you are giving, it modifies the signal sent to the injectors, either having them staying open longer, or shorter, based on what you enter into the fuel table.
------------------------------------------------------------------
Do I need a fuel controller:
------------------------------------------------------------------
On an 06+ R6 if all you have is a slip on you can generally get away without one. Once you switch to a mid-pipe or header, it's definitely time to consider a fuel controller. While your bike will run without one, it will lean it out a fair amount. Without a fuel controller and a full exhaust, your bike will experience a few dead spots through the RPM band, it's not horrible but it is noticeable.
------------------------------------------------------------------
PCV vs. Bazzaz
------------------------------------------------------------------
Both the PCV and Bazzaz essentially do the same thing. There are minor differences between the two though.
Out of the box the Bazzaz does help control both the lower 4 and upper 4 injectors. The PCV only controls the lower 4 injectors with an additional add on. Having control over all 8 injectors does allow for a better mixture, and generally results in slightly better low to midrange power.
The Bazzaz is slightly more complicated to install. The Bazzaz requires hooking into both upper and lower injectors, CPS, TPS, speed sensor, switched power source, and of course a ground. The PCV only requires a connector for the lower injectors, power, and a TPS connection made at the ECU. Also complicating the install of the Bazzaz are sub-par instructions, no pictures are included. The PCV comes with very good instructions, and includes pictures of each step.
Agg2001 has a very good Bazzaz install how-to that will help if you run into problems.
Next the actual software is pretty similar. However a few minor differences. In both you have an RPM/Throttle table where increase or decreases in fuel are made.
PCV Software: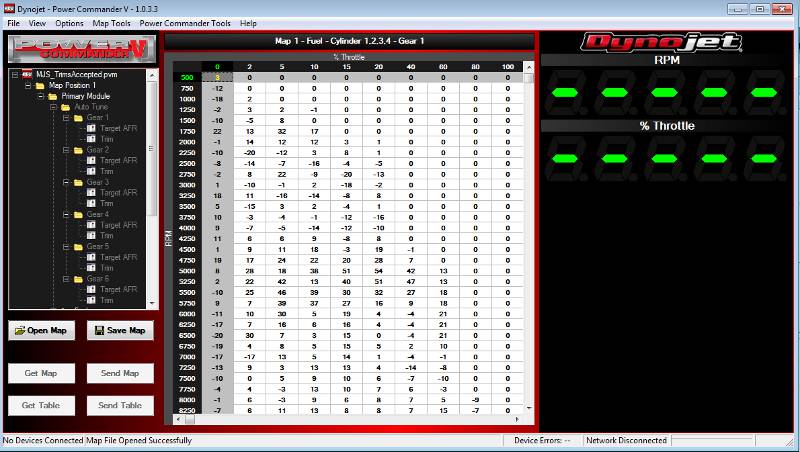 Bazzaz Software: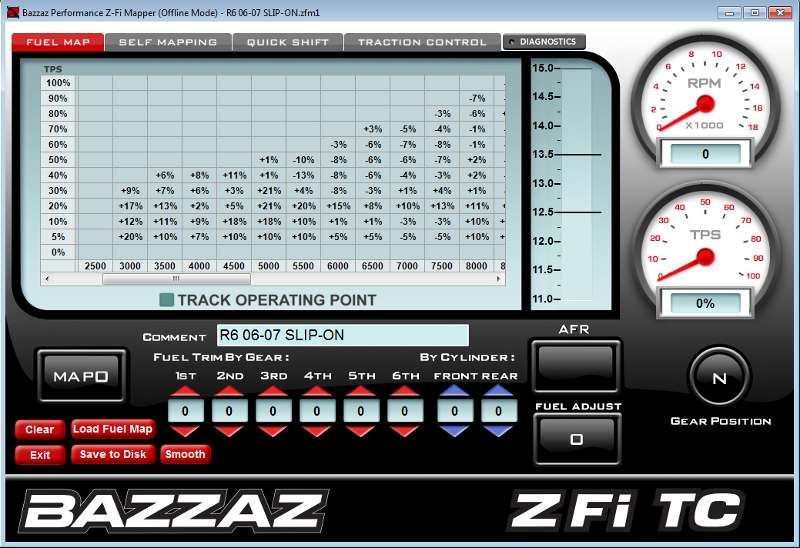 You'll notice in the Bazzaz software there are more throttle positions to tune at. Bazzaz goes 0 - 5 - 10 - 20 - 30 - 40 - 50 - 60 - 70 - 80 - 100, while the PCV only does 0 - 2 - 5 - 10 - 15 - 20 - 40 - 60 - 80 - 100. However you'll notice the PCV offers some more tuneability down low, that the Bazzaz doesn't have, but then up higher the reverse is true. It should be noted that most people will only use 0-20% when riding on the street. Personally I give the slight advantage to Bazzaz here for more adjustability up top. The Bazzaz software also has a few other features that are interesting. First of which is the ability to simply just increase percentage of fuel across the whole map based on gear, for example 6th gear can be 2% richer than the base map. While this is neat and easy to use, the PCV software allows you to have completely different maps for each gear rather than just broad changes to the entire map (
Requires hooking the speed sensor wire to the PCV
). The Bazzaz software also allows you to change multiple cells easily by selecting them and choosing how much up or down. The PCV software also has this functionality but it's not as obvious, the Bazzaz opens a dialog box and you choose how, the PCV software you select the cells and use the page up or page down buttons. The Bazzaz also offers a smoothing feature that averages out the cells selected and attempts to prevent radical changes. From what I've seen this sometimes works, sometimes doesn't, the smoothing feature will many times take a huge figure like 28 all the way down to 8 because there was a 5 next to that cell. So results with this "feature" maybe hit or miss. The PCV can create maps based on 500 or 250 RPM increments offering slightly more tuneability. Also the PCV can be hooked into the coolant temperature sensor to tune differently based on engine temp (Admittedly I can't see a reason to do this in our application, this would be more useful for an air cooled engine, like Harleys). Both offer the ability to use a switch to flip between two different maps if you wished. The PCV also allows the switch to turn off or on various functions/add-ons.
The add-ons, or expandability is where these two devices differ the most actually. Available for the PCV are Ignition Module (modify timing, adjust rev limiter, etc), Quick Shifter (allows upshifting without the clutch), AutoTune (tunes the fuel map on the fly as necessary), External Display (displays info from the PCV), and Secondary fuel module (controls the upper 4 injectors), all of which can be added in any order at any time (exception, quick shifter requires either secondary fuel module, or ignition module, ignition module is the strongly recommended route to take with the quick shifter). The Bazzaz offers an "AutoTune", Quick Shifter, and Traction control. The down side to the Bazzaz is only the "AutoTune" zAFM is the only add-on that can be added separately. Adding the quick shifter and traction control require buying a the module in advance that supports these features, they are not added on later or seperately. There is a quick shifter stand alone unit available for the Bazzaz, but it's ridiculously priced.
Between the two, one of the biggest differences is the AutoTune and ZAFM. The PCV AutoTune makes live changes to the map as you are riding, meaning it is constantly making changes needed to achieve the AFR you set. The Bazzaz unit monitors the AFR makes an educated guess at what needs to happen to the fuel table to achieve the desired AFR, then you must accept the change before it happens. If the "educated guess" is still off it will keep changing it's suggestion until it reaches the desired AFR. Also note the PCV is working the same way, it is still taking educated guesses at what needs to happen it is just applying those changes as you ride. Applying the changes automatically as you ride, does ensure your AFR is always where it needs to be no matter, what environment you ride in.
------------------------------------------------------------------
Other Options:
------------------------------------------------------------------
As I already mentioned the PCIII should only be considered if the PCV will not work on your bike. The PCV works on 06+, not just 08+ like the DnyoJet website says.
Since creating this FAQ, FlashTune has released a device to flash the factory ECM. This device essentially has the features of the YEC, but with a cheaper price tag. Due to the devices many options, there now is a section dedicated to it.
The only other option that should be considered is the YEC. YEC is a reflashed ECU, these can be purchased through dealers, but be ready for sticker shock. If you want to get the YEC, there are a few people that do them other than just the dealers, it's still more expensive than a Bazzaz and PCV and does have a bit of a of learning curve to it. The YEC still allows you to modify the fuel table, offers correction for ram air and timing adjustments. YEC also allows you to remove all the throttle limitations that the factory ECU has. Also note YEC ECUs come in race and street versions. The street version will still retain all the functionality of the gauge cluster (Speedometer and everything will be displayed like the factory).
Now I know I said the YEC was the only other option, but I feel I must also mention, yes there are a handful of other options like the Two Brothers Juice Box, Dobeck, etc, they all work the same, none of which do near what the Bazzaz or PCV or YEC do in my opinion. While these might be mildly better than nothing, you are better off to spend a little more and get one of the options mentioned above.
------------------------------------------------------------------
My Two Cents:
------------------------------------------------------------------
So I tried to present information in this article in a subjective manner, trying to presents the pros and cons, to each system fairly. This section is for my opinion. If you have installed just a PCV or Bazzaz unit you have to realize they have limitations. When dyno tuning these systems, or running a map you downloaded, it will only get your fuel mixture in the ball park. The dyno does not take into effect the ram air or load in different gears. It's also only "dial-in" for that exact temperature, humidity, elevation, etc. The moment any one of those variables changes, your mixture needs to change. This is why the only option in my opinion is the PCV with the AutoTune. The AutoTune will ensure your bike is always running the proper AFR which will result in the bike always running at peak power, fuel economy, and throttle response. Lean to a point makes more power, the AutoTune will allow you to more safely run lean mixtures, because the AutoTune will make sure your map stays where it needs to be. Without an AutoTune, even the temperature change between morning and afternoon can require considerable changes to your map at points. After running the PCV with a custom map, and later adding an AutoTune, I will say I wouldn't go back to running without an AutoTune again, it makes a big difference.
I would also strongly suggest that you create different maps for each gear on the PCV, without this higher speed runs, or even just at highway speeds, the AutoTune will tend to skew your table rich, then it will have to lean it back out when you slow back down, or get back in lower gears. Separate maps for each gear will keep the AutoTune from constantly making radical changes to the fuel map.
------------------------------------------------------------------
FlashTune Interface vs PCV / Bazzaz
------------------------------------------------------------------
After messing with the Flash Interface from FlashTune I can say the device has many advantages over the "piggy back" systems.
So who is this recommended for? I would say anyone could use this, beginners are going to have a bit of a learning curve. This has several advantages over a Power Commander (and Bazzaz for that matter).
Advantages -
-No extra devices, or wiring to install or run.
-Reduced Weight (not that a PCV is heavy)
-Controls all 8 injectors (unlike the PCV only doing 4, without the SFM) (Bazzaz does all 8)
-Install is much easier compared to the PCV or Bazzaz
-Frees up throttle restrictions.
-Allows increase in ignition timing.
-Supports quick shifter
-More tuneability
Disadvantages -
-Allows changes that could be dangerous.
-Flashing anything can be potentially risky. (Reasonably safe, but should something go wrong you could lose an ECM)
-More tuning options can result in a steeper learning curve to new users
-Complete lack of documentation, or help files from manufacturer. (At least the folks at Flash Tune are willing to help answer questions when you call them)
-Attempts to "hide" program to prevent the user from backing up software.
-Users are essentially the beta testers of a device that is still under development.
-Currently no AutoTune option.
-Changes can't be applied in real time like the PCV, you must shut the bike off and wait 5 minutes for it to flash.
Despite all the risks, the advantages are very clear. However users must realize that just importing a Power Commander map won't result in a perfect running bike. This is just like a Power Commander or Bazzaz unit, you must tune it to your exact bike, a downloaded map won't be right.
---
07 R6, MJS Header, GYTR slip on, smog block offs, K&N, flashed ECU, PCV, AutoTune, -1/+2.
---
Last edited by OhioYJ; 05-10-2012 at

12:47 PM

.
Re: R6 FAQ, Fuel Controllers, Exhaust, Maps
---
------------------------------------------------------------------
Choosing a Map
------------------------------------------------------------------
There is generally not one map that just works for everyone. When using a map that you download you really have to try different ones and see what gives you the best results. Just because you have a Leo exhaust doesn't necessarily mean the Leo map will work best for you, you might find the Graves works better.
I'm not responsible for anything that could happen to you, your bike, etc from using these.
Use at your own risk.
All the maps except the MJS ones are directly from the DynoJet website, you can download them all there if you want. To try and make it easier, I've selected the most commonly used maps. (More will be added, again this is a work in progress)
------------------------------------------------------------------
PCV Maps:
------------------------------------------------------------------
Akrapovic Map
Graves Map
Leo Vince Map
M4 Map
MJS Map
------------------------------------------------------------------
PCV Maps with AutoTune Tables:
------------------------------------------------------------------
MJS Map - AutoTune AFR Table filled in
MJS Map - AutoTune AFR Table, Maps for each gear, 500 RPM Resolution *
MJS Map - AutoTune AFR Table, Maps for each gear, 250 RPM Resolution *
* Speed Sensor Wire must be hooked up to the PCV and Gear Calibration done.
------------------------------------------------------------------
PCIII Maps:
------------------------------------------------------------------
Akrapovic Map
Graves Map
Leo Vince Map
M4 Map
MJS Map
------------------------------------------------------------------
Bazzaz Maps:
------------------------------------------------------------------
Akrapovic Map
Graves Map
MJS Map
These Bazzaz Maps, I converted over from the PCV maps.
------------------------------------------------------------------
FlashTune Maps
------------------------------------------------------------------
06-07 R6
Graves 06-07
MJS 06-07
My Latest Custom Map 06-07
08-11 R6
Graves 08-11
Leo Vince 08-11
MJS 08-11
My Latest Custom Map 08-11
My Latest Custom Map 08-11, with 06-07 Throttle Settings*
*06-07 Throttle map is more linear, and you may find it less jumpy than the 08+ throttle settings.
Yes I know there is a PC maps sticky at the top, however making my own thread makes it much easier for me to find and link to when needed.
------------------------------------------------------------------
Navigation
------------------------------------------------------------------
|
Choosing a Map
|
PCV Maps
|
PCV Maps with AutoTune Tables
|
PCIII Maps
|
Bazzaz Maps
|
FlashTune Maps
|
FAQ Index
|
---
07 R6, MJS Header, GYTR slip on, smog block offs, K&N, flashed ECU, PCV, AutoTune, -1/+2.
---
Last edited by OhioYJ; 05-24-2012 at

08:57 AM

.
Re: R6 FAQ, Fuel Controllers, Exhaust, Maps
---
------------------------------------------------------------------
Exhaust 06+:
------------------------------------------------------------------
On the 06+ R6 the slipon really doesn't do anything other than house the EXUP and slightly change the tone of the bike. Just installing a slip on won't make the bike any louder. In fact you can take the slip on completely off and the bike still won't be any louder.
The problem is the muffler and catalytic converter is built into the header. The muffler is the big box under your bike, and the catalytic converter is built into the header tubes, in front of that box. To remove the muffler you must install a new header or mid-pipe.
This image will help some: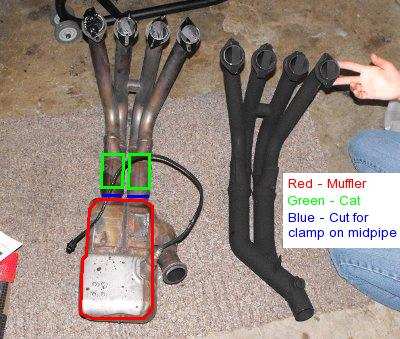 ------------------------------------------------------------------
Midpipes:
------------------------------------------------------------------
Clamp on - Removes just the muffler.
Weld on - Removes both the muffler and catalytic converter.
On mid-pipes, they are essentially all the same, the only one I would avoid is the TTuner. The MJS, Olson, M4 are all good designs, and will be similar. Personally I always recommend MJS just because Mike is a great guy to deal with, if you call him he always gives you an honest answer. Not to mention, if you call and are ordering several things, he'll usually work you up some sort of package deal
------------------------------------------------------------------
Headers:
------------------------------------------------------------------
As for headers, Graves, Akrapovic, Leo Vince, Yoshimura, Terminogi are all big names in headers. Probably in the order listed, Graves and Akra being slightly above the rest. Arrow is a good name for "race" headers that are "affordable". Some headers have clearance issues with race body work, so if you plan on running race plastics, make sure what you buy will work. Most of the exhaust manufacturers also offer a Titanium version of their exhaust, titanium is lighter. For most unless you are racing the weight savings isn't worth the additional cost.
MJS Header
- This is the route I went, factory header with the weld on mid-pipe already installed. I do quite a bit of welding and fabricating, and still chose to let Mike @ MJS do the work, I wanted to just bolt the header on, not weld it back together.
05 Header Swap
- You can use the 05 R6S Header, this isn't a bolt on though, you'll still need to cut the header down some, and use an adapter to make your slip on fit, and a bung welded in for an O2 sensor if you need one. This can be the cheapest route, but I'd prefer the MJS Header or Midpipe. It should be noted that the 05 Header will have clearance issues with 08+ plastics, and race body work.
------------------------------------------------------------------
Header vs. Mid-pipes / MJS Header
:
------------------------------------------------------------------
The factory header is actually designed very well, the factory had to compromise and make them with a catalytic converter and muffler, once these are removed the header performs very well. Pretty much either route will give you the same amount of power.
Dyno charts here.
------------------------------------------------------------------
EXUP:
------------------------------------------------------------------
The EXUP works by helping to keep exhaust velocity up which helps with low end torque and power. The EXUP valve is built into the factory slip on, when going to an aftermarket slip on you must do something to eliminate the EXUP. Some people leave the EXUP servo in there, and just let the cables hang (they must be able to still move freely). If you wish to remove the servo, you can get an
EXUP elinimator
, which would save some more weight. There are also some schematics floating around for home made servo eliminators too if you are good with electronics.
------------------------------------------------------------------
Smog Block Offs
------------------------------------------------------------------
Also with header or mid-pipe you really should get some
smog block off plates.
These will prevent alot of popping and backfiring especially under deceleration, and it will make sure your O2 sensor is getting a proper AFR reading, or if you don't run an O2 sensor, that when you have a dyno tune done, they get an accurate AFR reading.
------------------------------------------------------------------
EXUP Explained
------------------------------------------------------------------
So there seems to be a lot of questions about how the EXUP actually works. In the exhaust system as each cylinder fires, the exhaust system will get "puffs" of exhaust gas. These puffs actually create a vacuum behind them which creates a scavenging effect. The key is to keep exhaust gas velocity up, to keep this scavenging effect going. Scavenging helps "suck" gases out, and will prevent exhaust gases from re-entering the combustion chamber. Now all this pretty much goes out the window at higher RPMs, as the exhaust gases tend to be a steady flow rather than "puffs". Once you approach that "steady flow" pretty much bigger the better on the pipes, you just need to get the exhaust gas out fast. The EXUP is sort of a compromise, it adds a "restriction" which decreases pressure, and increases velocity. If it helps think of this "restriction" as a way to to shrink the pipe, it's all to keep exhaust velocity up to help with low end power. This is also why the general rule of thumb is smaller exhaust pipes (within reason) help low end power/torque, while larger pipes increase top end power. The EXUP is sort a way to have "different sizes of exhaust piping" in the same exhaust.
---
07 R6, MJS Header, GYTR slip on, smog block offs, K&N, flashed ECU, PCV, AutoTune, -1/+2.
---
Last edited by OhioYJ; 07-25-2011 at

09:34 AM

.
Re: R6 FAQ, Fuel Controllers, Exhaust, Maps
---
------------------------------------------------------------------
PCV and Software
------------------------------------------------------------------
------------------------------------------------------------------
Calibrating Throttle Position
------------------------------------------------------------------
By default the throttle position will be fairly close on the PCV software, however it still needs calibrated to get an accurate reading. The instruction of course indicate this must be done on a dyno because of the throttle by wire. However this is not true, you just simply need to enter diagnostic mode on your bike. In diagnostic mode the throttle bodies will open fully, allowing you to properly calibrate the throttle position.
- Hook your laptop into the PCV.
- Press and hold the Select and Reset buttons on the gauge cluster.
- Turn the key on (kill switch in run position). (Still holding both Select and Reset buttons) Your gauge cluster should have H1 up in the right hand corner: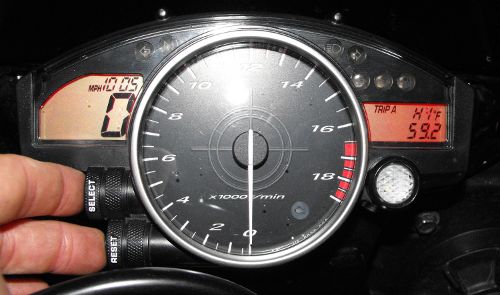 - Continue to hold the Select and Reset buttons until dIAG appears on the gauge cluster (Should happen within 8-10 seconds).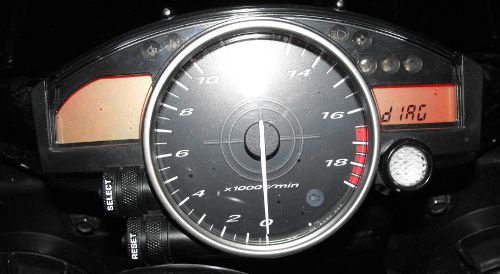 - When dIAG appears on the gauge cluster, release both the Select and Reset buttons.
- Now to "activate" diagonostic mode, you once again need to press and hold both the Select and Reset buttons, except this time the screen should change within a couple seconds.
- At this point you should see d01 : XX, d01 is the test mode for the TPS sensor (For the Throttle Valves).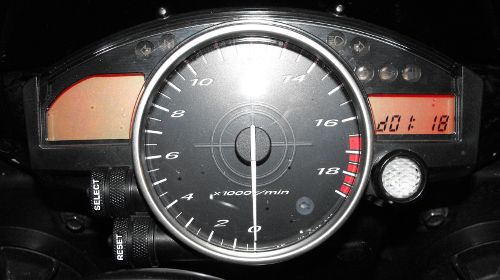 - As you twist the throttle the number following d01 should climb. Normal closed values should be between 12-21, while full throttle should be between 97-106: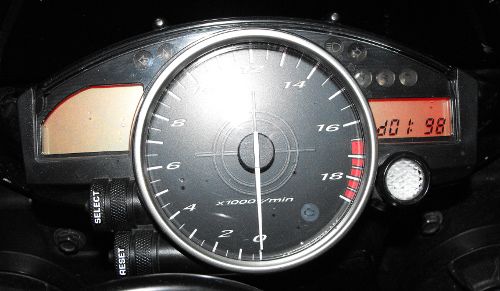 - Now in the PCV software, choose "Power Commander Tools", then "Calibrate", then "Throttle Position".

- Now click reset, the min and max voltages should both be the same now, roughly 0.7 volts.
- Now twist the throttle all the way open. The max voltage should increase to roughly 3.9 volts.
- Click "Ok"
- Finally click "Send Map" to send everything back to the PCV.
- Now while still in dIAG mode you should be able to twist the throttle and and see 100% in the PCV software.
- To exit dIAG mode, simply turn the key off.
If you run into problems you can attempt to use one of the other test functions. Here are the other modes that will open the throttle blades all the way with minimum and maximum values:
01 - TVS signal, 12-21 - 97-106
13 - TVS Signal 2, 9-23 - 94-106
14 - TPS Signal, 12-22 - 97-107
15 - TPS Signal 2, 10-24 - 95-109
------------------------------------------------------------------
Enabling AutoTune
------------------------------------------------------------------
Go to "Power Commander Tools" then "Configure", and then "Feature Enables and Input Selections", or hit Ctrl + F. This will allow you to enable various features and add-on units for the PCV. To enable the AutoTune, first check the box next to AutoTune. Do NOT check the Auto Tune Switch box, above the AutoTune box, that is only if you wish to turn the AutoTune on/off with a switch. Then click configure to adjust the AutoTune settings.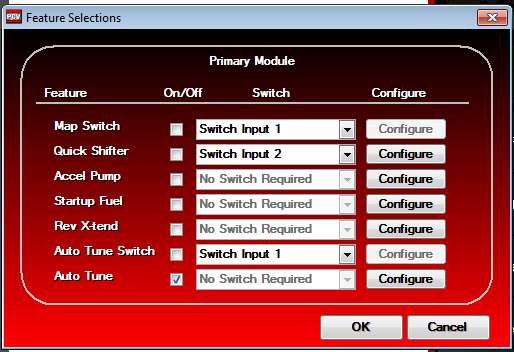 Under the AutoTune Configuration window, you want to make sure "Require Run Time" is checked, and you have 60 seconds there. O2 sensors need some time to "pre-heat" to read properly, 60 seconds is generally enough time for an O2 sensor to preheat themselves to read properly. Requiring a minimum engine temp requires the coolant temperature sensor to be wired to the PCV (I don't use this option). The Max Enrichment Trim, and Enleanment Trim is the max amount the AutoTune can adjust, be default this is 20% / 20%. Limiting what the AutoTune can do just provides a saftey net should the sensor go bad. I would not recommend running more than 20% Enleanment Trim.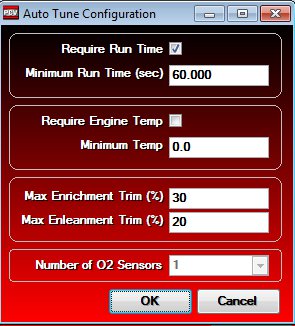 ------------------------------------------------------------------
Setting Target AFR Tables (Also applies to Bazzaz)
------------------------------------------------------------------
The ideal, or stoichiometric air fuel ratio (AFR) is 14.7:1. However this "ideal" number can vary a lot based on many factors. Just the additives they put in todays fuels can knock this down to as low as 14.1:1. Anything greater than 14.7 is consider lean, less than 14.7 is consider rich.
Lean vs Rich:
Lean mixtures create tons of extra heat. So much heat in fact it's actually possible to melt holes in pistons, cause detonation, etc, all sorts of damage (particularly in higher RPMs). Rich mixtures are cooler and help protect parts, especially in the higher RPMs. Rich mixtures also have their downsides too. Rich mixtures can cause carbon buildup in the cylinders (can be a cause of detonation), tends to foul plugs quicker, and can "wash out" the rings (in very rich conditions) (Washing out the rings is where the fuel actually "cleans" all the oil off the cylinder walls, and you end up with fuel that seeps past the rings into the oil, resulting in lower compression and excessive wear to the motor). Now in general, lean mixtures (lean in this case being the safe side of 14:7:1, but as close to 14.7:1 as possible) can result in more power, better fuel economy, and better throttle response. The old standby was 13:1 made the most power at higher RPMs, while still protecting parts. That being said, there are so many variables, that these generalities don't apply to all applications. In fact our bikes tend to prefer much richer mixtures, and also make more power with more fuel, at least to a point.
My Recommendations for Targets
There are many different "schools of thought" for this, this "section" is my opinion and is based on what I have found to work for me both by feel and dyno results. My first recommendation is the leanest you should ever go anywhere on your map is 14. Second I don't recommend anything leaner than 13.2 after 9000 RPM starting at 80% throttle and greater. Generally to still get some fuel economy out of the bike, you want to be leaner and progressively get richer as throttle is applied and RPMs increase. Generally I would say 13.6 is a good for the cruising area, and gradually increase that number to 13 as the RPMs and throttle is increased. To give you an idea, this is an AFR table that worked well for me: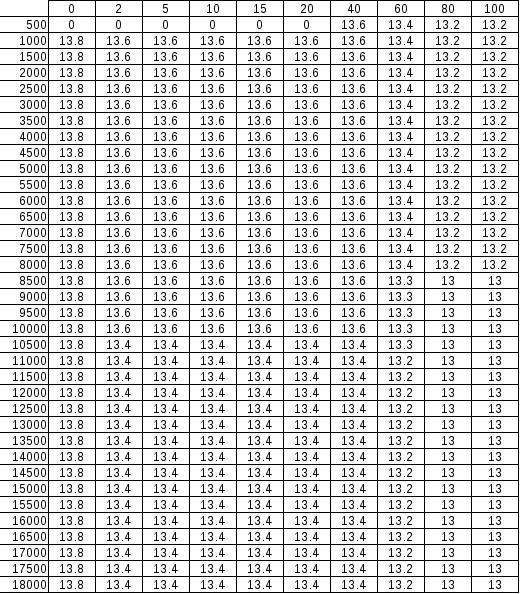 While the above map worked well, I've since found these bikes like fuel. This map is still meant to be sort of a compromise, still getting decent fuel economy while cruising around town, but still have the extra power up high. The richer mixtures on these bikes I've found to be worth roughly 1 hp in several spots, and helps broaden the power curve slightly.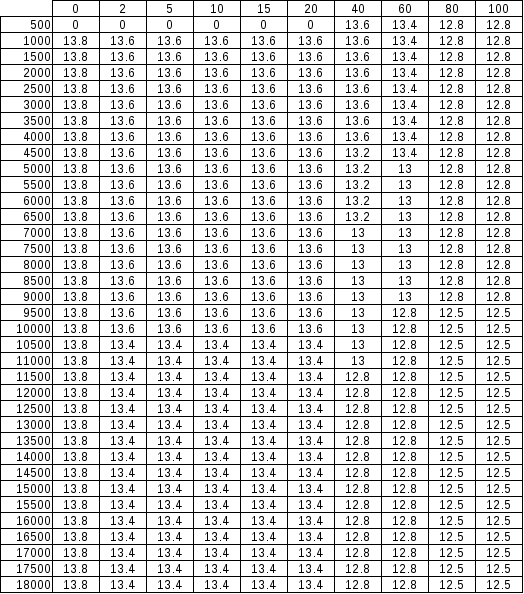 Troubleshooting and Tips
To run any type of AutoTune device, wether it be the AutoTune for the PCV, or the zAFM from Bazzaz, you need smog block off plates. Otherwise you won't have accurate AFR readings. These are a must, and they are not expensive.
Start with a base map, not a zero map. Then don't accept any trims right away (Bazzaz users must accept the trims for them to do anything, PCV users give the AutoTune time to work it's making live changes). The AutoTune will suggest trims after your first ride, you need to get a good average. I've only accepted the trims once since owning the AutoTune module. The goal, in my opinion, is to get the map close enough that the AutoTune can adapt the fuel map for changing environments. So anywhere you see the AutoTune maxing out it's adjustment increase the fuel on the base map there (Or accept those trims, after reading the next tip). Also don't accept trims on days where the temperature is abnormally hot or cold.
If you are using a base map and the AutoTune constantly wants to max out the fuel adjustment, you may be getting a false reading, do NOT continue to accept these changes. This can happen at lower RPMs, are at points where the frequency of the exhaust and valve overlap cause fresh air to be sucked right into the exhaust, for most exhaust systems on the R6 this is generally somewhere around 5000-6000 RPM. Trying to correct for a false reading will never work, the bike will just run super rich in that spot, despite the "lean" reading. At lower RPMs sometimes it's even necessary to disable the AutoTune by putting "0"s in the Target AFR cells (I have not needed to ever do this). Anywhere else, I suggest leaving the AutoTune enabled and just don't ever accept those trims.
I strongly recommend if running the PCV to create separate maps for each gear. Without doing this your AutoTune trims will constantly be changing and pretty much all over the map. The amount of fuel needed in first gear is quite a bit different than what is needed in sixth gear.
If you run into a jumpy throttle, or an area that seems to lose power for a moment, try adding fuel. Adding fuel definitely helps smooth things out on these bikes. Now it is possible that you can get to much fuel and cause a "dead" spot, but most of the time more fuel will help your problem.
If running the PCV AutoTune I suggest leaving it on all the time this ensures your bike will always be running at peak performance. It allows your bike to adjust as your riding environment changes. Now you also have to realize though, wide band O2 sensors can have a shorter life span than regular O2 sensors. Race gas in particular will tend to chew through sensors in a hurry. Rich mixtures also slowly kill the sensors. Most people should get at least several seasons out of an O2 sensor (I've got 2 years on mine so far, still no problems). Replacement sensors are roughly $80 at the time of writing this. There is an O2 sensor test function described in the AutoTune instructions. A failing O2 sensor will typically start to become slow to respond to changes, especially noticeable at the higher RPMs. For the Bazzaz zAFM users, once you're happy with your map, completely removing the O2 sensor will help prevent any wear and tear from being placed on the sensor, ensuring it's accurate the next time you need to use it (since the Bazzaz does NOT make live changes, it doesn't need to be in there except when you are "tuning").
------------------------------------------------------------------
Firmware Updating:
------------------------------------------------------------------
Since a new firmware is now out for the PCV, I figured a "how-to" update the firmware on the PCV was in order. There have been a couple different firmwares released since the PCV was released, so depending on where you bought your PCV you could have the initial firmware on it (Mike @ MJS updates the firmware on the PCVs before shipping them out usually). Firmware is just the software on the PCV, updating it usually is to enable new features, and in some cases fix problems (So far I've only seen firmware updates to support new features for the PCV, the latest adds some functionality to the ignition module). You can download the latest PCV firmware on the PowerCommander under Downloads. To check and see what firmware you are running, in the PCV software, choose "View" and then select "Device Information" (Or just hit Ctrl + I).
Installing new firmware really is pretty simple, however as with updating the firmware of any device, it's possible to "brick" your device. To make sure you don't run into any problems, you'll want to take a few precautions. First don't even unplug anything while the firmware is being flashed. Also when using your laptop, make sure the battery isn't half dead (don't want it dieing in the middle of a flash). Once you start this process you must finish it, so don't use a flakey computer.
First hook your computer up to the PCV, and turn the bike on (not running, just key on). Then go to "Power Commander Tools" and choose "Update Firmware" (Or hit Ctrl + U).
That will open up the box pictured below. Select the PCV Primary Module, and click the "Update" button. At this point you will need to navigate to the directory where you downloaded the PCV Firmware file. The file you downloaded will be a .zip file, make sure you extract the .pvu firmware file.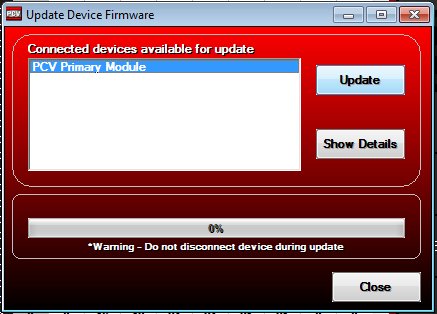 After choosing the file, it will go through a couple different processes, this will just essentially "disable" your PCV and put it in a "boot" mode so it can be flashed. It will temporarily act like it's done and you will notice now instead of showing PCV Primary Module, it now says "Boot Module". Select "Boot Module" and click the "Update" button again, again choose the firmware file you downloaded and selected the first time. This time it will actually write the firmware to the PCV. Definitely do not unplug anything during this process.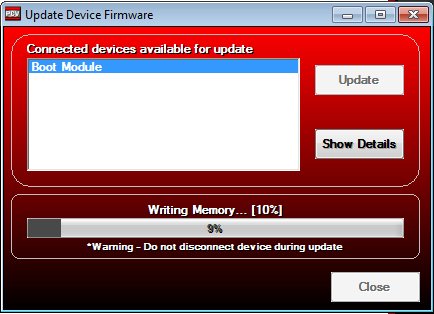 After it completes, you will now be running the latest firmware.
------------------------------------------------------------------
Seperate Maps for each Gear
------------------------------------------------------------------
If you have an AutoTune, making a map for each gear is strongly recommended. This will prevent higher speed runs or higher gears from skewing your table rich temporarily then waiting for the AutoTune to lean it back out for the lower gears. Without this you'll find your AutoTune pretty much always wanting to make fairly radical swings to the fuel table to achieve the correct AFR.
To enable different maps based on gear you need to hook the speed sensor wire into the PCV. If you need help on removing the tank to get to these wires, you can use my
PCV Installation writeup
. The speed sensor wire you need to tap into, at least on my 07 R6 is the pink wire (this will be different if you have a Speedo Calibrator of some sort), this connector is under the gas tank. I ended up tapping into the SpeedoHealer harness rather than the factor wiring. For the SpeedoHealer, you need to tap the Green wire (Blue is connected to the pink, but that's signal in, we need signal out in this case). If you have a speedo DRD or something and the colors are different than the SpeedoHealer than you want to connect to the other side of the pink wire, which is white with a yellow tracer. If you don't have any kind of SpeedoHealer or SpeedoDRD, you can connect to the pink wire.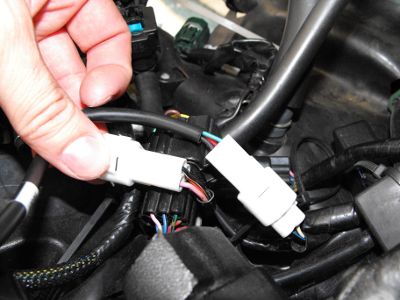 Now notice the blue and green wires running to the PCV. Green is my signal from the speed sensor. Blue is the signal I added from the coolant temp sensor. Tapping into the coolant temperature sensor can allow you to tune differently based on temperature, or enable/disable the AutoTune based on coolant temperature and not just time. I'll admit for my purposes I really didn't need this, but since I had everything apart, I decided to just go ahead and do it just in case. The temperature sensor wire is Green with a White tracer on the small ECU plug, should be pin #26.
Once you have found the correct wires, they must be connected to the PCV: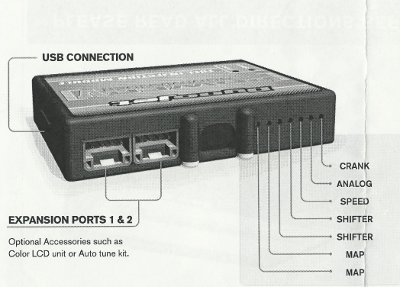 Once all the wiring is done, you must enable it in the PCV software. Go to "Map Tools", then "Advance / Demote Map". Here you must change "Fuel Tables (TPS)" to "Gear Advanced", and if running a AutoTune, "Target AFR Tables" to "Gear Advanced". This will give you both a table for each gear, and each gear will have it's own AutoTune table. NOTE, when you do this it will erase your entire table, so make sure you save your old map first. Save the map you have made now with tables for each gear. Then open your old map, select the whole table, and copy it with Ctrl + C, then open the new map you made, and paste it into each gears fuel table using Ctrl + V. You'll need to do the same thing for the AFR tables as well if using an AutoTune.
Or you can download a map that has this already setup.
You can also adjust the fuel map every 250 RPM, not just in 500 RPM increments (Picture above in the Advance / Demote Map). This isn't necessary, but does give the ability to adjust your tune a little further.
The final step is calibrating the speed sensor which is pretty easy, just had it on the stand and you hold the throttle as steady as possible, and just go through the gears, clicking calibrate in the corresponding gear.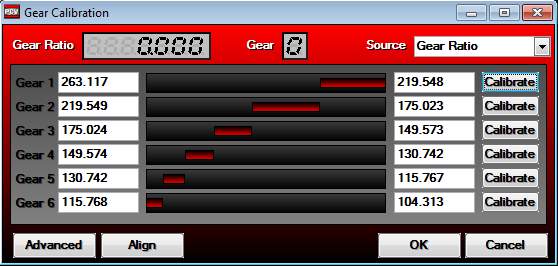 If you hooked up the coolant temperature sensor wire to the PCV, it will also need to be calibrated. Calibrating the coolant temperature sensor was easy to, just clicked enabled and left the values at the default settings, everything worked right away.
This originally started because after higher speed rides my AutoTune would trim my fuel table rich, then when I went back to "normal" street riding it would be rich for a short period while the AutoTune leaned it back out. Having a fuel table for each gear should eliminate these constant changes being needed. Or at least make it so such drastic trims are not needed all the time. As for converting to the 250 RPM increments, that should also allow me to smooth out my AFR a little and power band. It will definitely take some time to tweak it, but should be worth it in the end. For right now, I have converted the MJS Map over to the 250 RPM increments, then will just let the AutoTune trim as necessary.
This definitely has potential though. Another idea I had was to lean out the cruising area some just in 6th gear, that way only 6th gear at highway speeds would be affected (improved fuel economy for commutes), any other gear would not be affected, and on the rich side of "safe".
---
07 R6, MJS Header, GYTR slip on, smog block offs, K&N, flashed ECU, PCV, AutoTune, -1/+2.
---
Last edited by OhioYJ; 05-25-2012 at

11:22 AM

.
Re: R6 FAQ, Fuel Controllers, Exhaust, Maps
---
------------------------------------------------------------------
Install Section:
------------------------------------------------------------------
While this section will become more detailed as I have time to work on it, and add pictures, for the moment, it will be more general and include options and tips to complete these installs.
------------------------------------------------------------------
Smog Block off plates
------------------------------------------------------------------
Torque Specs:
Smog Plate Bolts - 7.2 ft-lbs - Loctite Recommended (Blue / Medium)
There are two methods of installing smog block off plates, the air box method, and the radiator method. Note that no matter which way you choose removing the fuel tank is still pretty much mandatory to plug off the air box side. Also as a heads up, the fuel tank does have a check valve, so you can disconnect the line and only a little gas will leak out, draining the tank is not necessary.
Air Box Method-
Once you remove the fuel tank, you will be able to completely remove the air box. This will then allow you to remove a small plastic panel in the frame that will allow you to access the spark plugs, and smog plates.
This method can be very time consuming as the factory bolts do have loctite on them and won't come out easy. It is critical that you get your allen wrench in the bolts square, and completely to prevent stripping the heads.
Radiator Method
Removing the radiator does require you to take the lower half of the bike apart too. This method is more work, but I feel that it makes the job easier, and therefore worth the extra work. Also it gives you a chance to change your antifreeze (supposed to be changed every 2 years, or 16k miles which ever comes first), and allows easy access to the spark plugs if it's time for replacement (spark plugs are replaced every 8k miles).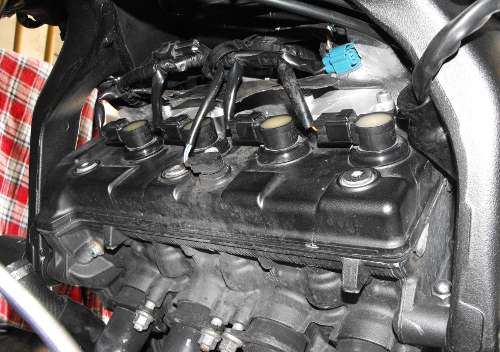 Finalizing the Install:
There is no "gasket" for the smog plates, there is a rubber seal around the reed valves that seals against the smog block off plates. Also note that several of the block off plates sold are directional. Graves plates for example have a machined out area to clear the screws in the reed valves, if you install them backwards, they won't seal, and you'll have a bunch of extra noise from them. On the Graves plates if you are sitting in front of the bike facing the motor the "G"s should be readable (not upside down). The solenoid (the one the hoses run to) that is attached to the plastic panel in the frame came be completely removed, just unplug it and remove the push pin holding it in. Also the plates should have come with a rubber cap to cap off the port in the air box that used to go to this system.
------------------------------------------------------------------
Header:
------------------------------------------------------------------
Torque Specs:
Header Flange Bolts - 14 ft-lbs
Removing the header is actually pretty straight forward. You'll need to at least remove the right lower half of the body work. Also note that Yamaha recommends replacing the header gaskets anytime the header is removed. That being said, most people reuse the gaskets with no problems. Remove the slip on and unhook the EXUP cables first. Just take the center bolt out of the EXUP and remove the "disc" the cables are hooked to, this will make it easier to disconnect the cables. Once that is out of the way simply unbolt the header. You should find two bolts in the rear, on the muffler (large box), plus the eight nuts on the flanges.
First when you remove the header locate the exhaust gaskets, they will either be stuck to the header, or most likely you'll find they are still on the head, but you need to make sure they are all in place for the installation of the new header, or to make sure you don't double gasket something if installing new gaskets. The exhaust gaskets are just small copper looking rings, they are roughly 3/16"-1/4" thick: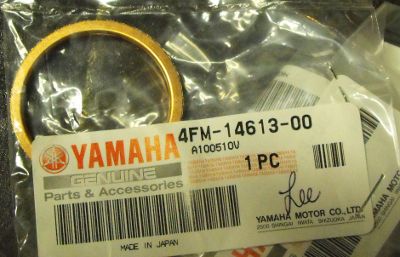 Once you have all the gaskets and new header in place, it's just a matter of bolting the thing back together. Make sure you are tightening the exhaust flanges evenly, and properly torquing them.
------------------------------------------------------------------
Installing a PCV
------------------------------------------------------------------
Start by removing the seat. There are two bolts under the seat in the rear, just lift up on the rear corners, you'll see them. Be careful when reinstalling these bolts, they use inserts in the frame that can break loose and freely spin. Those bolts don't need to be super tight.
Next remove the plastic side panels. They have Phillips head screws in them, and it is very important whenever removing a Phillips head screw to use the correct size Phillips screw driver. Make sure the screw driver fits tightly. Or if you are like me, and got tired of buying new panels every time they broke, cut the zip ties. Once the screw is removed slide the panel forward, it will just come off.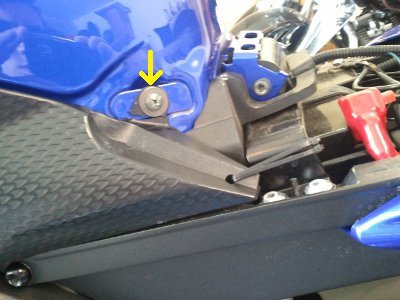 Next remove the side bolts on the gas tank. Loosen the back bolt but do NOT remove it yet.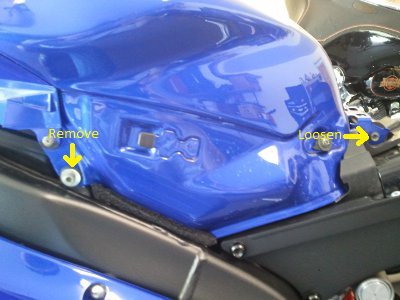 Next remove the top bolt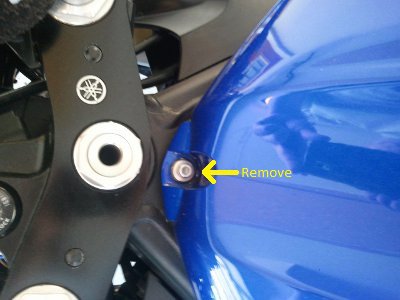 Now carefully lift up the tank, careful not to over extend any wiring, or hoses. If you are doing this by yourself, you can use a board to support the tank. Do NOT put the board under the plastic front part of the tank, place it on the metal part of the tank only!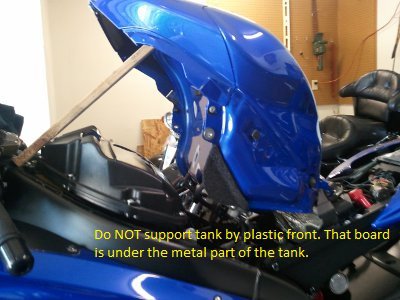 Remove the two electrical connectors, one white one brown. Then remove the two vent lines, those spring clamps are pretty weak, you can remove them by hand. Finally remove the fuel line, notice the cover over the green buttons, this slides back to expose those buttons. Then squeeze the green buttons and pull down. Do NOT force anything, the output on the fuel pump only plastic!
WARNING
, the fuel system is pressurized. Have a large rag already under the tank, to soak up any fuel that sprays out or leaks out. Also gas may spray out, as it's under pressure, safety glasses couldn't hurt. Also remember you can pulse the injectors in DIAG mode, to help relieve the pressure.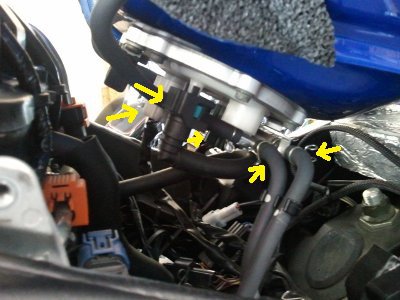 Most people place the PCV in the tail, if you do this you will need to remove the tail. I mounted mine on top of the ECM, and leave the USB cable plugged and in the tail. Notice my "rain shields" for the PCV, AutoTune, and SpeedoHealer. They are water resistant, but I chose to add little pieces of plastic to avoid any issues later down the road. Also note in that location I had to clearance the aluminum bracket back there to clear the USB cable on the PCV.
You will also have to remove the tank support bracket, to route the wiring for the PCV.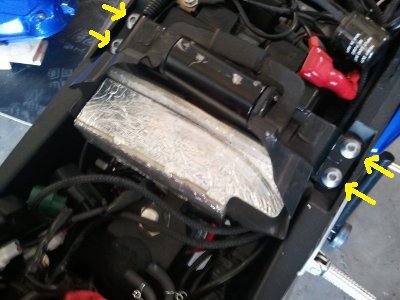 Pretty much all the wiring you need to tap into is all in one spot.
1. O2 Simulator, Optional, not all bikes use this.
2. This is the main injector harness, you just unplug it and plug the PCV into those plugs.
3. Is the speed sensor harness, there are two because my bike has a speedo healer on it. I only mention this, as a way to tap into the speed sensor for different maps for each gear on the PCV if you plan on running an AutoTune.
4. EXUP Eliminator plug.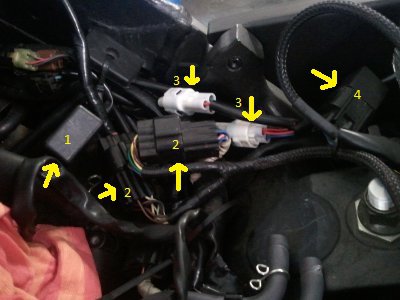 Now while you have the tank off, it is the perfect time to clean or install a new air filter. Start by removing the screws all the way around the air box. Next unplug the atmospheric pressure sensor. Finally disconnect the fuel line to the secondary injectors, it is removed just like the fuel pump one. Then lift off the box top, note there is still a wire running into it, so just lay the box on the bike. If you have disconnected the fuel pump, you already mostly depressurized the system, but have a rag ready, some gas will still drip out of the this line when you disconnect it.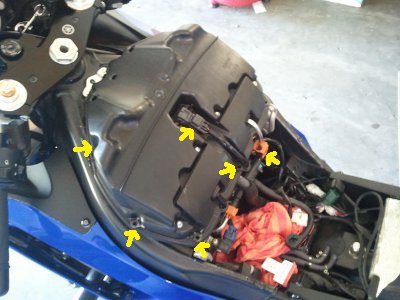 There is a correct order to screw down the new air filter: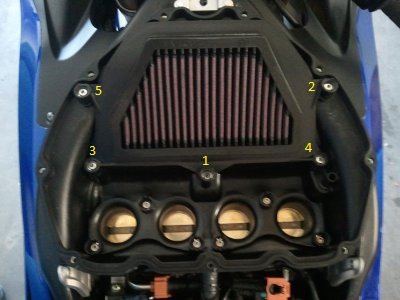 ---
07 R6, MJS Header, GYTR slip on, smog block offs, K&N, flashed ECU, PCV, AutoTune, -1/+2.
---
Last edited by OhioYJ; 05-13-2012 at

05:39 AM

.
Re: R6 FAQ, Fuel Controllers, Exhaust, Maps
---
nice write up, you must be bored!
---
REFLASHED YEC ECU
ZEITRONIX DATA LOGGER W/TWEEKER
SPEEDO DRD
DRIVEN 15T (-1) 525 FRONT SPROCKET
GYTR AIR FILTER
SMOG BLOCK OFFS
GP STYLE REVERSE SHIFTING
T-TUNER MID PIPE (WELDED)
STOCK HEADERS & SLIP ON W/ EXUP CUT OUT
ACCUMEN GEAR INDICATOR
GORILLA ALARM
90 DEGREE ANGLED RED ALUMINUM VALVE STEMS
TRACTION PADS
LP CARBON FIBER FRAME SLIDERS
Just made this great wheelie.. did you see it?!
Join Date: Jan 2011
Location: Ontario Canada
Posts: 40
Bike: 09 orange R6
Re: R6 FAQ, Fuel Controllers, Exhaust, Maps
---
Is it neccessary to have a fuel management system if i only remove the muffler but keep the cat. i'm not really looking for more performace, just a deeper grawl from the bike
Re: R6 FAQ, Fuel Controllers, Exhaust, Maps
---
no, you can take out the muffler and be ok without fuel management, keep the EXUP system though
---
REFLASHED YEC ECU
ZEITRONIX DATA LOGGER W/TWEEKER
SPEEDO DRD
DRIVEN 15T (-1) 525 FRONT SPROCKET
GYTR AIR FILTER
SMOG BLOCK OFFS
GP STYLE REVERSE SHIFTING
T-TUNER MID PIPE (WELDED)
STOCK HEADERS & SLIP ON W/ EXUP CUT OUT
ACCUMEN GEAR INDICATOR
GORILLA ALARM
90 DEGREE ANGLED RED ALUMINUM VALVE STEMS
TRACTION PADS
LP CARBON FIBER FRAME SLIDERS
Just made this great wheelie.. did you see it?!
Join Date: Jan 2011
Location: Ontario Canada
Posts: 40
Bike: 09 orange R6
Re: R6 FAQ, Fuel Controllers, Exhaust, Maps
---
Thanks. That's exactly what i wanted to know. you already answered my next question. any recommendations for slip ons to get the results im looking for (deeper rumble instead of a sewing machine on steroids)

i like the look of the GYTR.
Currently Active Users Viewing This Thread: 1

(0 members and 1 guests)