My R6 eats me.
Join Date: Dec 2010
Posts: 4
01' R6 engine in a Warrior atv
---
I've removed the engine from a wrecked 01' R6. I have the complete wiring harness, gauge, handlebar controls, airbox, everything I'll need.
I cut a few tabs and the top two frame tubes off the Warrior. With the engine set in place, the install looks to be more or less strait forward. one of the bigger challenges is going to be building a custom air intake. I'd like to use the factory air box but its just too tall to work with. here are a few questions about the intake and how it works on my R6.
I'll likely have to build my own airbox from scratch out of steel or fiberglass using the original rubber boots. I'll probably just use a car type cold air intake filter 3" or 4" diameter. If that fails will the engine run with just 4 clamp on filters?
The two hoses (1/2" ish) that go to the non filtered side of the airbox to the carbs. I assume they are to keep the same pressure in the carb intake as above the slide. My question is: because I wont be dealing with any ram air effect on the quad can i just have those two hoses vent (filtered) outside the airbox?
The exhaust is also going to be a challenge, as it looks right now I'll just bring it to a local shop and have them use parts of the stock exhaust to fabricate a custom system that will allow for as much ground clearance as possible.
I know by messing with the factory intake and exhaust i wont be getting all the power i can from the engine. going from 25hp to the R6's 100 or so hp.
Just for fun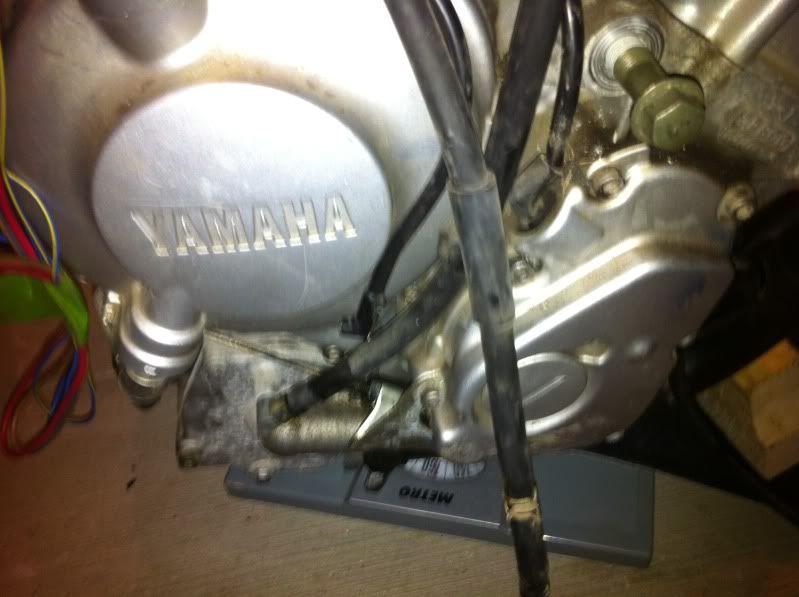 01' R6 engine with oil in it. complete wiring harness with the magic boxes and carbs. bathroom scale 155 lbs
350cc Warrior engine 112lbs with oil, NO carb or harness.
dont call me a poser !
Join Date: Aug 2011
Location: ft bliss/el paso mexico U.S
Posts: 160
Bike: 2009 raven r6
Thats bad ass


Sent from mexico U.S
My R6 eats me.
Join Date: Dec 2010
Posts: 4
Re: 01' R6 engine in a Warrior atv
---
Time passes and work gets done, I've got the bike up and running.
http://youtu.be/tSIKUoVZAGI
I'm not able to use the factory airfilter, or stock airbox lid. I do have it set up so the carb inlets share a common chamber. I'd like to know where the stock hoses run, and what can be removed.
Thanks for any help you can give.
Re: 01' R6 engine in a Warrior atv
---
Pretty sweet man, good luck.
You'll have to post another video when you take it out into some open land.
My R6 eats me.
Join Date: Dec 2010
Posts: 4
Re: 01' R6 engine in a Warrior atv
---
Currently Active Users Viewing This Thread: 1

(0 members and 1 guests)