Discussion Starter
·
#1
·
Hello everyone, This will be my first post and I will include to you the entire story of why i haven't been on here in a while...
I registered on here a few weeks before I bought my 07 r6 in april of last year (if i remember correctly). I have grown up on dirt bikes of all sizes and we well experience on the "2 wheels" but mostly on dirt..
my first road bike was a Kawaski ninja 250 that i bought in august or so of 06... rode that through the remainder of the summer and through out the nice days of winter until april 20th of 07 i traded it in for my r6 bc i felt like i was ready for a bigger one...
well at first i didn't ride it all that much.. bc i was a little worried about being with so much power... but got used to it quickly and was riding to work everyday and back and out on it on the weekends..
up until JUly 4th when the tragic happened..
I was on my way home from work the 45 or so minute ride at about 430pm (and none of this is from memory - its from talking to the driver and family and doctors), I was about 3 miles from my house doing 50 mph in a 45 mph zone when a young girl of 21 driving her boyfriends construction truck (07 f-250) didn't see me and decided to swerve left into oncoming traffic - which was me. so both of us doing 50 mph or so and I collided into her truck at impact speed of 100 mph. I was found 40 yars from point of impact up in the trees that were next to the road.
When the ambulance got there I was pronounced dead at the scene after multiple rounds of cpr and somehow revived once the chopper got there. I was life flighted to Atlanta Medical Center, in surgery for 19 hours, and didn't wake up after that for 29 days. during the coma i lost 45 pounds and my ability to walk and talk clearly - all of which had to be relearned. I could talk but it was very mumbly and incoherent. alot of groans and writing on paper. I had no idea what happened until 2 days after i woke up having a conversation with my brother about how he bought a bike and I said "well yea i'll go out riding with you when i get out of here." at which point i flipped out completely and was put to sleep for another 2 days.
after dieing, breaking my back twice, lacerated kidneys, intestines, and colon ruptured spleen, 27 staples, 41 stitches, temporary paralysis of my left arm and severe nerve damage on left side of my body i am back alive and ready to get on another bike. Unfortunately, or fortunately (whichever you prefer to think) the life lasting problems consist of moderate memory loss, constant severe pain in my arm and shoulder, and epilepsy.
After that I decided that Atlanta was way to "fast forward" for me so I had to leave and go to a more chill place.. Now I am in Honolulu relaxing and working my ass off as hard as I can with 1.5 arms
I have enlosed a few pics also to the thread so you guys can see a couple shots..
needless to say i totaled the bike out.. but to my surprise totaled the truck out as well...
This is my left leg about 2 weeks after:
this is my helmet:
this is the truck: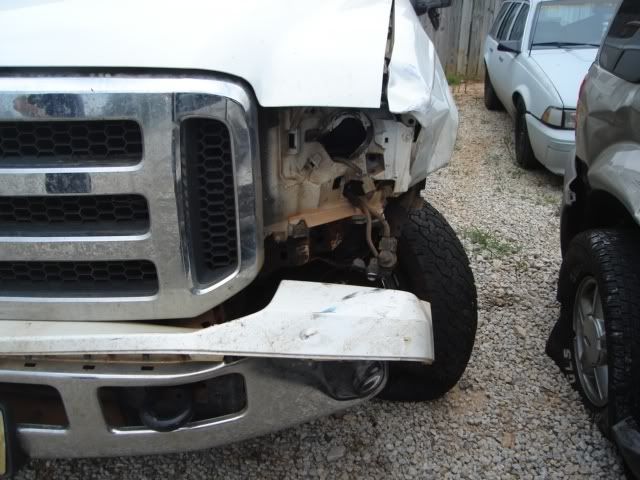 my bike: #1
#2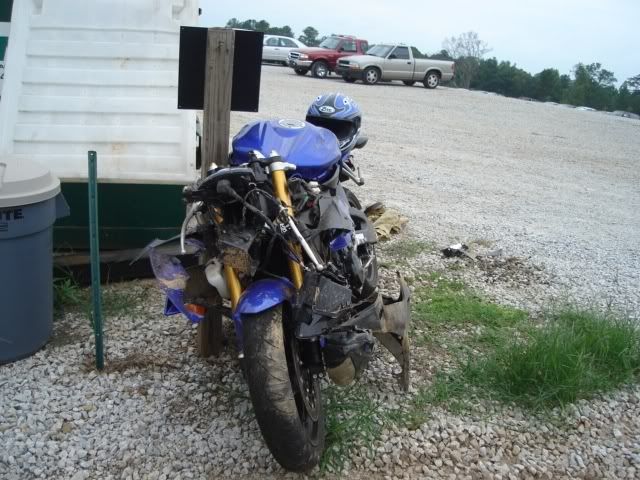 #3
me in a coma #1

#2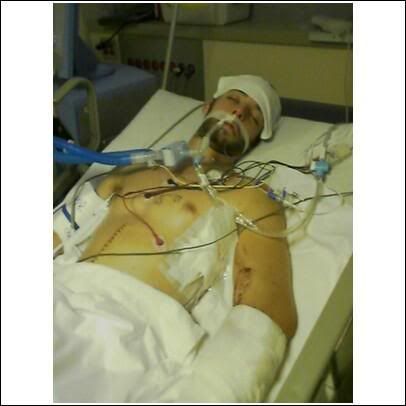 The girl that hit me had only been living in Atlanta for 3 days and she didn't know where she was going. Trying to get back to her house. She was not drinking, it was a complete accident, so I definately don't hate her. We have talked afterwards and actually hung out a few times. Don't talk hardly at all anymore, I THINK she was into drugs alot and I'm not at all so I don't like to be around the shit...