Discussion Starter
·
#1
·
Another new leather suit for 2010, the Alpinestars GP Pro, like their
Tech 1-R
- takes advantage of new technologies developed by Alpinestars-sponsored racers in MotoGP and World Superbike. Made with 1.3mm full-grain leather that covers 85% of its outer surface (the rest is Aramadic stretch panel), the suit can be expected to hold up well where abrasion resistance is concerned. A vast portion of this leather has die-cut perforations in it that span the front of the suit from the collar all the way down to the openings for the feet. The top of the aerodynamic hump is also perforated. This die-cutting method not only produces millimeter-perfect spacing of each perforation but also assures that the holes will not fray over time. Of course, these perforations allow copious quantities of cooling air to pass through and keep the user comfortable while at speed. Further abetting the ventilation process, a fully-removable liner is placed between the rider's skin and the outer leather shell, preventing sticking and allowing the skin to breathe. In certain areas, this liner has stretch panels sewn into it to permit a wide range of movement without an undue amount of effort required by the wearer.
Another area where Alpinestars Tech Labs looked towards their prototype suits was with the integration of a U-shaped accordion stretch panel that runs from the lower back and up each side of the torso. With this, it becomes possible to provide a near-custom fit for a wide range of wearers and it also permits additional ease of flexibility. The suit has the potential to reduce rider fatigue because of this enhanced fitting scheme which gives the rider a feeling of being one
with
the suit, rather than being one
in
the suit. Additional accordion stretch panels are located in front of the knees and behind the elbows. As already mentioned, 15% of the outer shell is made of Aramidic stretch panel in areas that are unlikely to contact the ground in the event of a crash. These not only aid in fitment, but enhance ventilation as well.
Looking after impact attenuation, Alpinestars has installed CE-certified, removable armor in the elbows, shoulders and knees. PE-padding is used in the hips and chest, the latter of which may be upgraded with Alpinestars' own Bionic Chest Protectors. Furthering the suit's ability to reduce the force of impact felt by the rider, hard PU plastic external sliders are located on the elbows, shoulders and knees to spread the load of an impact over a larger area and impart greater abrasion resistance to the leather. These are strategically placed where they are likely to come into contact with the pavement during a crash. Finally, if you don't already have a back protector, don't forget to ask about ordering a Bionic Race back protector with this suit. This particular Alpinestars back protector snaps into place just below the user's neck in one of three selectable positions.
Alpinestars GP Pro one-piece leather suits are brand new and availability is very limited. You can read more about this one-piece leather suit
on our website
then call TJ at 866.931.6644 ext 817 for expert sizing guidance and fast shipping. We can also take any questions you have via email – send those to FORUM at RIDERSDISCOUNT dot COM with ALPINESTARS GP PRO SUIT in the subject line, along with the size you need and the color you want and we'll get back to you right away.
The Alpinestars GP Pro 1-piece leather suit in white/black.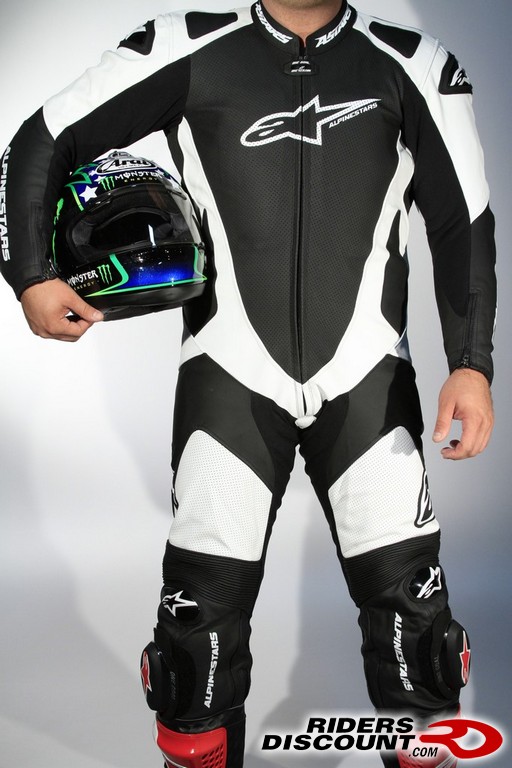 Alpinestars new dual-density aerodynamic hump provides added impact protection as well as excellent ventilation thanks to its hollowed-out design. It delivers cooling air to the back when you get moving.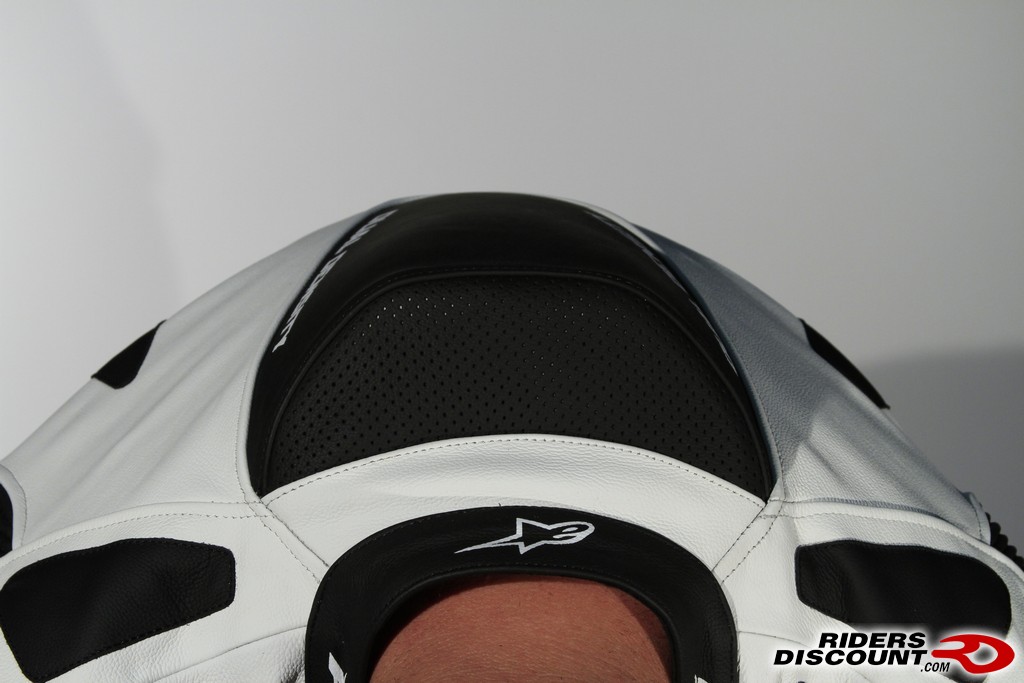 Just below the neck, a three-position button snap allows you to attach an Alpinestars Bionic Race back protector.
The large, U-shaped accordion stretch panel is clearly visible in this shot.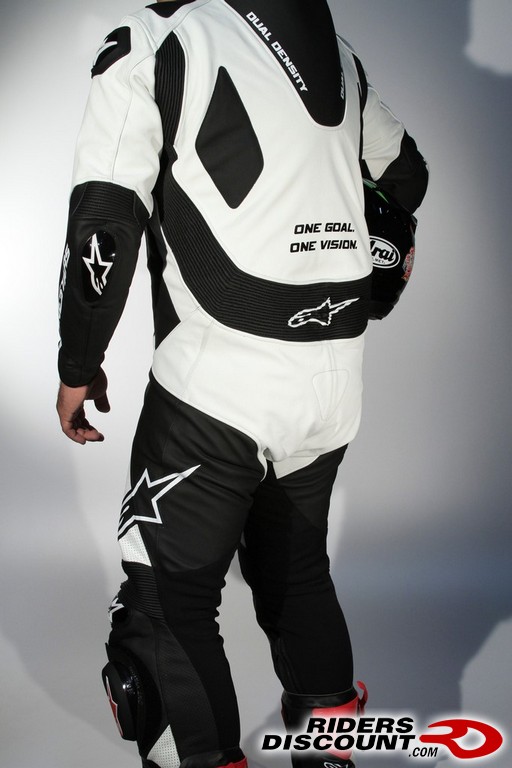 Additional accordion stretch panels are located on each knee along with external PU armor.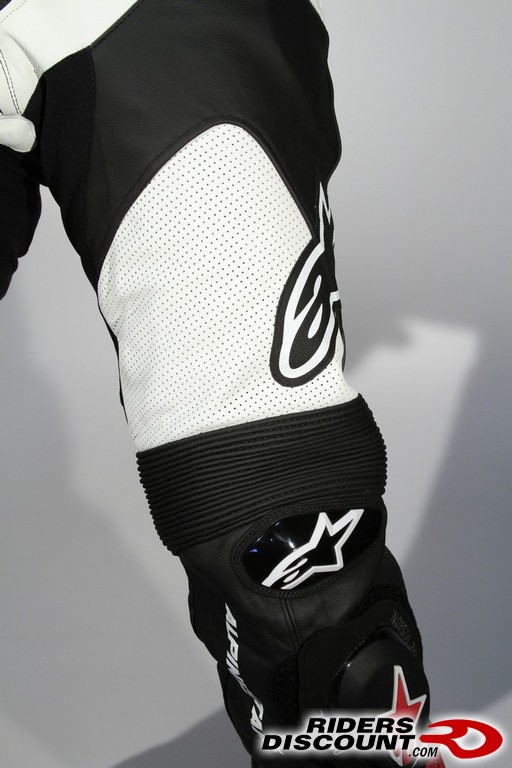 Elbows too, are well covered with internal CE-approved armor as well as the external PU sliders seen here.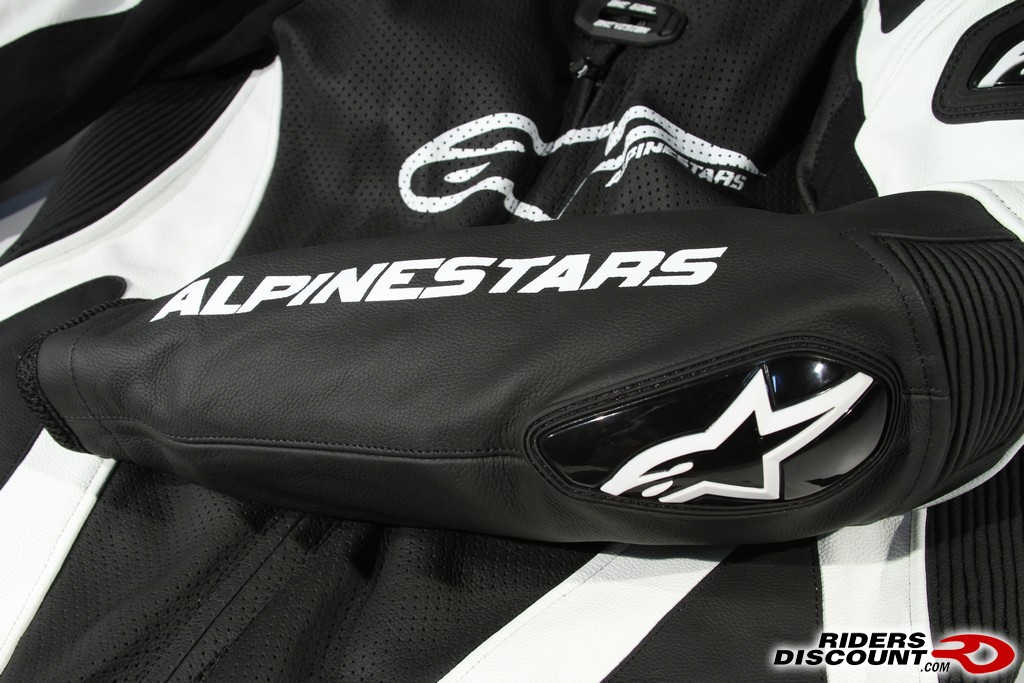 To aid in comfort and flexibility, the removable liner has flex panels sewn into it at strategic locations. This one follows the exterior U-shaped accordion stretch panel.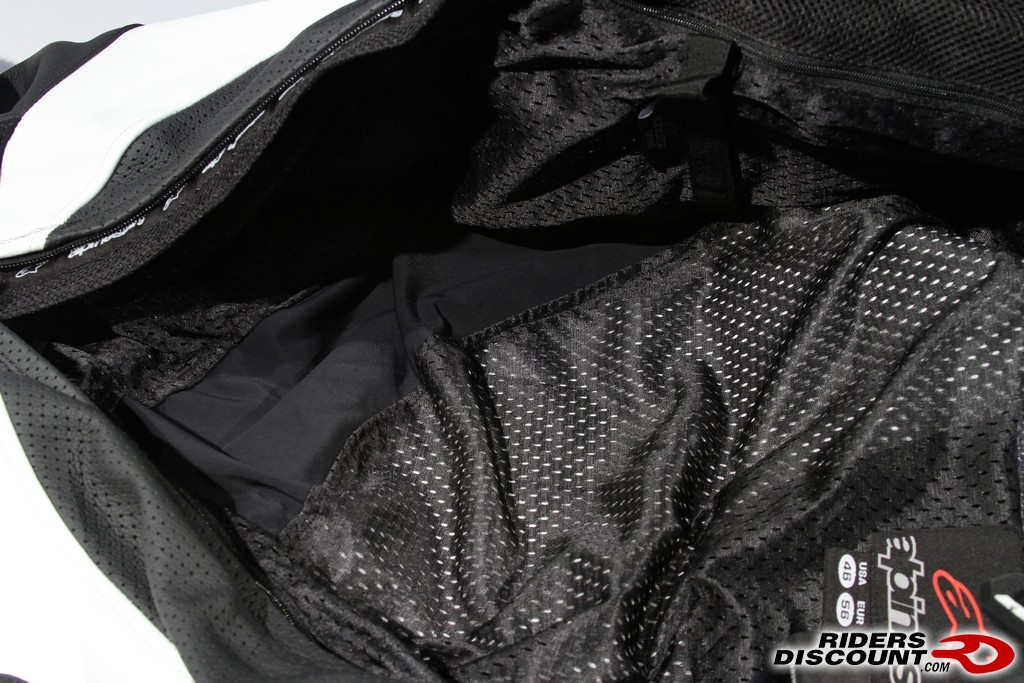 Alpinestars GP Pro one-piece leather suits are available in four different color schemes. Black/white/red is shown here.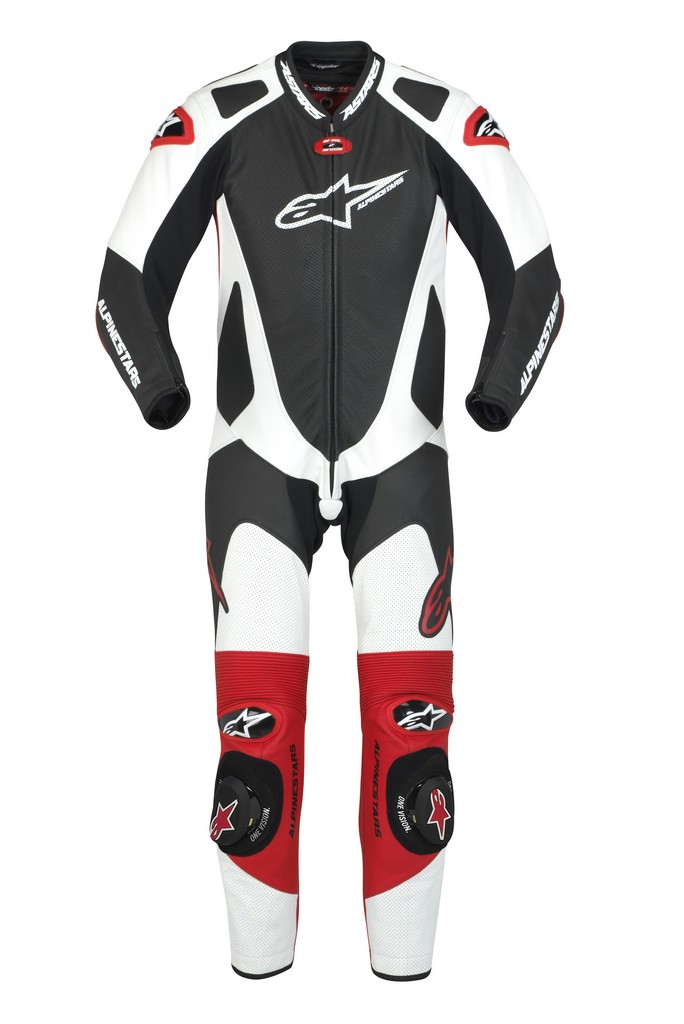 The GP Pro leather racing suit in black/white/blue.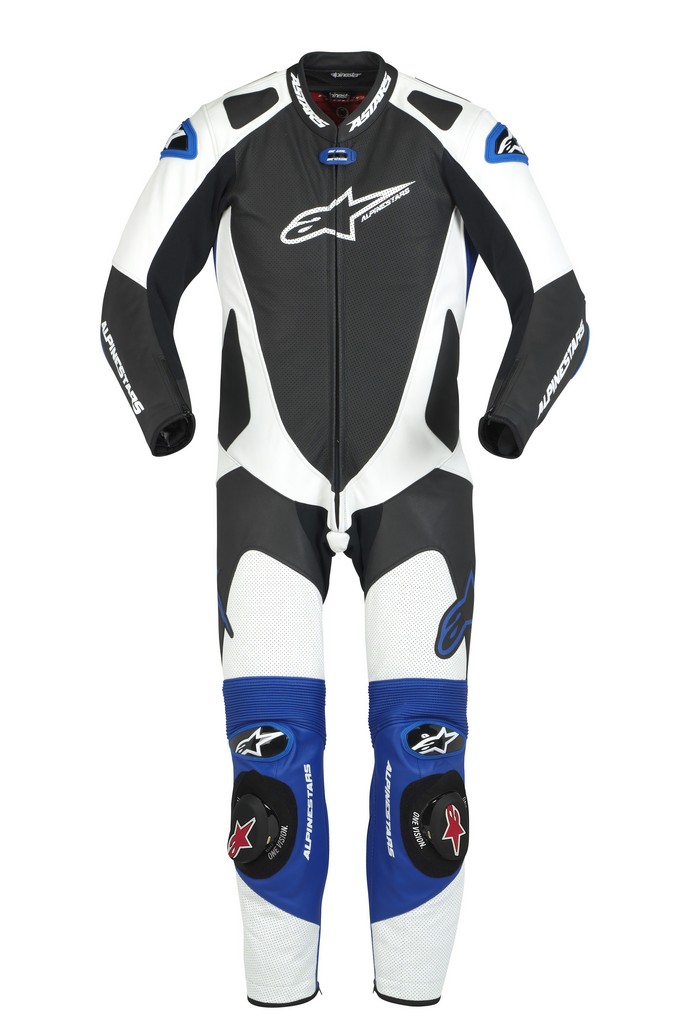 There's also a solid-black color available for this one piece leather suit.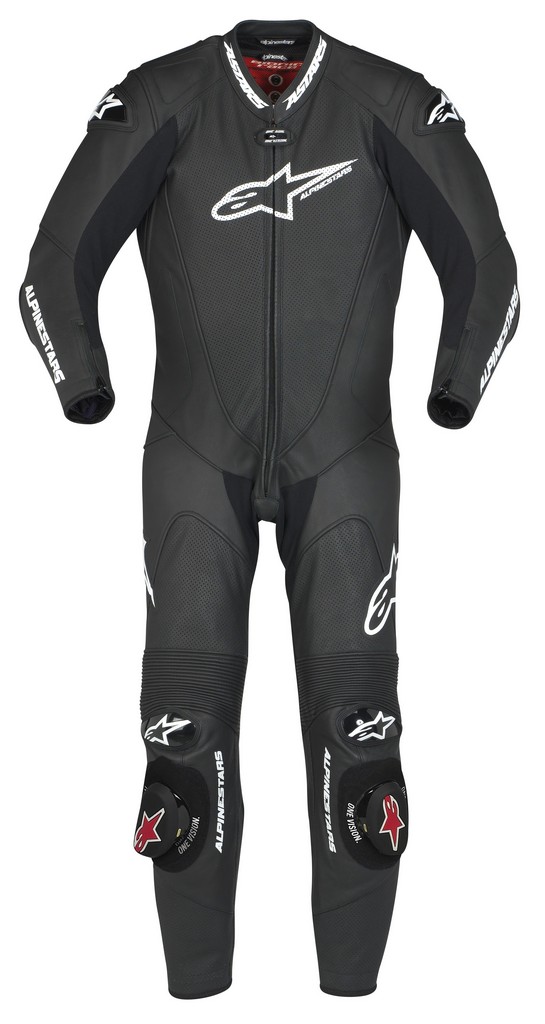 As with all Alpinestars full suits, quality of construction is top notch inside and out.