well at least it wasn't speeding.
here's what happened: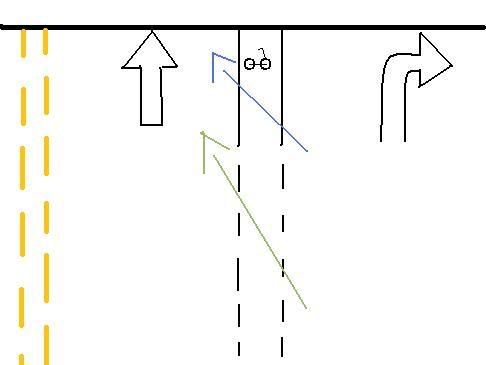 The police officer claimed i made an illegal movement described by the blue line. I think i proceeded with the green line.
initially i was in the left lane, but the traffic was bumper to bumper, so i switched into the right lane. i was travelling down the right lane for about a quarter mile and it turned into a "turn only" lane. when i realized this, i switch over to the left lane. at the time, all traffic was stopped because of a red light. so i got into the right lane by sharing it with a stopped car and pulled up to the crosswalk believing i wasn't doing anything improper.
when the light turned green, i took off and then saw a cop waiving me down on the right, and i thought....shit what the hell did i do now. apparently they are keeping a tight watch at that intersection because of prior collisions due to the exact thing i did. by the way, the bike lane only exists for like 50 feet. there was no bike lane for the quarter mile i was travelling down the right lane. i got screwed because of the stupid bike lane.
so i'm not sure if i can win this case or not. what should i do?