Photos by Neale Bayly
Words by Paul Sutton
As my truck rolls west on I-20 during peak rush-hour traffic in downtown Atlanta, my fearless copilot and I find ourselves in desperate need of escape from the 5 MPH thrills of the cubically-employed. Our thoughts and conversation wander to the blissful scraping of knee pucks and harmonious whines of brand new Yamaha R6's on the tarmac Mecca known as Barber Motorsports Park I'm traveling with Neale Bayly— trusty companion and motorcycle journalist (with the bladder the size of a peanut) who has graciously invited me back to Barber after prezeling an anonymous celebrity's brand new ZX6R test bike some 10 months ago. Rewind to June, 2007—my first track experience. After a frustratingly slow 4 sessions in the novice class I decided to make the jump to Intermediate class and I tucked the front in T2 carrying entirely too much entry speed. I learned a difficult lesson about riding within the limit of my ability when I go sliding off into turn 2's blistering white gravel trap. Needless to say, my reputation of a crasher has been difficult to shake. I'm off to learn the proper skills and technique at the Jamie James Yamaha Champion Riding School. The next 2 days should provide fun and excitement with Jamie James, Scott Russell, guest instructor Rich Oliver, among other champion instructors who all have proven skill and measure in the AMA, WERA, NESBA, CCS, and Moto-ST circuits.
While unloading cameras and gear at dawn on day one, it becomes apparent that weather and track conditions are going to be ideal for 2 full days on the track. There's one instructor for every other student – a ratio that's unheard of in the multitude of track schools across the United States. This isn't your typical "cram as many people onto the track" type event. I'm impressed with the sparkling new fleet of 2008 R6's and FZ-6's. After signing all the required legal forms, the classroom is in session with Instructor introductions and we're suiting up for our first session of the day. Pilot suits and gloves, Arai helmets in all various colors and sizes, and TCX boots are all available at an additional fee with a damage deposit.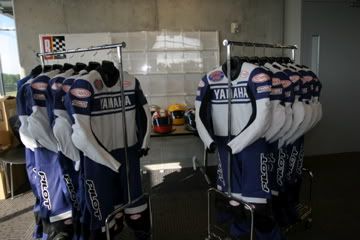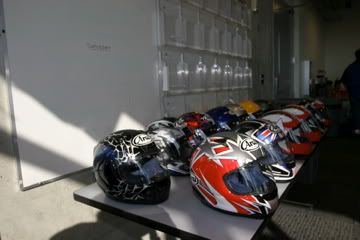 The first session is used as a guided tour of the track. It's especially hair-raising because this is my first time back on the track after the epic low side. My mind and body are working conversely as I creep through the infamous T2 and up the hill toward Charlotte's Web. Two laps later my tires come up to temperature and I'm sweating like a Corona bottle at a Jimmy Buffet concert when a leaf blows through the sweeping downhill right hander of T2 and I immediately target fixate on it. After what seems like an eternity, our 20 minute session has come to an end and we're off to the classroom for our first lesson. Jamie James discusses the responsibilities of street riding and the concentration levels that today's modern street bikes demand. Jamie then moves onto the benefits of track riding and exploring the high speeds of our machines in a controlled, safe environment.