Year: 2008
Model: Liquid Silver R6
Accessories: Carbon Dynamics Front Fender| CD gas tank cover | CD rear hugger | Cox radiator guard | Fast Frank Racing rear axle guide | Graves case covers | Graves fender eliminator | Graves flushmounts | Graves swingarm spools | GYTR axle adjusters | GYTR carbon fiber tank pad | GYTR seat cowl | Pro Bolt front Ti axle bolt | PB rear Ti axle nut | Stahlbus oil drain valve | UK Russ passenger peg covers | Vortex V3 gas cap | Zero Gravity windscreen
Brakes: Braking SK2 front brake rotors | Braking STX rear brake rotor | Braking CM55 front brake pads | Braking SM1 rear brake pads | Brembo RSC19 | Fren Tubo brake lines | Stahlbus speed bleeders
Controls: Brembo clutch lever | Graves clip-ons | Graves fixed rearsets (GP) | Graves diamond frame sliders | Renthal grips
Engine Performance Mods: Bauce Racing re-flash | BMC air filter | Driven 520 | Dynojet autotuner | Dynojet PCV | Graves exup servo eliminator | Graves throttle tube | Graves radiator cap | Graves smog block off plates | Graves Ti exhaust | Samco radiator hoses (Black) | Shorai Battery | SpeedoDRD
Fluids: Engine Ice | Motul
Stands: Bursig paddock | Graves front & rear
Tires and Wheels: Bridgestone S21 | OZ Gass wheels (Gold)
My story...
Hello all, the name is Bryan! I'm going to showcase my 2008 Liquid Silver Yamaha YZF-R6 to you all! I was always a (Toyota) car guy, but for whatever reason I fell in love with streetbikes back in early 2008! I finally went on July 29 of that year to Barney's of Brandon (FL) to buy a bike! I really wanted a Raven R6, but they didn't have any, but had a Liquid Silver on the showroom floor with 0 miles on her! Love at first sight! Wish I'd taken a picture of her in the showroom...
Don't I look so happy...
I didn't have a license at the time, so they delivered it to me...(8|1|08)
*First mods, Graves frame sliders & flushmounts and Umnitza 6000k HIDs (8|18|08)
*Graves fender eliminator w/o turn signal and CA smoked tail light (9|6|08)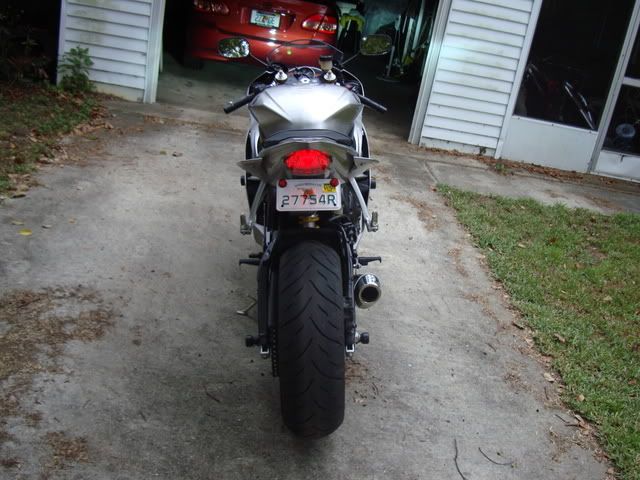 *Graves fixed rearsets (9|22|08)
*Graves Ti exhaust, PCV and more (6|4|09)
Teaser...
http://www.r6-forum.com/forums/showthread.php?t=90097&highlight=
Install...
http://www.r6-forum.com/forums/showthread.php?t=90672&highlight=
*Year One (7|29|09)
http://www.r6-forum.com/forums/showthread.php?t=94956&highlight=
*Happy 25th birthday to me (7|6|10)
http://www.r6-forum.com/forums/showthread.php?t=118543&highlight=
*Year Two (7|29|10)
http://www.r6-forum.com/forums/showthread.php?t=122476&highlight=
Then I fell out of love with my R6 for whatever reason in late 2010 and all 2011, I don't really know why! Most likely because I had a girlfriend during that time! But, at the end of the day my R6 seems like the only loyal girl I've in my life! (non family)