Hey,
So I have been a part of this forum for a long time but this is my first thread.
This is my 3rd Yamaha R6, my first one was a 2004 R6 then I had a 2009 black and gold R6.
Now this is my latest one, its a 2008 Blue R6 that I just had sprayed black, I have gold rear sets and the new embossed gold R6 decals, just need to get the rims powder coated to gold now, They are getting picked up later today to get that done, should have them back by Monday. The tank tuning fork emblems will be put on once the bike has been polished.
Most of you will ask why I sold the 2009 Black and gold R6 and why I am trying to make this one look similar...well I ran into financial troubles at that time and selling the bike was in my best interest at the time, I tried to buy it back but that wasn't gonna happen so I hunted for another R6 and the only low mileage descent one I could find at the time was a 2008 Blue and black R6 so I went with that, I had a few black fairings from my old 2009 R6 as I was in a bit of an accident where a taxi cut me off, The damage was minor, 3 scratches but then the retard mechanic dropped the bike off his work bench while replacing the 3 scratched fairings and stuffed up the entire right side of the bike so he had to basically buy me a full set of new fairings and a new tank. I got the old ones and so turning this blue R6 into a black and gold one was always in the wood works for the future.
Here she is as she stands right now, once polishing is done on Thursday and the powder coated gold rims arrive back on Monday I will take new photos.

Modifications so far include:
Power commander 5
titanium and gold levers,
flush mount indicators
integrated taillight
gold rear sets
projectors with 55w xenons
lowered suspension
side facing tire valves (Not sure of the correct terminology for these)
Gold Embossed R6 decals for belly pannels
(When money permits I will get the full Titanium acropovic exhaust system so that the power commander can actually serve a purpose.)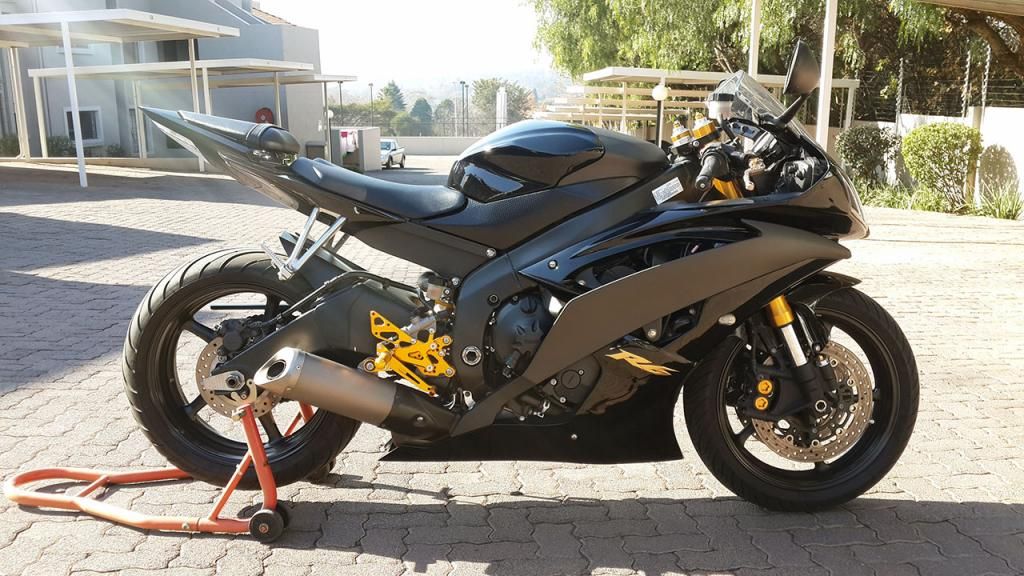 This is what she looked like before:
Anyway let me know what you think so far.