Discussion Starter
·
#1
·
Hello r6 forum members!
I'm selling my well-kept Yamaha Blue 2005 r6. It has 11.5k miles and is lightly modified. I am the second owner. It has a clean title. It has been dropped while standing still on the driveway from the previous owner. It has a small dent on the gas tank from something falling in the garage. Paint is in good condition. Tires have about 2.5k-3k miles. Oil changes every 3k miles. I have kept up with all the maintenance work and it has paid off! The bike never had a problem. One of the most reliable bikes I have ridden. Here are things I have done.
List:
- 520 conversion with stock gearing (black chain with gold links) from Motomummy (500 miles on it). Not in posted picture.
- BMC air filter (500 miles on it)
- New WPS Battery (10 miles on it)
- 5000k HIDs (low and high beam)
- Shorty clutch and brake levers ( 1000 miles on it)
- Yoshimura RS3 Exhaust
- Frame Sliders
- NRC engine covers
- Integrated license plate
- Hot Bodies flush front turn signals
- Smoked windshield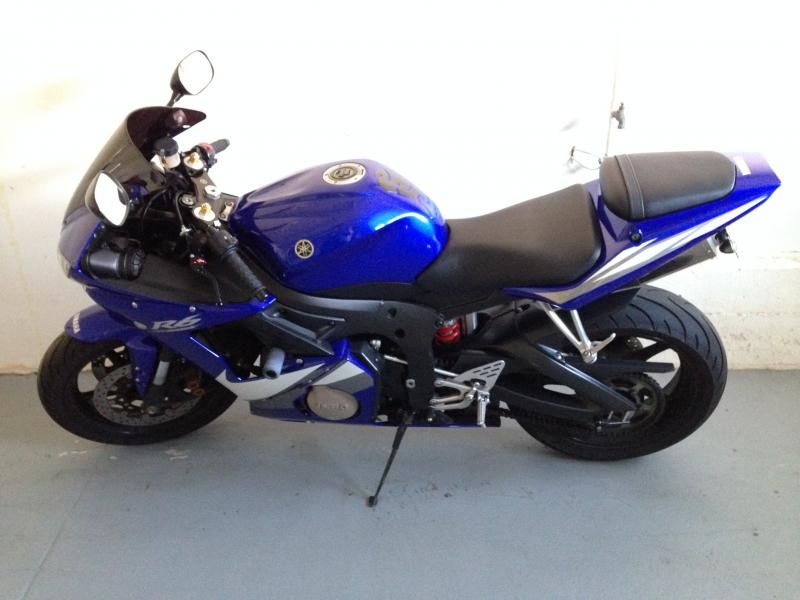 I believe that's everything that's on the bike. Please don't hesitate to ask any questions. PM or emailing me at
[email protected]
is the best way to get in contact with me. I am located in Fremont, CA. The reason I'm selling my bike is that I don't have the time and I used to use it for commuting in SF.
Asking Price: $4500
Thanks,
Elliott