2017 Blue Yamaha R6 with 2382miles
Full MoT
R&G protection as follows:
Brake lever guard, bar end, fork protectors, frame sliders, engine covers, swing arm sliders, paddock stand bobbins.
Tail Tidy, 1 off 3D printed Rear LeD indicators Private plate, with small & MOT legal plate.
MWR race air filter
ECU flash by P3-Tuning
Akrapovic Exhaust, had end cans internals adjusted by SPF performance to make it less noisey.
Hel Braided lines & ABS Delete
It's on eBay currently heres the link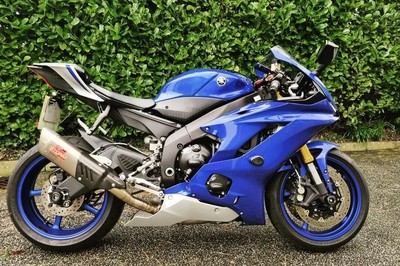 2017 Yamaha R6. This is my wife's bike. Which sadly doesn't get used as you can see by the mileage. The bike has been destickered, as we felt the silver R6 stickers looked cheap and hated the polish build up on the sticker edges.
£9300ono.
This is my wife's bike & as you can see by the mileage doesnt get used alot at all. Destickered the bike, as the graphics aren't lacquered over and personally felt they looked cheap and spent to much time taking the polish off the edges, so removed them.
The bike is in Cornwall, the darkest south western part of the UK.
Any questions or wanting photos/video just send a DM over and will get it sorted ASAP.