This weekend me and about 7 of my buddies planned out some things that we could do. The weather was great and we all finally had some free time. We decided to hit up this airport that has 2 or 3 turns on Friday and hit up Savannah on Saturday. Everyone was excited for us to finally get to ride together since last year. Well on Friday 9 bikes went to the airport 8 bikes came back. A friends friend with a 2007 Daytona Triumph wrecked his bike. He was okay but his bike is pretty crashed up. I don't have any pictures of his wreck. On Saturday after a wonderful day of riding and we found an abandoned track in Savannah we thought the day couldn't get any better. On the way back, about 8 miles away from home, my friend with a GSX-R 1000 starts to gun it and gets clocked at 137 mph by the police. We thought he was gonna keep going but he pulled over because if they police didn't get him they would have got one of us, nice thing to do in my opinion. He went to jail, we got his bike back to his house and when he called he said his ticket was around 1400 dollars
!!!! So I thought the weekend was over, everyone was just gonna chill on Sunday. I get a call that wakes me up around 11:00am from a friend that is the roommate of another guy we ride with saying he got in an accident and his bike is totaled. I was like holy shit is he alright. He told me he broke his leg in about 4 different places and after he hit the ground his shoe was up near his ear and he had to push his leg down to the ground:yuk:!!!! His bone broke through the skin and its pretty graphic and I won't post those pictures. Other than that and some rash he is alright. Bike totally destroyed though. Seems that he was behind a girl and swung out to the left side to pass her but she made a left turn and he and the bike went over the hood. The dumb chick had the nerve to walk up to him, leg messed up and everything to ask him what was he thinking........ Ya it was his fault but that wouldn't come out of my mouth if I hit a biker and it was his fault. He has insurance her car will get fixed but that was just shocking how she didn't even care if he was okay. Anyways here are some pictures of his bike. The bike is a 2008 gixxer 600. My friends managed to pick it up and toss it in the back of a truck and bring it back to their house.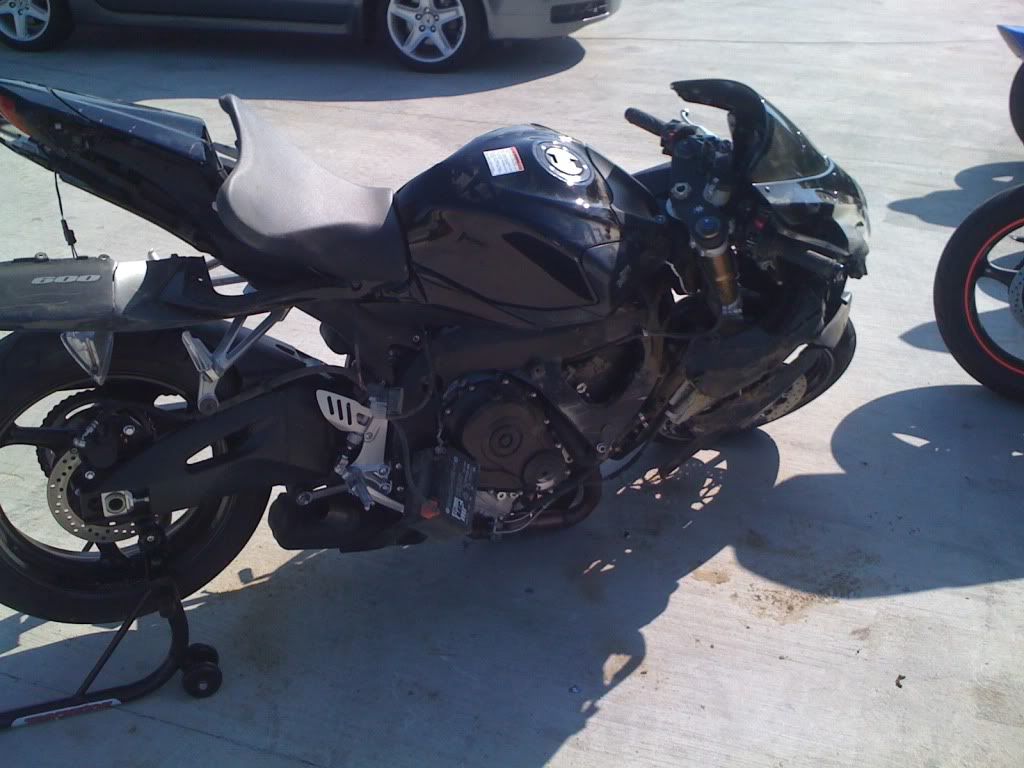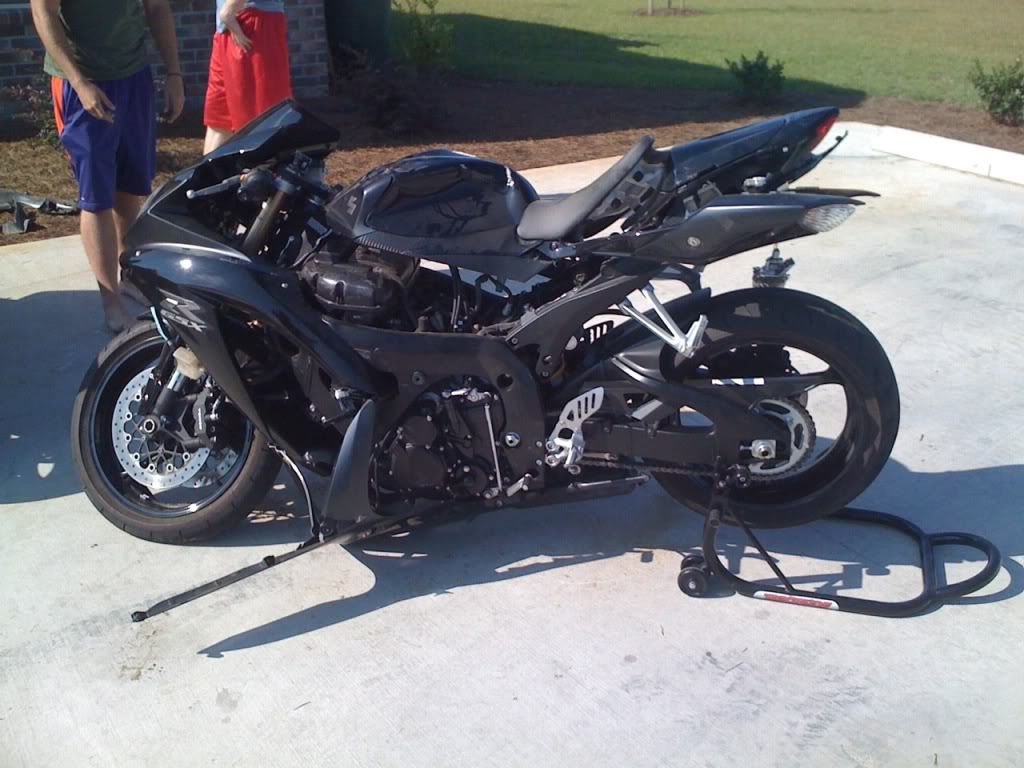 Update: Seems to be that the chick moved over to the side and waved him to pass, he hesitated and she assumed he was waiting on her. Him made his move to pass, she made her move to turn, bam! accident happened. He hit the car going about 55 mph as he was speeding up to pass her. Surgery went great and he is in good condition.
Please ride carefully guys!!!!