Discussion Starter
•
#1
•
This should work with:
R6:
2C0 06-07 (untested but uses the same part number cable)
13s 08-current (tested and works 100%)
R1:
14b 09-15 (untested but uses same part number cable)
Might work with 2CR and 2KS the cable has a new part number but it is now listed for the R6 as well if anyone gives it a go please let me know.
Like alot of people with the YEC ecu I borrowed an interface cable to have it dyno tuned when i first set it up. Now later on I decided i wanted to adjust some of the settings.
So after refusing to pay the ridiculous price for a genuine YEC interface cable. Or the even more ridiculous price Graves and all others on ebay want for their "Much Cheaper" version, which as it turns out is just what i'm about to show you how to make.
Once I learned that the ecu communicates via common 5v TTL serial protocol the rest was pretty simple. I wasn't sure if the Yamaha Fi matching software had any code that stopped it from talking to a non genuine cable that the others selling them had cracked. But i figured if they can do it I can and for twenty odd bucks who cares as long as it doesn't fry my ecu (I work with electronics for my job so I was pretty sure it wouldn't) its worth a shot. I could try like 10 different cables to find the right one and still be cheaper(Actually tried 2 first was a $10NZD ($7US) cable with a manufacturing defect two pins were bridged with a bad solder job and killed itself hows that for luck! second was a $7NZD ($5US) one that said 5v but turns out it was a 3.3v cable with a 5v supply line also took some messing around with drivers due to the chip being fake).
Anyway
What you need:
I have ordered the cable in the link so will update steps and pics when it gets here
1x 5v TTL to USB Cable Link:
https://www.sparkfun.com/products/9718
- There are much cheaper options but these are guaranteed to have genuine chips meaning no driver problems if your good with computers getting the fake ones to work is easy. But read my experience above with poor manufacturing it got so hot i couldn't touch it. I'm just lucky it didn't fry the usb ports on my laptop.
Or If you want pretty lights but not as pit garage friendly without an enclosure and requires some de-soldering and soldering:
https://www.sparkfun.com/products/9716
There's loads of other options out there but as long as its for 5v logic (most 3.3v cables have a 5v vcc wire for power supply so make sure it specifically says 5v logic or 5v IO)
1x 4 pin Female Sumitomo MT .090 seires connector Link:
Motorcycle MT .090 Sealed Series - Connector and Terminals
3x Female terminals to suit the connector (get more than you need just in case you make a mistake)
3x wire seals to suit connector
1x Blanking seal to suit connector
(These are all near the bottom of the page linked for the connector)
The connector kits they sell are great for those of you like me that like to use the right connectors instead to chopping the loom up to fit quickshift sensors etc
You want the one on the right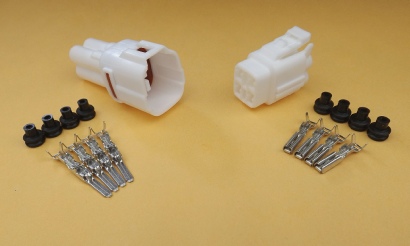 Tools:
Crimping tool (Available from the site with the connectors at bottom of page)
Wire strippers
Wire cutters
Heat shrink if you wanna get fancy
I haven't actually used the exact cable I've linked to since i live in New Zealand and used what i have available locally. I also wanted something with receive (Rx) and transmit (Tx) lights so i could see what was going on to get my connections right (Basically if Tx is flashing when you click read ecu or try to start monitor and you get nothing back your cable is working with the software and it is sending the request but your ecu is not responding so either the Rx and Tx wires are the wrong way around or you have a 3.3v cable)
I will post pics of what i am using and how to hook it up at the bottom.
For these steps I'll be using one of my useless 3.3v cables as an example it Looks pretty much the same just has 4 wires instead of 6 we will only be using 3 anyway.
Take your cable and cut off the connector if it has one.
Locate the Rx, Tx (sometimes Rxd and Txd) and Gnd wires using the datasheet (you might have to get it from the website you bought it from) the wiring colors are pretty standardized with most cables using the same color coding. In the case of the 4 wire cable in the example above its green and white for
Rx and Tx and black for Gnd, Red is +5v we wont be using this.
This is for the Ftdi 6 wire cable:
Trim back the cables we wont be using, there will be 3 to trim back Vcc, Cts and Rts not 1 like in the pic.
Strip back the insulation of the 3 wires we will be using the wire is quite a small gauge on some of these cables so you might want to strip back enough to double or even triple it back to get enough for the crimp to grip on.
Crimp the terminals onto the wires PUT THE SEALS ON FIRST!
Here is a link to a good guide to crimping:
Crimp-tool-help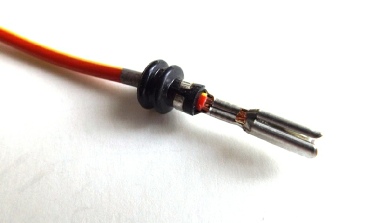 Next is the important bit Putting the terminals in the right spots!
There is one pin on the YEC loom connector that has 12v on it the wire is red don't connect anything to it it will most likely fry your cable
You can't really damage anything other than the cable if you get it wrong and as long as you don't connect anything to the 12v pin any other combination wont hurt it, it just wont work.
If you get the Rx and Tx around the wrong way you wont hurt it, it just wont work so swap them and try again. You can just plug the terminals on to the pins in the loom plug and try it with the software first to check your Rx and Tx lines are correct before clipping them into the plug body (they are hard to get out without the removal tool) just make sure the ignition is off while connecting or disconnecting and none of them are touching each other or the 12v pin! you can put some tape around the outside of the terminals to help with that.
This is the first working test cable I made with an arduino programming board and some small spade terminals before I ordered the right connectors. Colors are: Green/yellow= Gnd, Brown=Rx, Blue=Tx
My loom connector is mounted on its side to the fairing bracket the push in mounting tag is on the right for reference.
This is looking from the pin side of the YEC Loom plug mounting tag on the bottom. This is straight from the 2014 YEC kit manual wiring diagram not sure if colors change between years but the position definitely doesn't.
R: Red=+12v (NO!!)
B: Black=Gnd
Y: Yellow=Rx <----- This is the receive line of the ecu your cables transmit (Tx) wire needs to connect to this.
G2: Green=Tx <---- This is the transmit line of the ecu your cables Receive (Rx) wire needs to connect to this.
Clip them into the connector
Looking at your connector from the side your inserting the terminals from.
Gnd is bottom right
Tx is bottom left
Rx is top left
Place your blanking plug in the top right and your done!
For those of you that can de-solder and solder etc you can do what I have done and use a USB to serial board meant for programming Arduino microcontrollers which was all i could get from the local Jaycar electronics store that was compatable with 5v logic. Bonus they were on sale for $19NZD (about $13US) and have pretty Rx and Tx led lights to entertain you. Also uses a regular micro usb cable to connect to the pc.
Pretty simple just de-solder the header from the board and solder your 3 wires from whatever cable you use to the Rx, Tx and Gnd through holes. put your connector on the end, mount it in a jiffybox (was the smallest the store had) and your done.
Enjoy!