·
Burnin' gas & haulin' a$$
I've got a couple of Teknic suits and a Teknic 7 plate back protector for sale. These suits are both 46 US / 56 EU but they fit like most size 44 /54 suits do. For reference I am about 5'9" - 5'10" tall and right around 165 - 170 with a pretty average build and the Xcellerator 1 pc fits me really good with my Knox back AND chest protectors along with Forcefield padded undershorts under it.
The Chicane 2 pc is a little tighter, (mostly the jacket), I only wore it at the dragstrip so just used the orig. backpad in it. I wore my undersuit under both of them so no funky odors etc.
Any questions /more pics etc. e-mail me at
[email protected]
I think I have them priced pretty good, shipping if needed is extra.
I am located in Richmond, IL 60071 but hope to do a few days at Blackhawk, Road America and maybe Autobahn CC yet this season so I can bring them along for a cash sale.
Teknic Xcellerator Racesuit, 1 pc, size 46US /56EU, white/black/silver. This is Teknics topline suit, Kangaroo leather, external shoulder armor/plates, Knox interior armor in the knee/shins and elbows, lots of perforation for cooling, speedhump, all zippers etc work fine. Knee sliders have normal wear. This suits been down once on the right side, was repaired and is solid/safe but still has some visible scuffs on it. I tried to show it all in the pics. I wore it as is last year a few times. $ SOLD !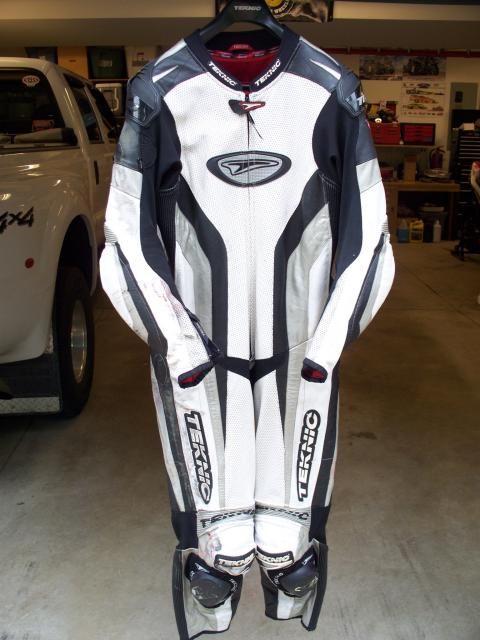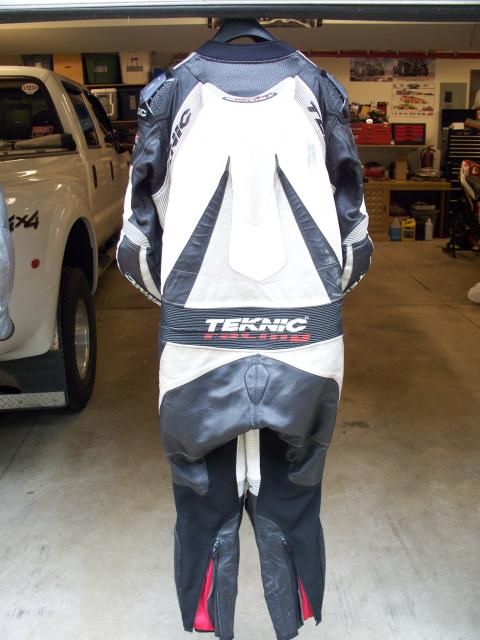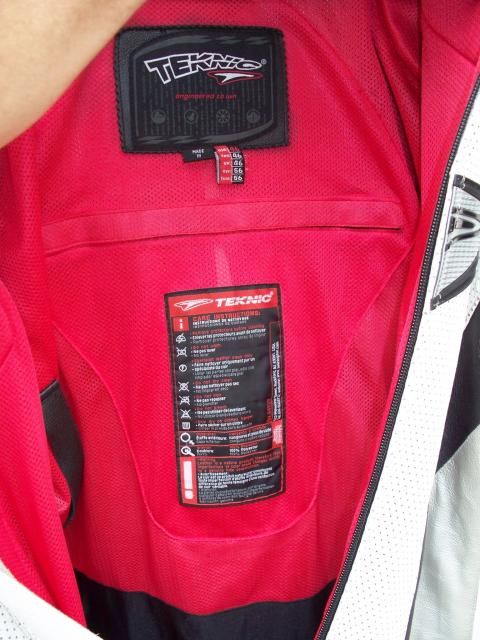 Teknic Chicane 2 pc suit, size 46/56, black/gray color, has a full 360 degree zipper to join the jacket and pants so it is racetrack legal, has interior armor in the shoulders, elbows, knees, interior hip pads, interior back pad, all zippers etc work properly. I don't have knee sliders on it, but there is velcro there for them and I have a brand new pair of teknic sliders I can include in the deal if you want them.
This suit is basically in like new condition, as close to perfect as you'll find in a used suit. $ SOLD !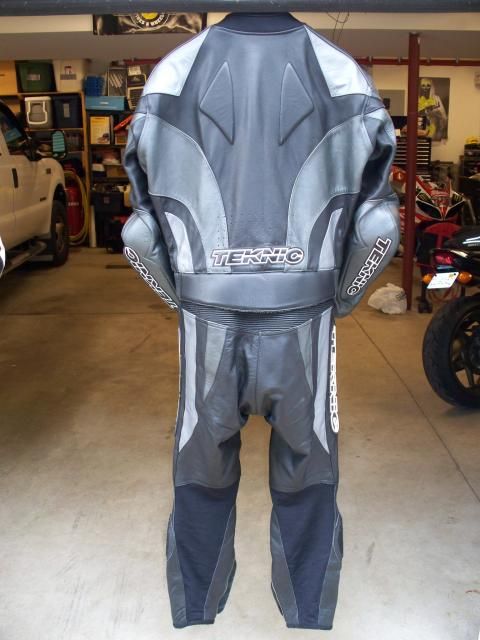 Teknic 7 plate back/spine protector, excellent condition. $65.00