Hey folks. My name is Jay! :wave
IG: marlonmags
So I have never really posted pictures of my bike or me at all on the bike on this forum in some of the specific threads we have for it. This will mostly be my race bike and I'll throw in some product reviews for those who are on the fence of certain things they should buy. This first post will be a bit longer as I have gathered a bunch of photos from when i first started doing these changes and consolidated it in one.
I'm pretty much about done with my build with the exception of a few things. I'll list out what I have and all the photos will be in a time frame of when I installed it all. I'll have a second post filled with reviews underneath of all the products. I'm going to list what I have currently, not what I have had prior for my street bike. Here we go!
Presenting my 2007 LLAMAJA R6 Race Bike! #140
Bodywork
:
- Armour Bodies Superbike Set
Performance
:
- Graves Full Exhaust
- AGG Smog Block-Off plates
- Bauce Racing Flash ECU (109hp Dyno)
Suspension
:
- Ohlins Rear Shock TTX 36 w/.95 and .90 for spare
- Ohlins Cartridge Kit 25mm w/.95 and .90 for spare
Controls
:
- Woodcraft Clip Ons
- Woodcraft Rearsets GP Shift
- Woodcraft Brake Lever Guard
- Pitbull Steering Damper
Braking
:
- Brembo RCS19 (set to 18)
- Brembo 30cc Reservoir
- Fren Tubo Type 4 Lines
- Ferodo XRAC Pads
- Spiegler Speed Bleeders (Calipers)
Casing/Protection
:
- Woodcraft Ignition Cover
- Woodcraft Stator Cover
- Woodcraft Frame Sliders
- Woodcraft Spool Sliders
- Woodcraft Shark Guard
- ETI Fuel Cell Tank Guards
- BryanJ Radiator Guard
Electronics
:
- Annitori Quickshifter
- SpeedoDRD
Gearing
:
- 520 Sprocket Conversion Kit
- Driven Rear Sprocket 47T
- Driven Front Sprocket 15T
- RK 520GXW Black
Tires
:
- Bridgestone R10 (Type 2 Hard Compound for rear)
- Target temp 32R/34F.
Fluids
:
- Amsoil Synthetic 10w-40
- Water Wetter
- Motul RBF 600
So a bit of a background of myself. I'm at a pretty young age doing things on my own. I was able to buy my bike out right cash. I've never owned a motorcycle but took the MSF course to really learn how to ride safe. I chose an R6 because I loved the way it looked and was set ONLY on getting the candy red color scheme. I did a couple of trackdays and like everyone else I became hooked. I wanted to turn the street bike strictly into track bike just for fun, which then when things got serious turned into a race bike. :lmao
Before I begin, I just want to thank my sponsors for 2013 support:

Here's my baby when i first got her

My very first mod I did to my bike was a full Graves Exhaust. I loved the way it sounded and looked. I also got it for an awesome deal when the Leo's were on sale at the time. :fact This was the same time I did my spark plugs, let alone I have never removed any fairings before so I scared as fack. :laugh

Inside the Graves
Can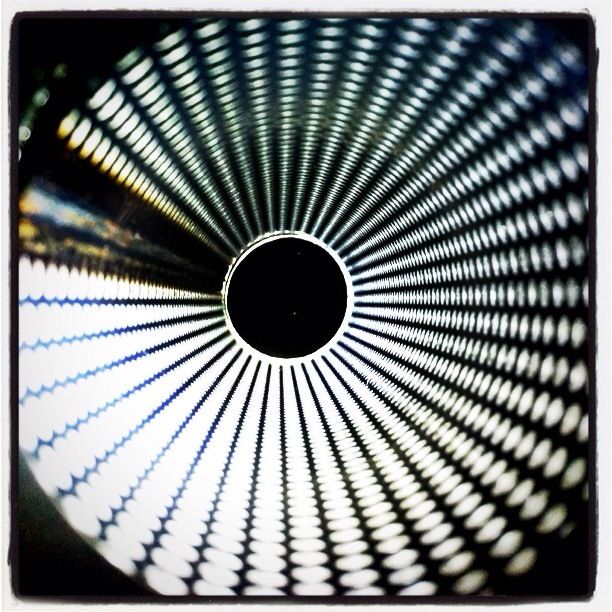 Installed

Here is a finished version of my bike when she was on the street before I started doing any major track upgrades.

I then was able to get a sweet deal on a Ohlins rear shock online. I never messed with installation of a rear shock, but it wasn't that bad and have done it twice and will be doing it a third time tonight.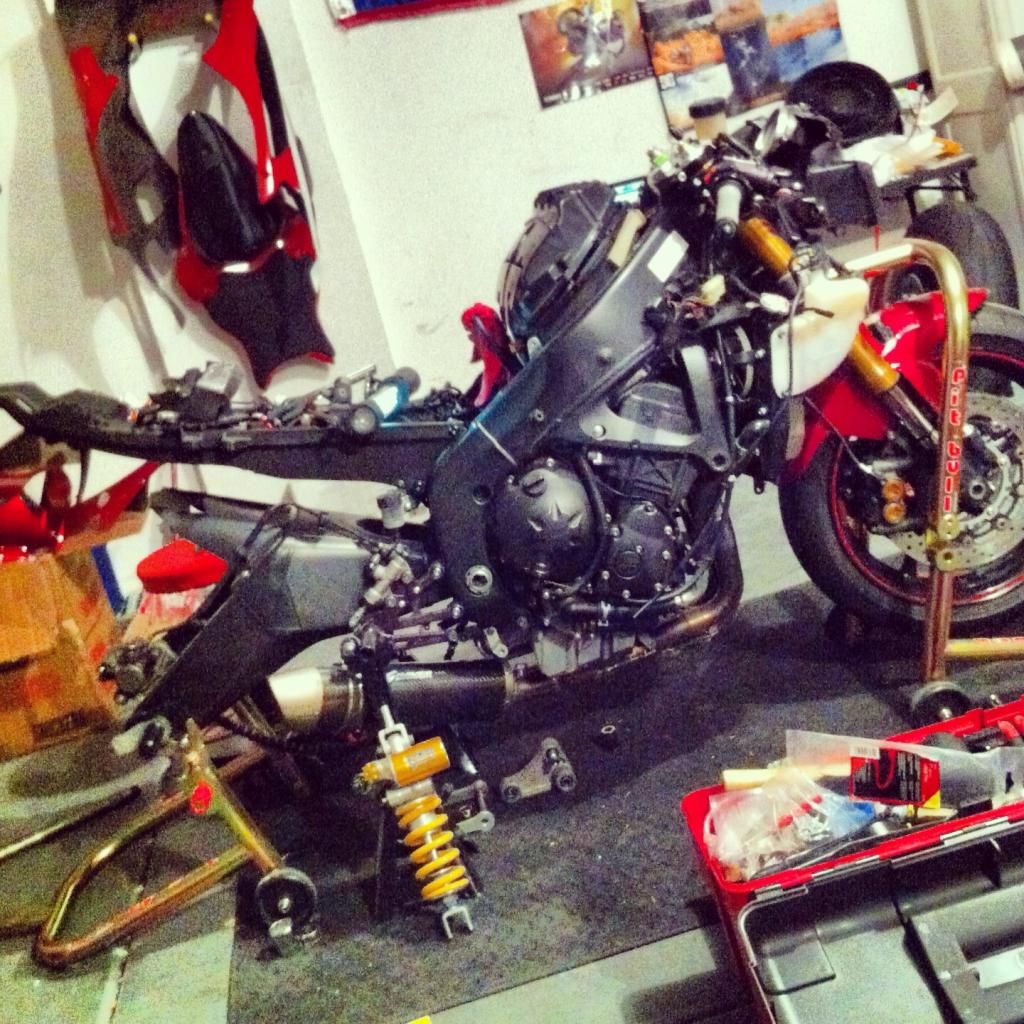 I then read a lot of great things about the 520 Conversion Kits and wanted a bit more low end pull on the bike. I wanted to have a black sprocket and black chain so browsed around till I found the right combo. Also purchased a SpeedoDRD to keep the mph on point.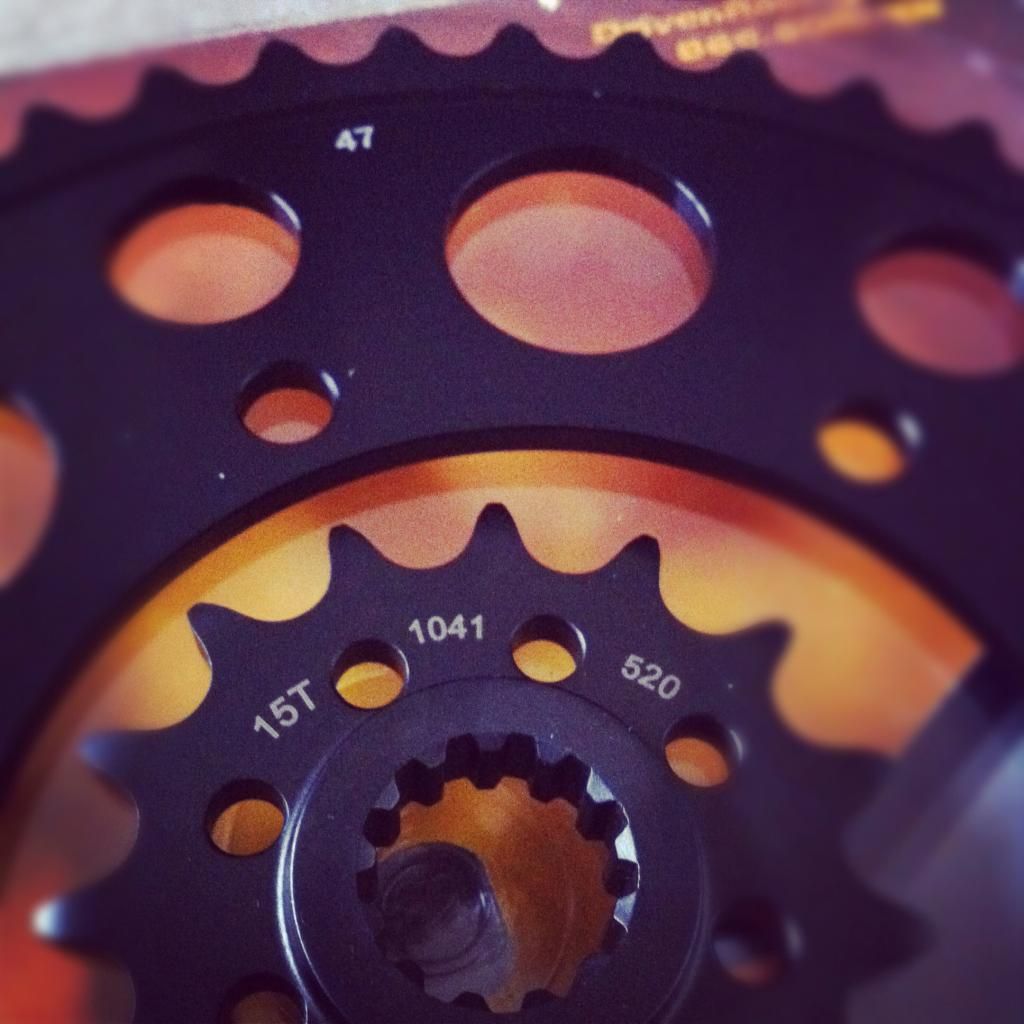 Since I was starting to do trackdays I thought about getting after market rearsets so I can just replace parts as needed in case of a crash. I also wanted to give GP Shift a shot and it's been well worth it ever since. I purchased a set of Woodcraft rearsets GP Shift along with an Annitori Quickshifter! (ONE OF THE BEST MODS YOU CAN DO!! :fact)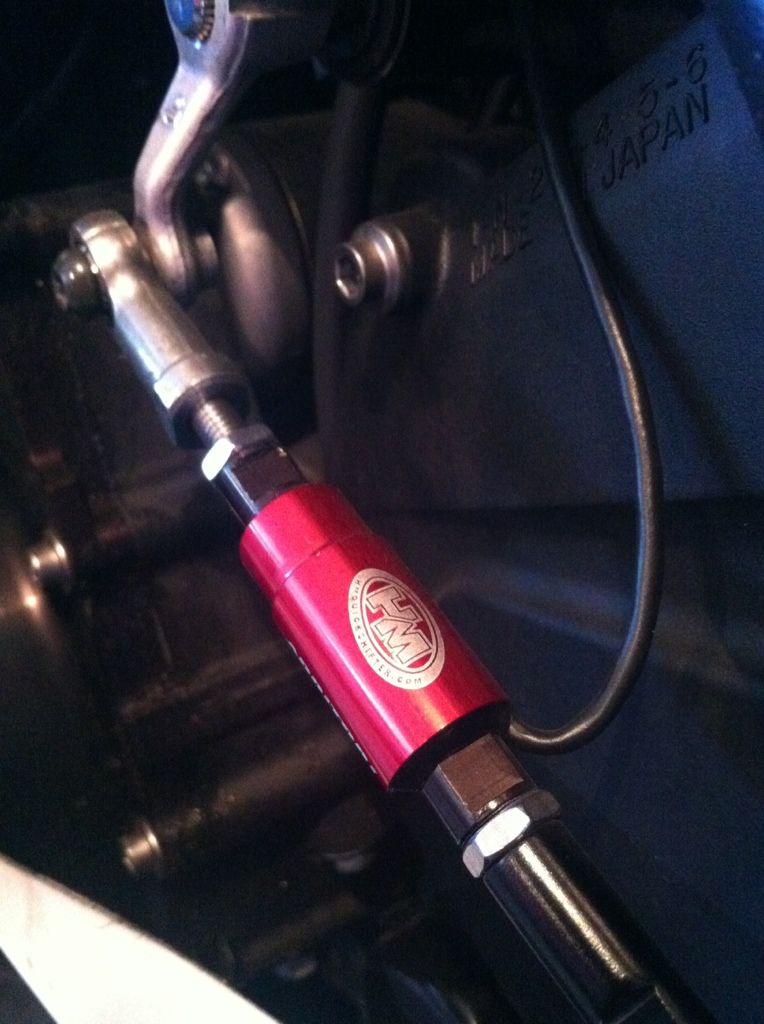 What got me to upgrade most of my controls, it was because I purchased a Pitbull Steering Damper used since it came with a FREE lifetime warranty but it required me to purchase aftermarket clip-ons so I ordered a set of Woodcraft Clip ons.

After quite a few more trackdays I wanted to improve my braking. My bike came with Fren Tubo Type 4 lines already. I wanted to upgrade my stock MC reservoir to a Brembo RCS19. Another amazing upgrade. Better feel on the track and can brake waaay later. Also got a set of Spiegler Bleeders that work wonders to quickly bleed before a track weekend.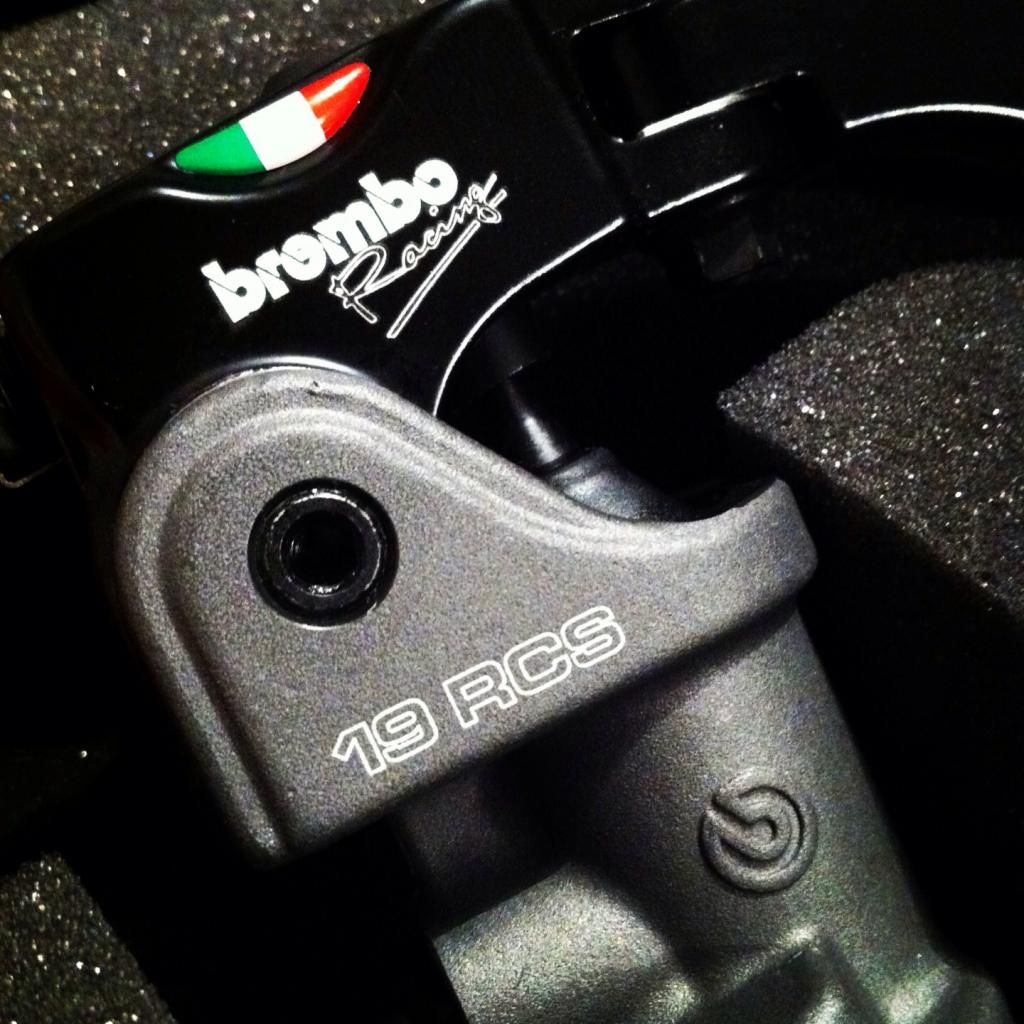 I purchased a set of Armour Bodies and knew that I wanted to dedicate this bike to the track and really progress at it. I wanted to figure out a color scheme and ended up photoshopping this on an iPad and started to paint. I used Krylon Fusion. IT IS AWESOME. Highly recommend it for rattle can jobs.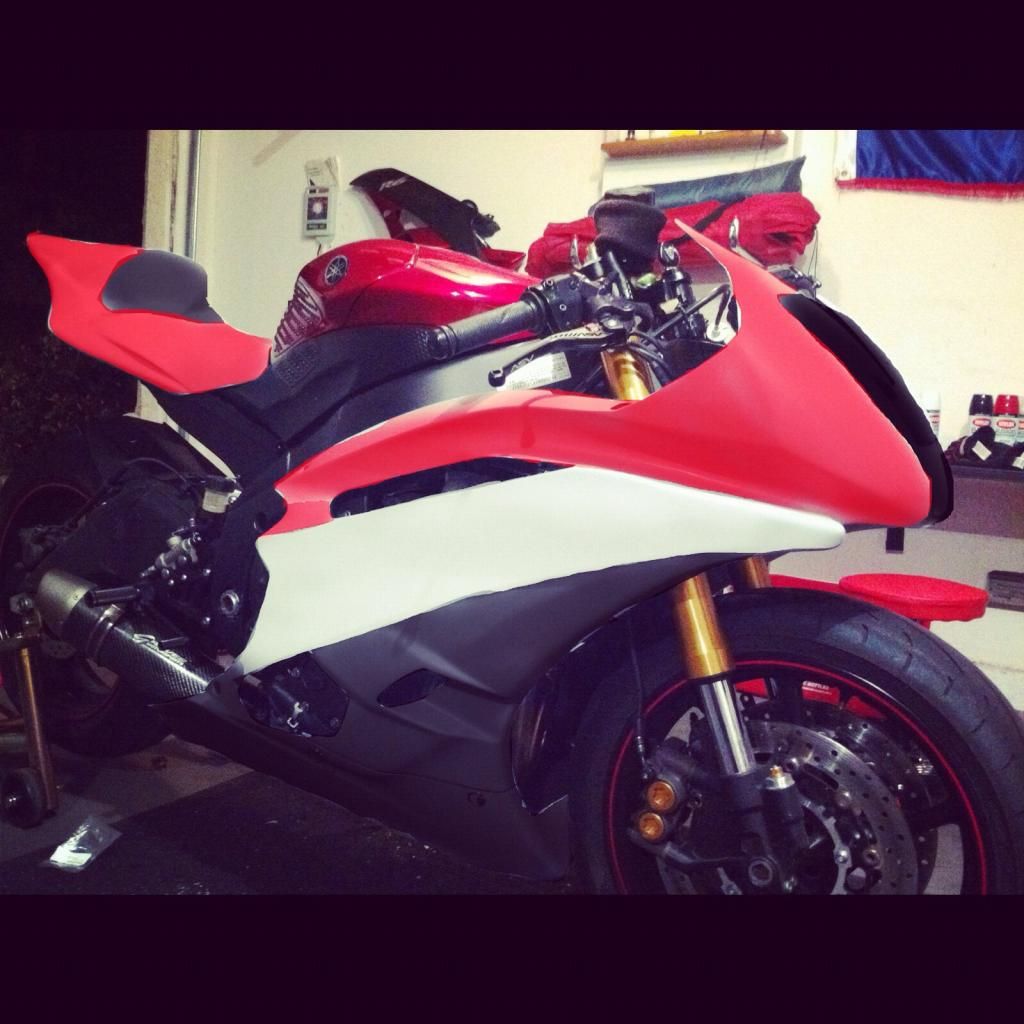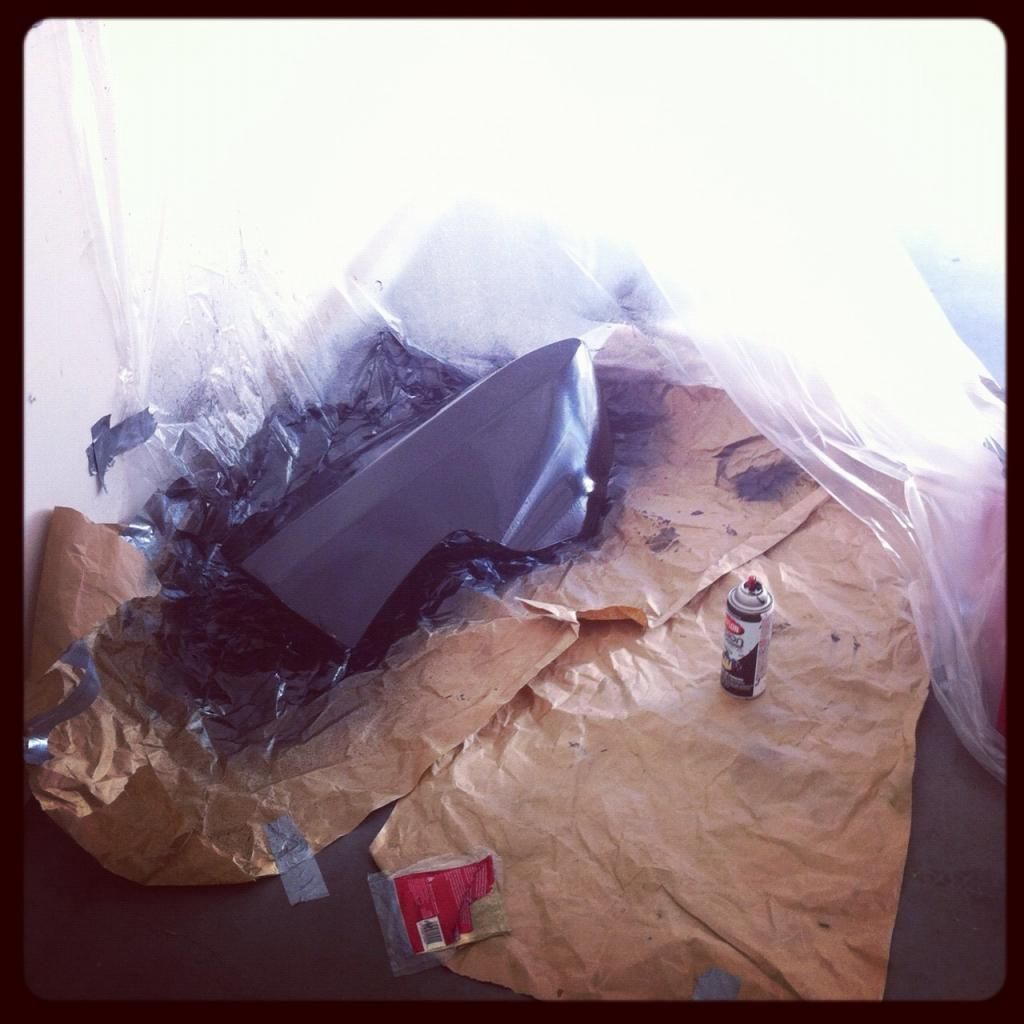 I sold my street fairings to fund some front suspension and it was sad to see the parts go knowing that my baby will never hit the streets looking that good again...
Front Suspension was purchased after waiting to find a great deal. I was able to purchase a set of 25mm Ohlins Cartridges installed in forks with .90 spring spares. Will be getting these properly valved and refreshed before I put them on. I knew when I bought the triple tree front stand 2 years ago that it would come in handy. I'm so glad I did.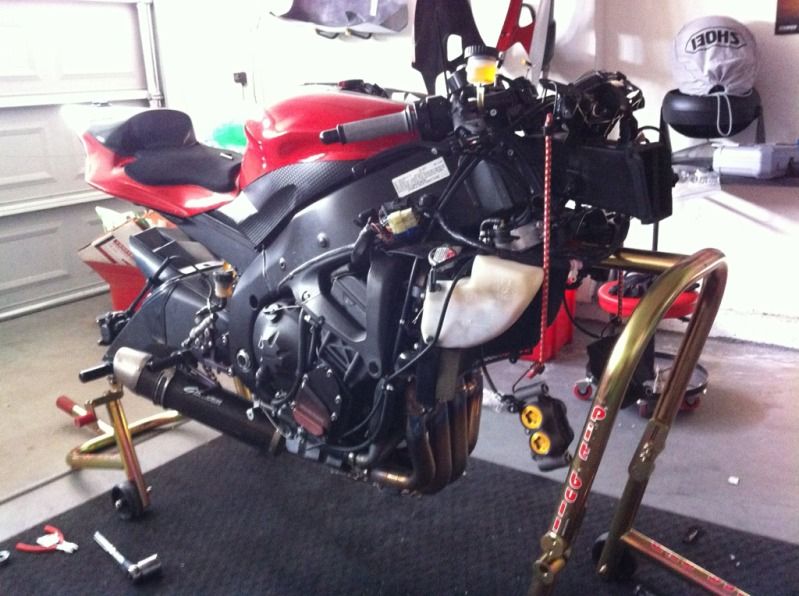 I switched over to RACE DOT tires as I picked up the pace and knew I would start racing soon. I switched from street Dunlop Q2's (amazing tire) to Bridgestone R10s. First tried them at Laguna and they were awesome!!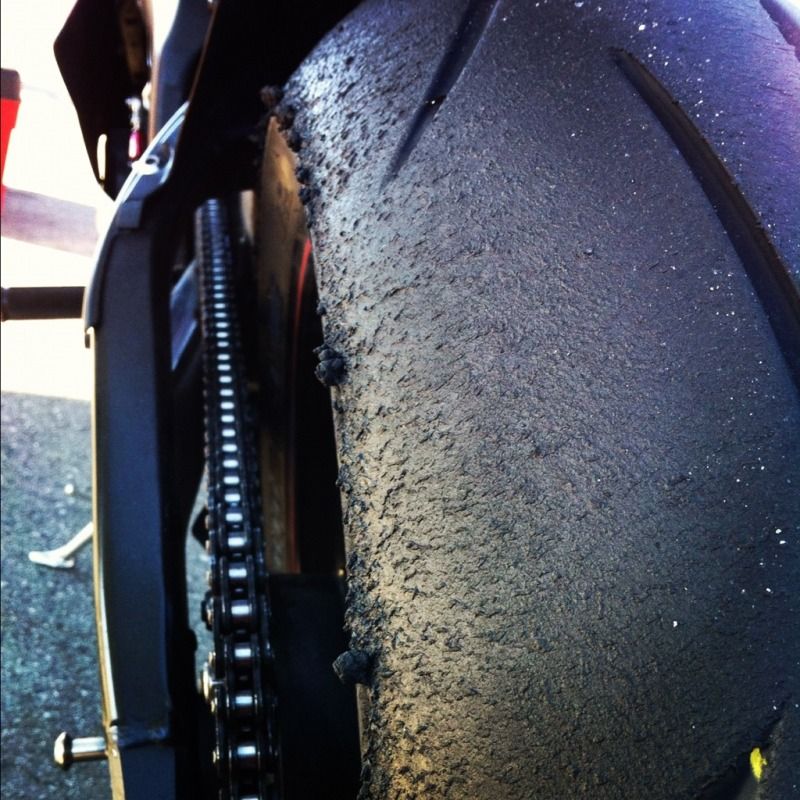 Before&After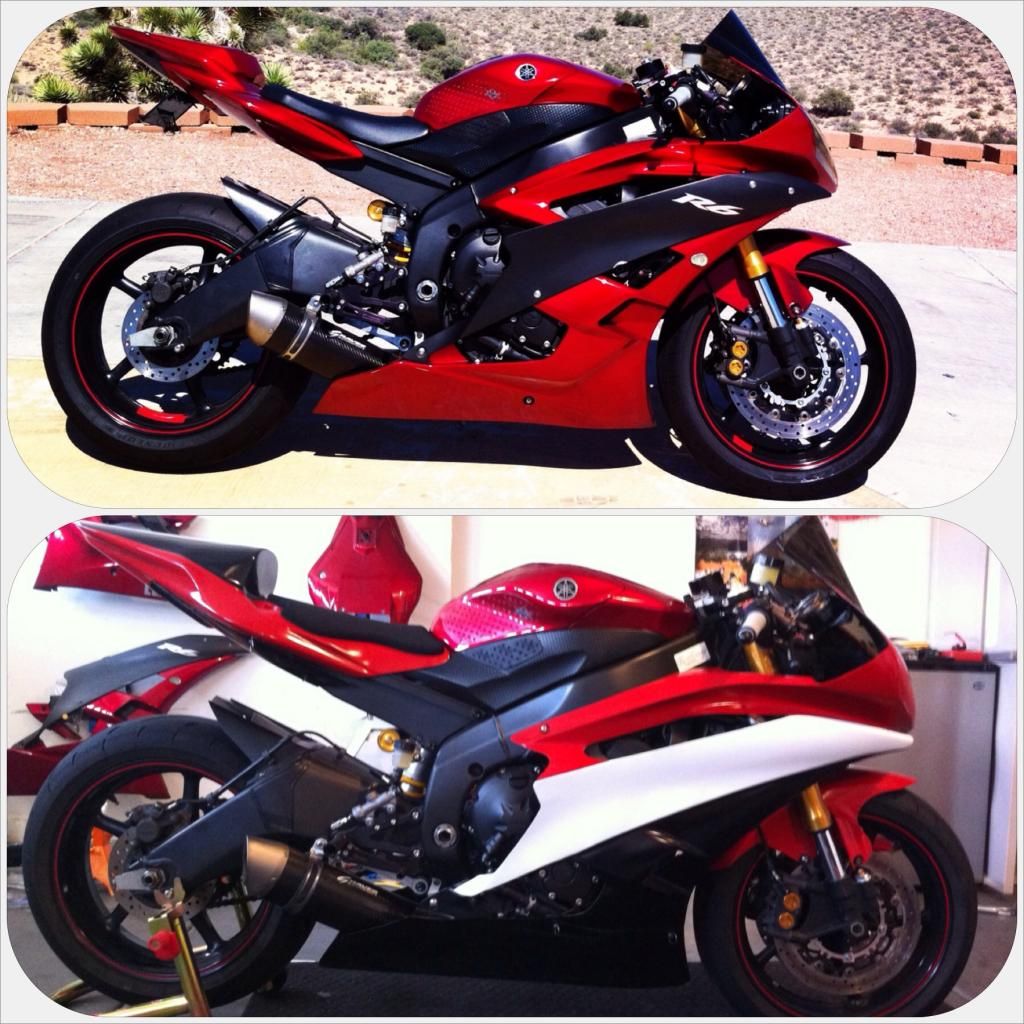 Here are some action shots with everything installed over time...

Lowside at my local track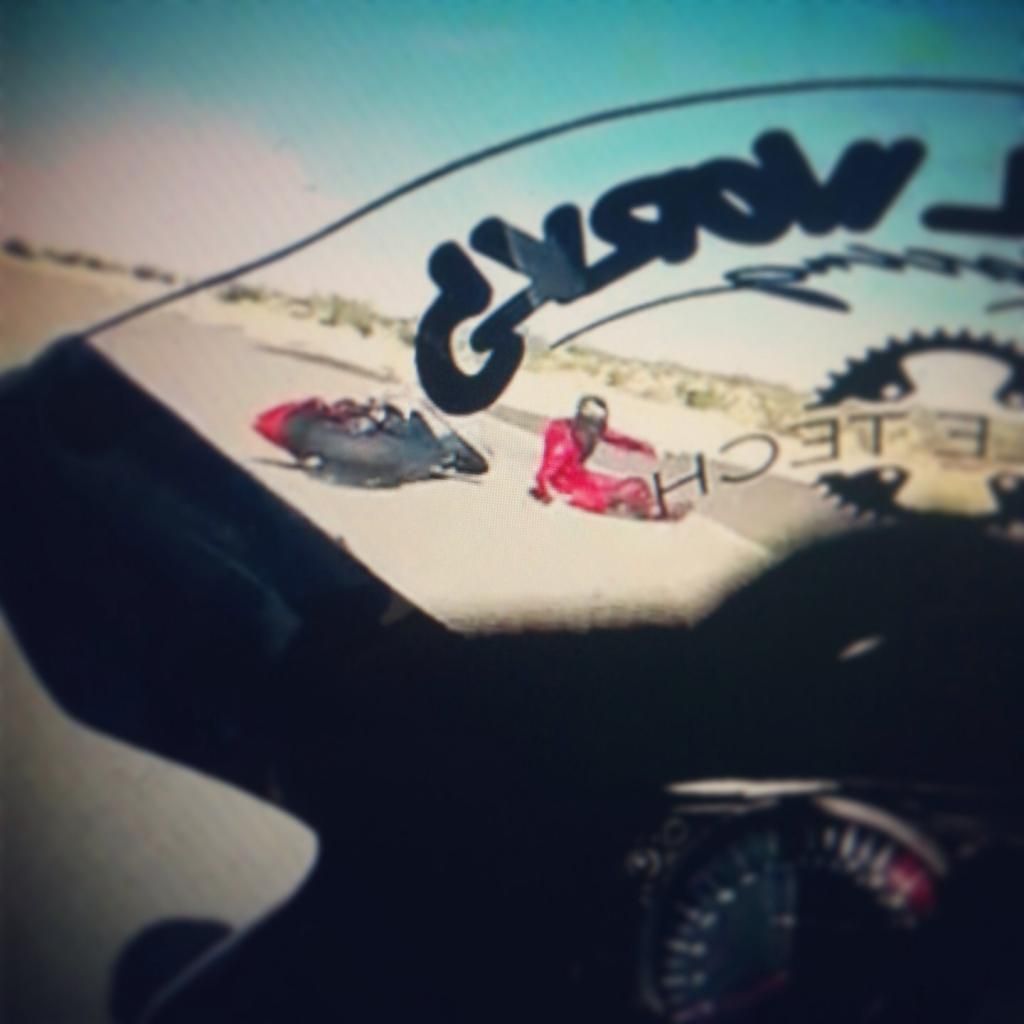 Video:
Yamaha Appreciation Weekend at Laguna!!! :nocontrol

Hope you all enjoy! :cheers