Discussion Starter
·
#1
·
Hey everyone! I've been riding motorcycles for about a year now. My first bike was a kawi green '08 Ninja 250r I got for $2,200 in perfect shape with low miles. Loved that bike. I rode it about 1,500 miles until one day when I was cruising along about 50 mph and a deer jumped off a hill into the road right in front of me and destroyed the bike. Thankfully I was completely fine.
Back in January I bought a brand new black Ninja 300 for $4,400. Rode it for about 5,000 miles until a line of cars in front of me all slammed on their brakes and I rear ended an SUV at about 15-20 mph. Completely my fault, and I felt really dumb, but thankfully everyone was fine and the car had very little damage.
At first I was determined not to get another bike. I thought it was just not meant for me to be riding. I think I lasted about 2 days before I started looking for another bike. :mrgreen: I thought about getting another baby Ninja but I wanted to try something a little different. I follow a lot of motovloggers on Youtube, many of which ride 600 supersports, which really got me interested in them. I thought about getting a new one, but I really didn't want to get in debt, plus insurance was going to be about $400/month for a new 600. I ended up finding an '07 R6 listed for $5,500...and the best part was that the insurance was only going to be $100/month, compared to the $400 for a new one.
$4,850 later, I am the proud owner of this completely stock '07 R6 :YEA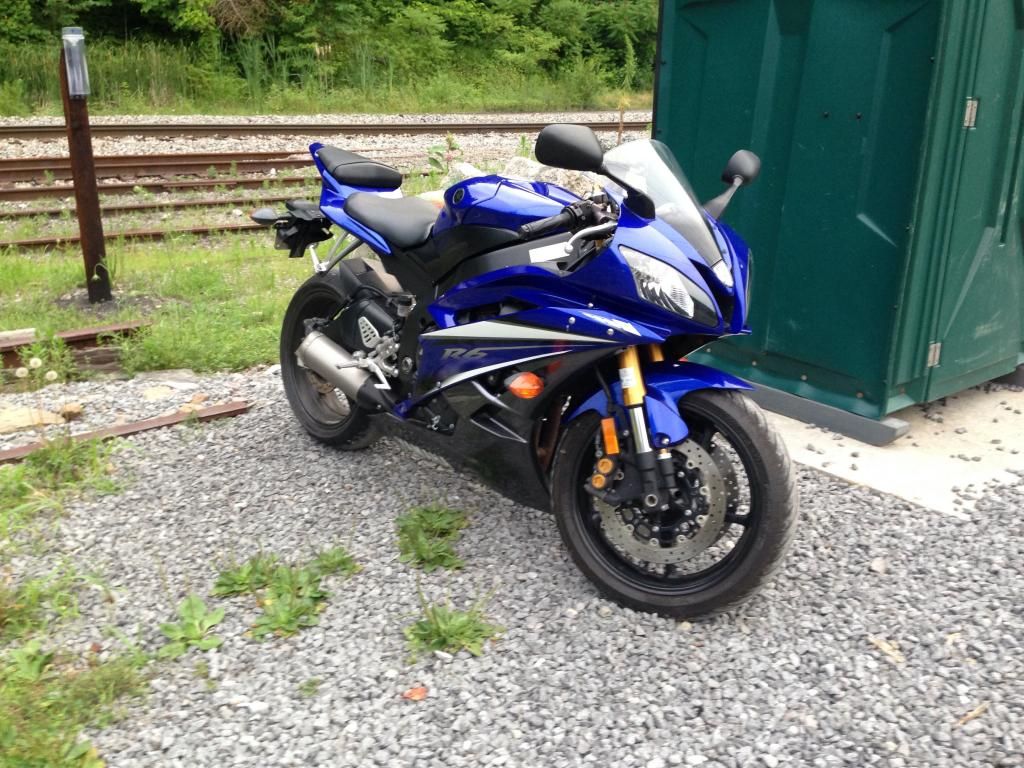 I love it so far. A big step from the little Ninjas. I miss the simplicity, nimbleness, and being able to flog it all the time and be at a legal speed, but the R6 is just a blast. Fits me a lot better too considering I'm over 6 ft tall. It's just an all around awesome bike.
It is in relatively good shape, but it needs a lot of TLC. I've already changed the oil and filter, added coolant (it was pretty much empty :nono ) removed the EXUP cables so the engine light would go off, put air in the tires, cleaned and lubed the chain (it was a MESS, still might have to be replaced) and made a home made fender eliminator. I also fixed the shift linkage bolt that was screwed in backwards...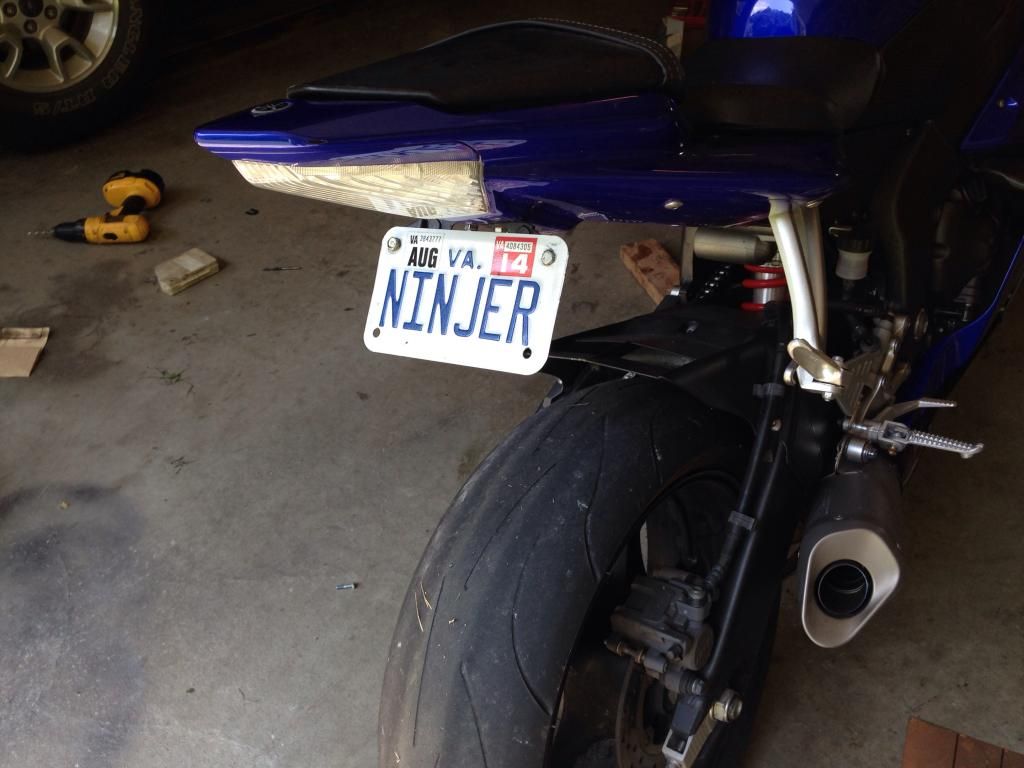 It looks better in person than in the pic, and yes, the license plate was transferred from my Ninja...haha
I took the metal license plate bracket off of the stock fender, welded a 3/4" x 1 3/4" piece of metal to the top of it at a 90 degree angle, drilled 2 holes in it, panted it and bolted it on. Boom, 5 minute completely free fender eliminator.
Future plans-
Bleed brakes (front is spongy)
Find out why it clunks so hard when going from N to 1st gear
Install blue shorty levers (in the mail)
Install blinker relay
Install smoked LED integrated tail light (in the mail)
Install hotbodies smoked flush mount LED turn signals (in mail)
Install blue Yamaha reservoir sock, because moar horsepower (in mail)
Change sketchy looking chain and sprockets
Change bald rear tire
Install RAM Mount phone holder from my old 300
Wire up USB power to the handlebars