-
2005 Yamaha YZF-R6
Build Thread & Track Log​
-
-
-
Modifications:

General:
Dunlop Sportmax Q3+ Tires
Gold D.I.D. 520 ERV3 Chain
Shorty Black Ebay Brake and Clutch Levers
Hyperpro RSC Steering Damper
Chain Guard Delete
Custom Toe Guard (Shark Fin)
Renthal 50mm Clipons w/Custom Res Mount
Renthal Hard Grips
AGG Racing Smog Blockoff Plates (AIS Delete)
Woodcraft Spool Sliders
LH Fan Delete
Motul 4T 5100 10W-40
Water Wetter
Double-Bubble Windscreen
Danmoto 6065T6 Billet Aluminum Rearsets (Black)
Pro-Bolt Titanium Magnetic Sump Bolt (Gold)
TechSpec Snake Skin Tank Pads
Woodcraft Case Covers w/ Stainless Pads
Track:
Hindle Exhaust w/Custom Hanger
Armor Bodies Superbike Bodywork
Woodcraft Cut Frame Sliders
Bickle Tire Warmers
Street:
Two Brothers Carbon High-Mount Exhaust, Heat Wrapped
Custom Rear Fender Eliminator / Plate Brackets
OEM Solo Seat Cowl
Hotbodies Flushmount Front Turn Signals
Clear Alternatives LED Taillight
Motovation No-Cut Frame Sliders
--------------------------------------------------------------------


Gear:
Shoei RF-1200 Parameter TC-8 w/custom pinstriping
Suomy Laglio 1 Piece Leather Suit
Alpinestars Bionic Race Shield
Alpinestarts Tech Chest Guard
SIDI Vortice Full-Height Boots
Spyke ST303 Gloves
Shock Doctor Gravity 2 STC Mouth Guard
Joe Rocket Phoenix 5.0 Textile Jacket (Seldom Worn)
Parts waiting for install:
DID ERV3 520 gold chain.
Steel sprocket set. (15T Front, 48T Rear)
Spiegler Front/Rear brake lines.
--------------------------------------------------------------------


The Backstory:
I first got into motorcycles after my Dad bought "a few" vintage Yamaha examples during his mid-life crisis (circa 2005). Previous to that, I had only glimpsed the Yamaha XS650SF that my dad bought new in 1979, which was hiding under a blanket in the garage since I was a child.
Along with "a few" bikes, my Dad stockpiled a significant amount of vintage parts. I think the idea was to restore all the bikes, but at this point only the '76 RD400 has really been restored. Time got away from us pretty quickly, and unfortunately my father passed away in early 2019.
I started riding on a pair of bikes circa 2007. A 1973 Yamaha RD250 and a 1976 Yamaha RD400C were my first tastes of two-wheeled bliss. With my Dad having little to no mechanical experience, the task of getting (and keeping) the bikes running fell to me. I learned my way around a 2-stroke carburetor and Autolube system pretty quickly.
My first crash was on the RD400. Mostly target fixation on a tree, but I'd like to think very old tires and wet leaves had something to do with it as well. Luckily I was going relatively slowly on a twisty back road, and came out of it only sore and bruised. I was wearing a half helmet, jeans, and a regular leather jacket. I rode the bike home afterwards; some parts + TLC later the bike looked better then before.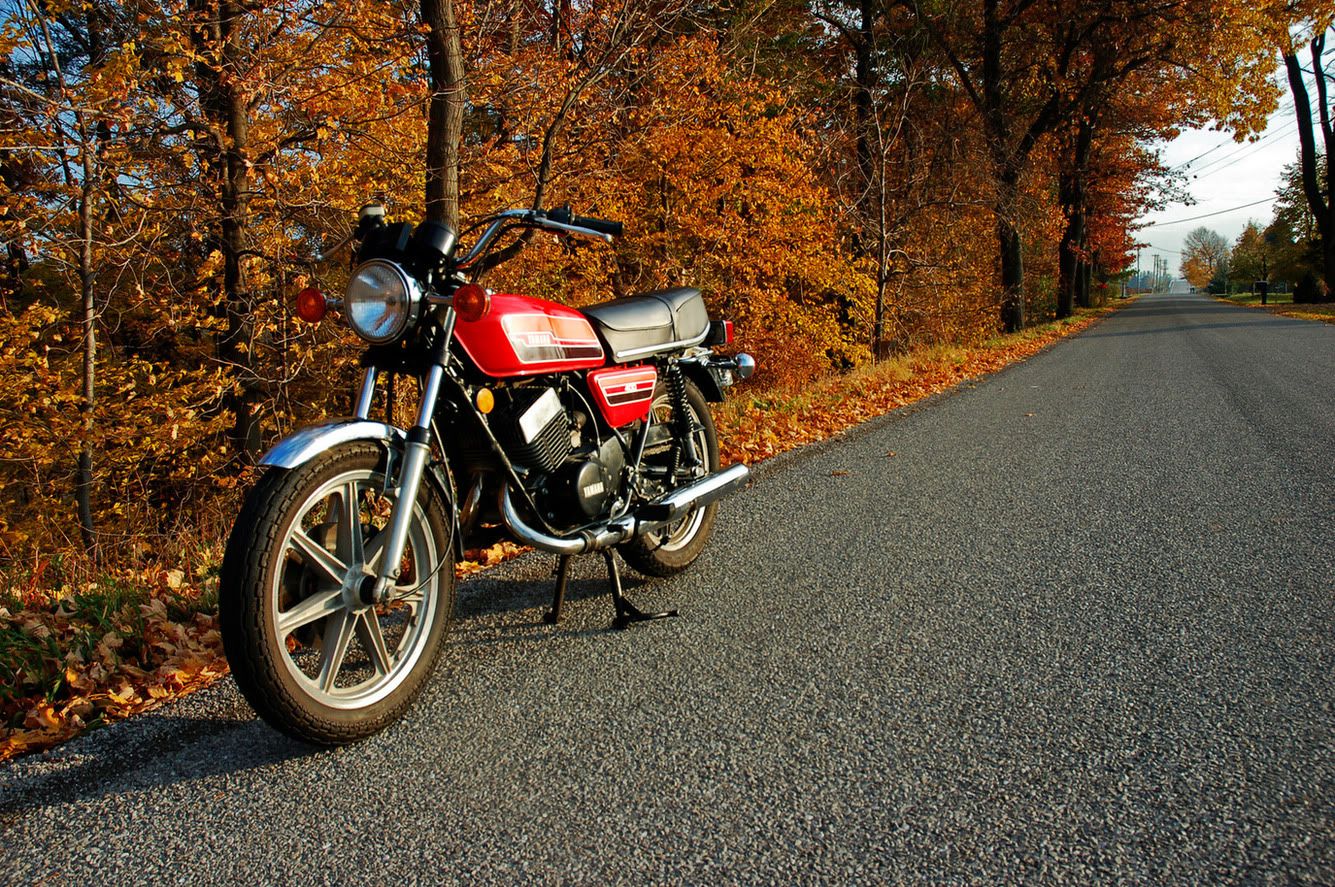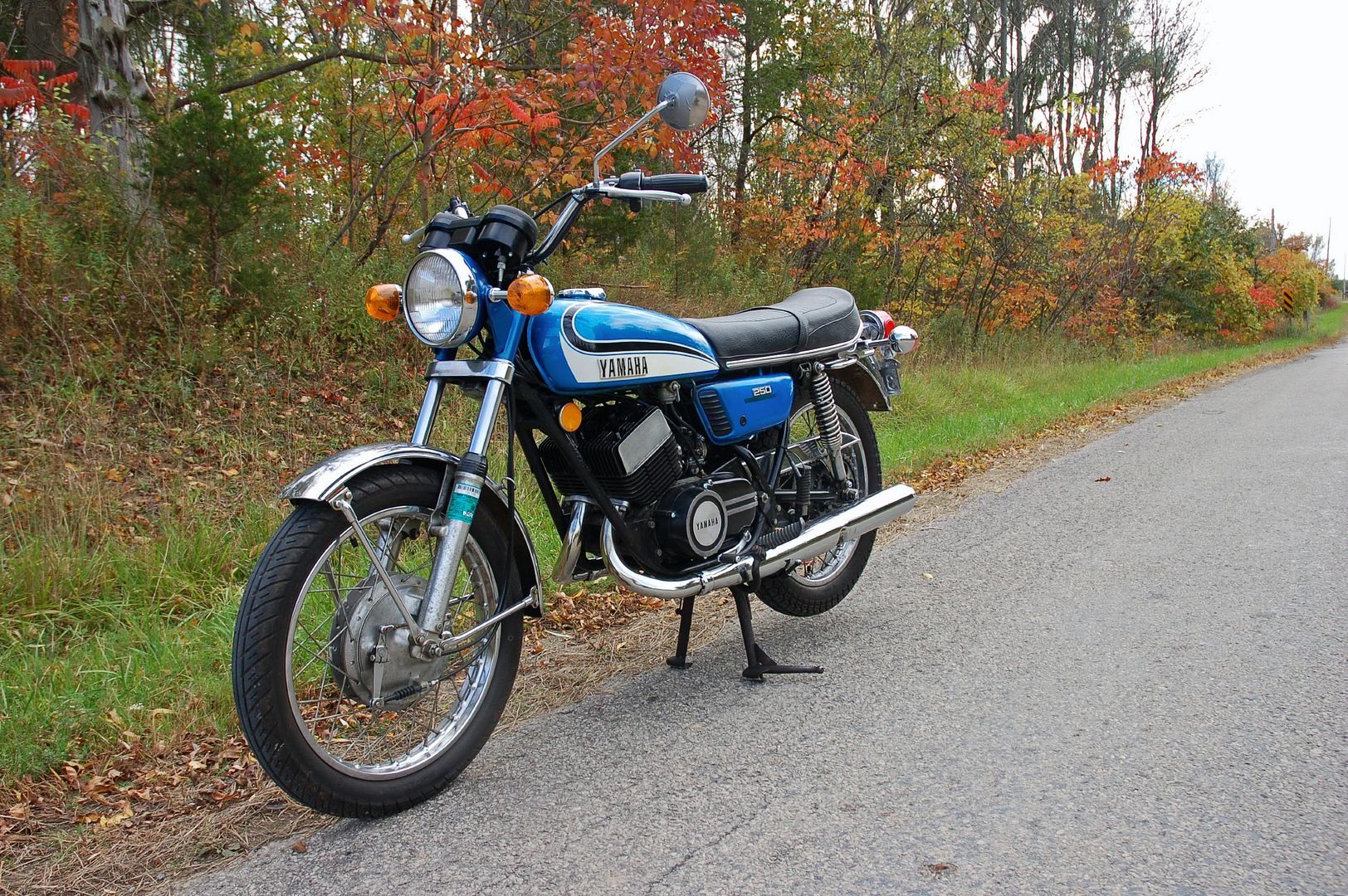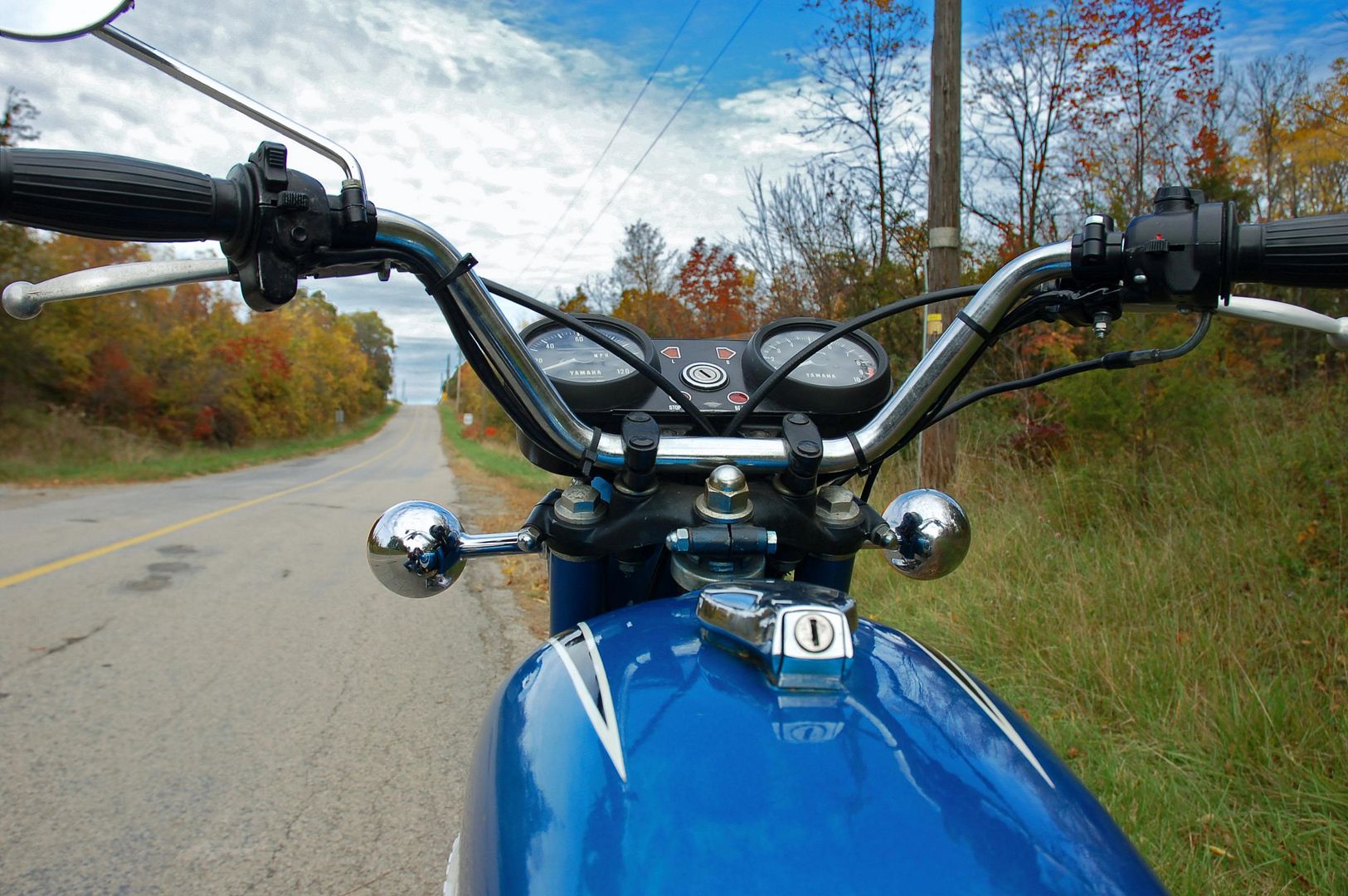 --------------------------------------------------------------------