Discussion Starter
·
#1
·
Greetings forum! I'm Dan.
I bought my 2009 R6 while deployed to Afghanistan earlier this year. I bought it with the intention of converting it to a full time track bike. Parts buying began well before I got home. I had an '07 CBR 600RR a few years back, but never took the plunge into full time track duty. I sold that bike when I moved to North Dakota...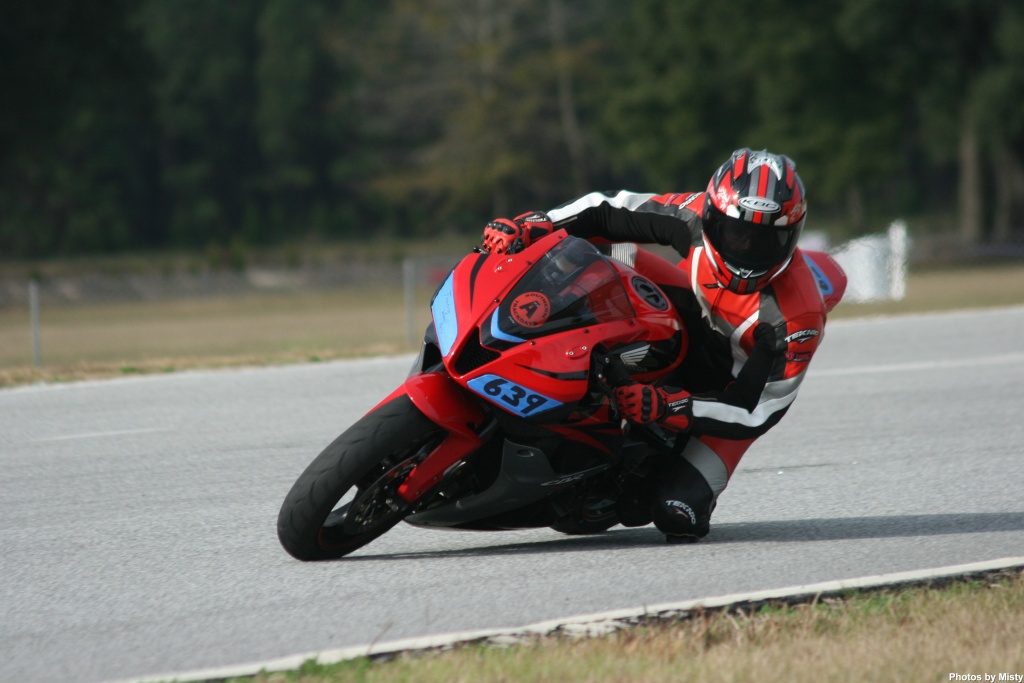 Anyway, it was day 4 of being home and I just couldn't resist the urge to take the new bike for a spin to see what I was starting with. At this point I think it's important to note that I hadn't ridden any bikes in 7 months, and hadn't ridden a supersport in about 5 years.
I'm sure you can guess how it ends. I smacked a guardrail at about 35mph and fractured my left foot in 6 places.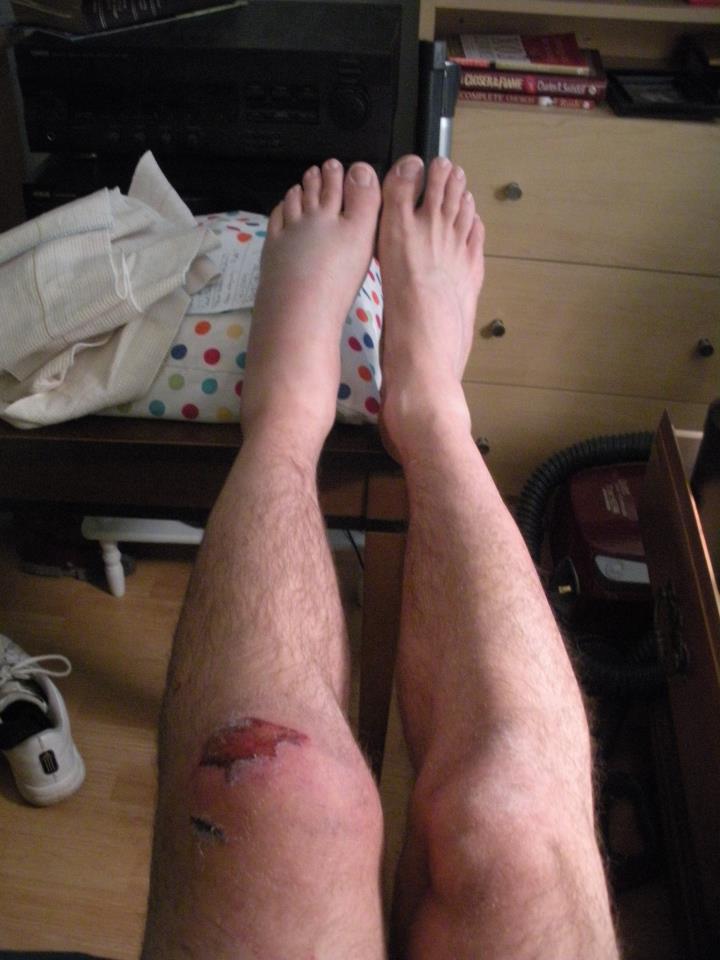 A quick surgery a week later and a month and half of healing and I'm almost good as new.
Temporary pins.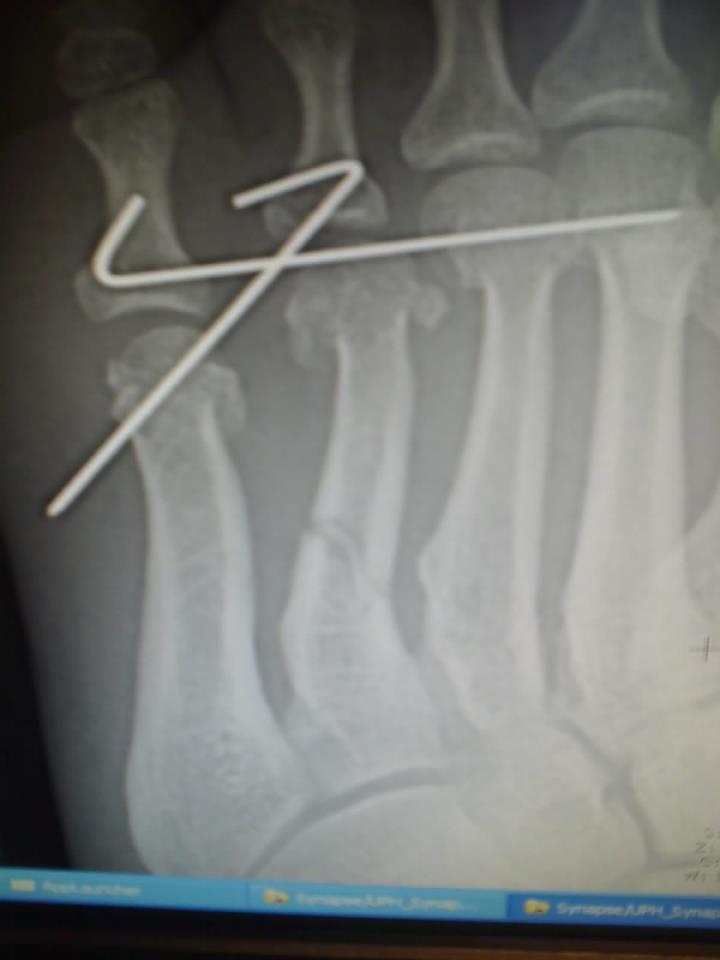 So now that I'm healed (mostly), mobile, and working on the bike I figured it's time to start my own build thread.
Here's the blank canvas.
7,940 miles on the clock. The only mods to it were Vortex levers (which I hate). Aside from that it appears to not have been maintained very well. Brake fluid was brown, chain/sprockets show no sign of ever having been cleaned, nothing has ever been taken apart by the looks of things, and oil was over filled.
No matter. I'm going through most of the bike anyway. I'll fix as I go.
Damaged canvas.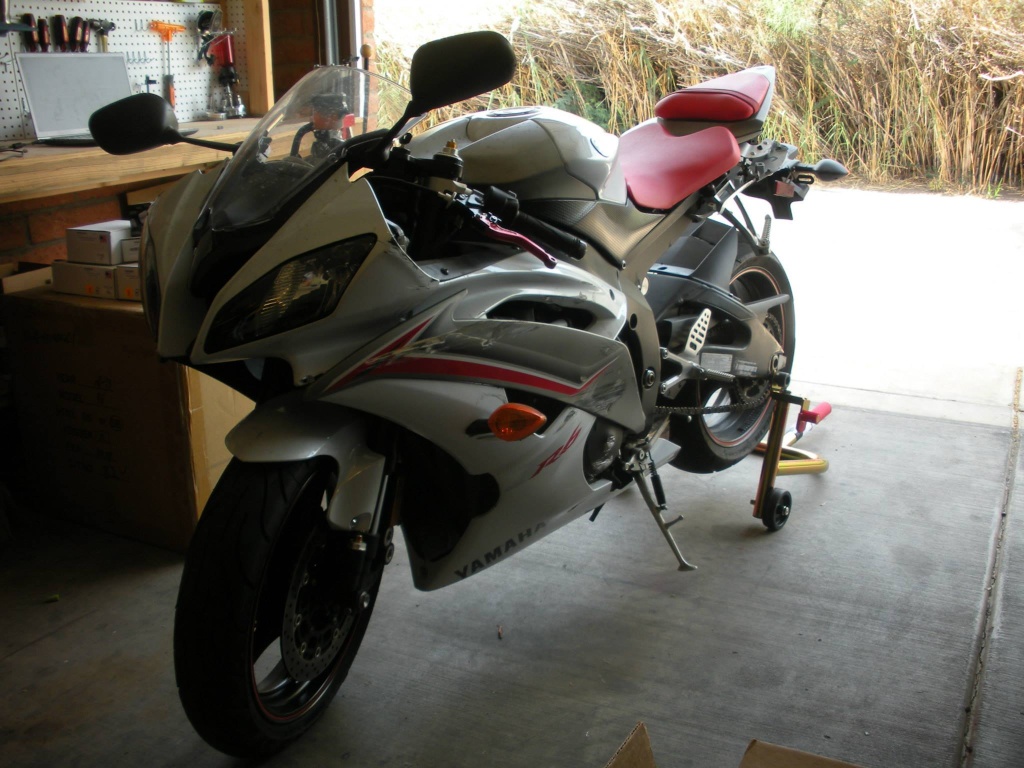 Mostly cosmetic. After hitting the guardrail on the left side it played pinball and ran across the road and hit the right side snapping the clip-on. Radiator end caps are dented and the upper mounts are bent. I'll bend them back.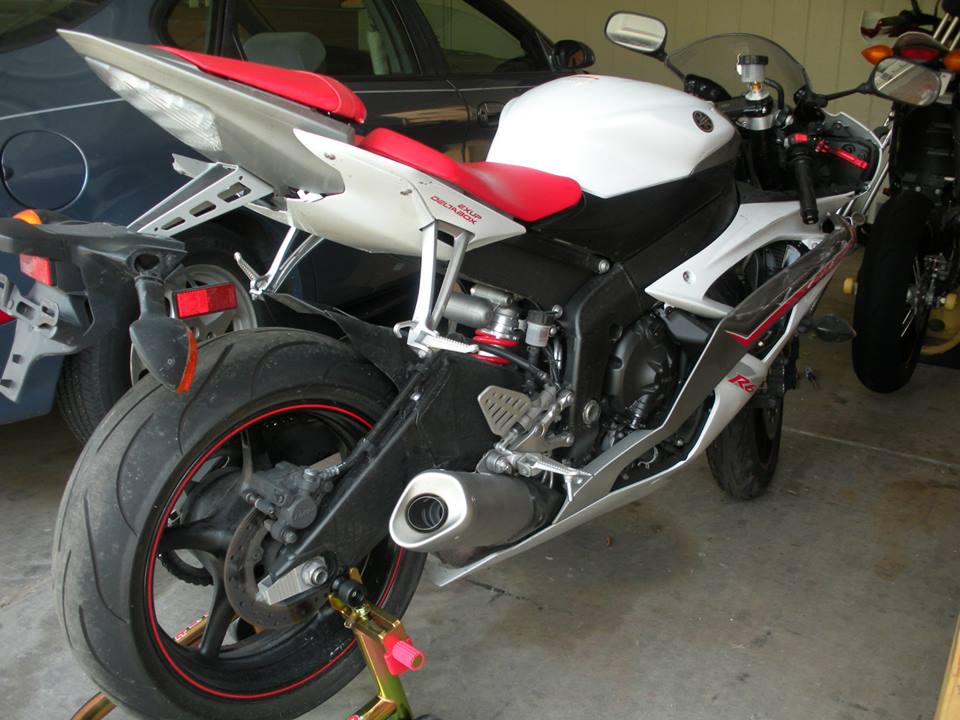 The biggest bummer for me was that I couldn't sell the stock bodywork and recoup a few bucks. I threw away almost all of it.
Time to get to work.
Crash protection for when that day inevitably comes (again).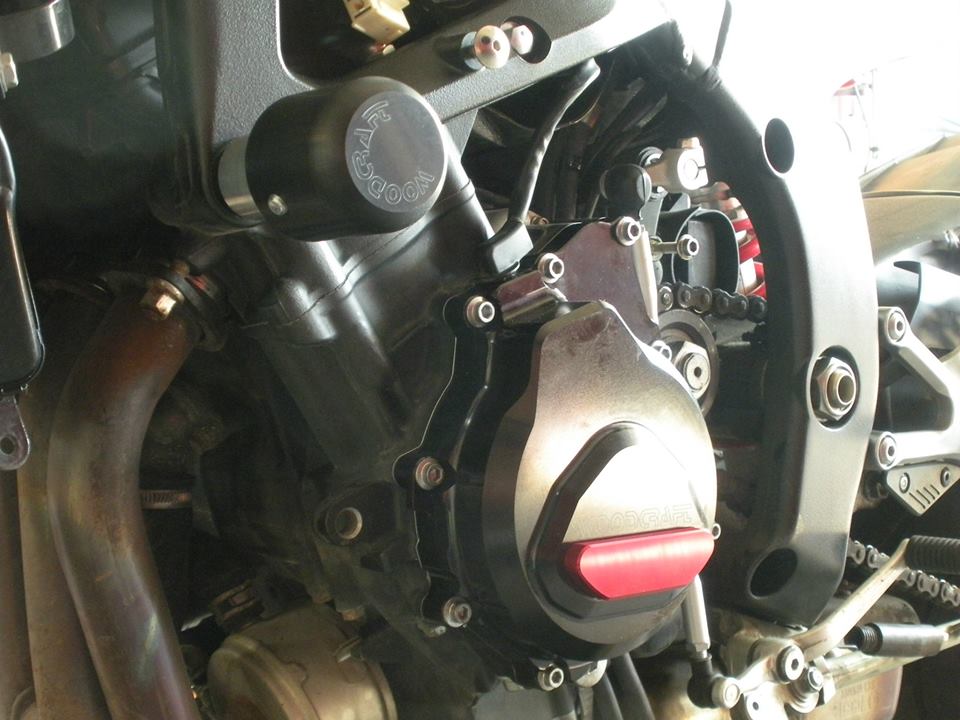 PCV w/ Autotune purchased from a member here. That was fun to install... I did the speed input for individual gear maps, as well as the coolant temp input just because I could.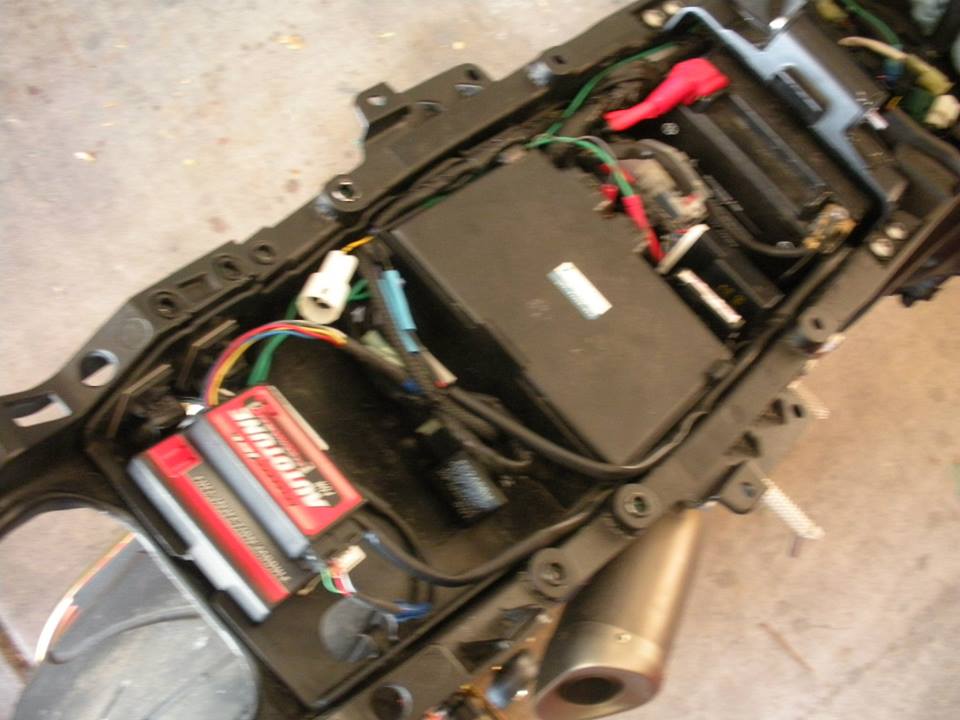 Being that this bike will never ride on the street again (at least so long as I own it) I saw no reason to keep provisions for headlights so I stripped the forward wiring harness down.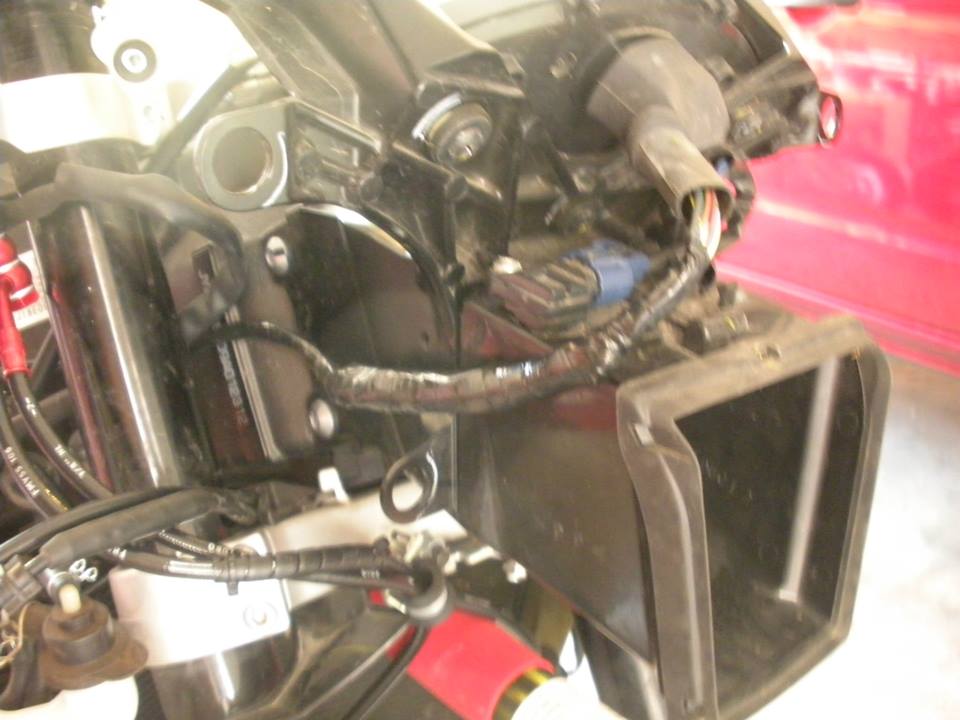 I've been a fan of SS lines since the first time I used some and have had them on every bike since. I picked up a set of Fren Tubo's from a member here who sold his bike before installing.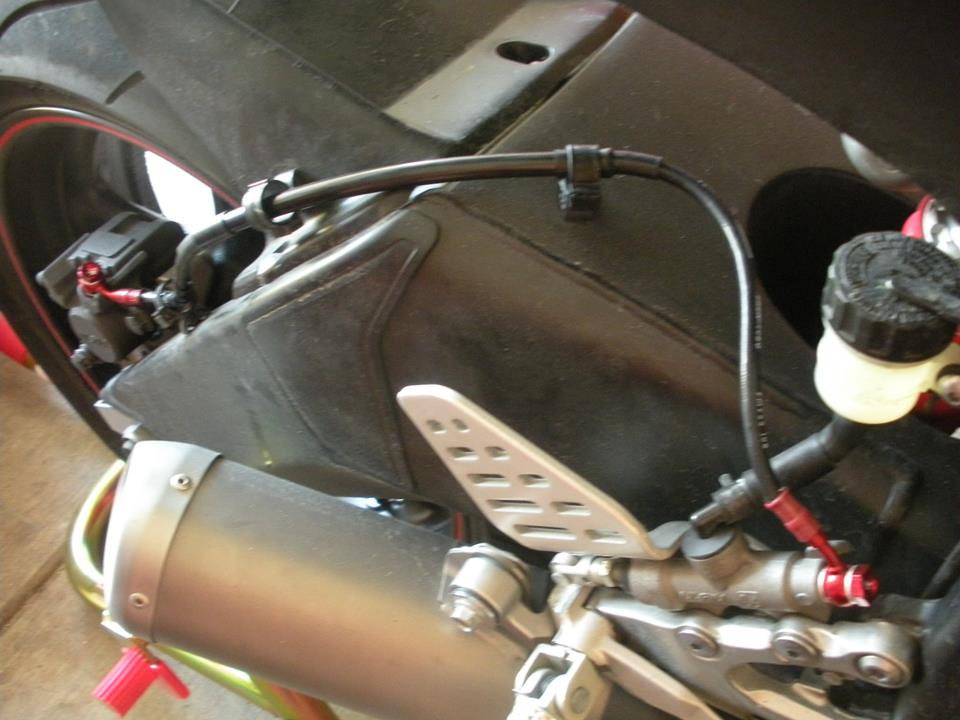 Today's work was completing the keyless ignition.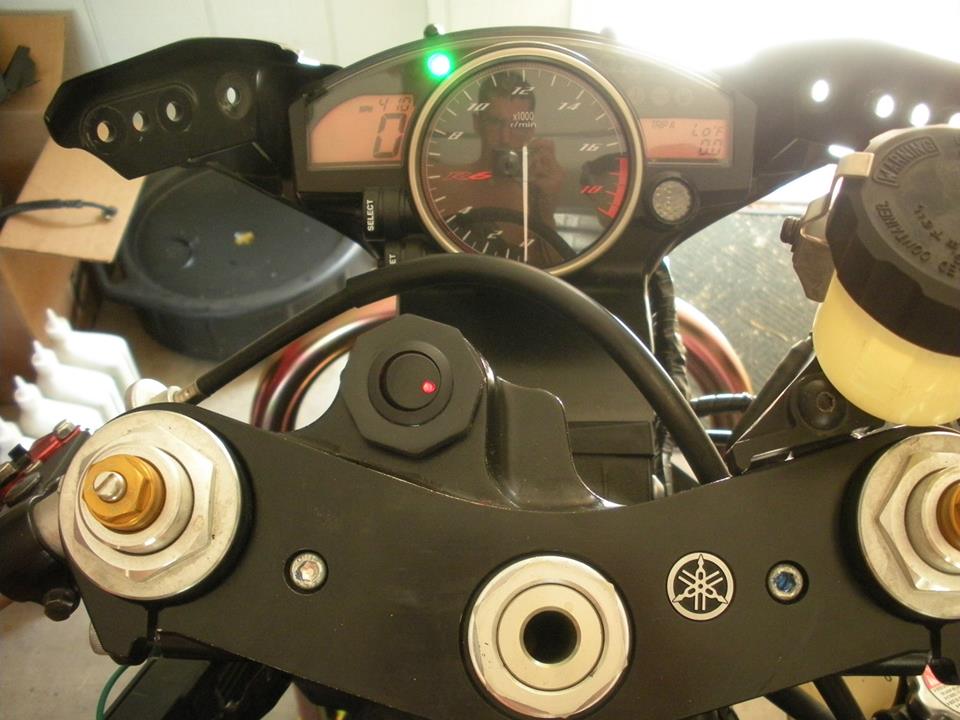 There's still plenty to do, and I've got more parts on order. Most recent order consisted of:
Motion Pro throttle
Block off plates
Keyless gas cap
Still have Armour bodies in a box ready to be installed.
On the shopping list:
Clip-ons
Rearsets
Windscreen (who makes the race model without the tabs and where can I get it?)