Discussion Starter
·
#1
·
all of these parts either fit the 03-05 R6/06-08 R6S or the 06 GSXR 600. i think ive priced most everything pretty reasonably but i will consider offers. *shipping is NOT included.
-R6 air box $35
-R6 2 radiators $50 each or $75 for both
-R6 seat $30
-R6 throttle bodies $50
-R6 rear shock linkage $10
-R6 2 fuel pumps $75 each
-GSXR stock fender $10
-R6 complete rear brake system w complete rear set $65
-R6 stock front and rear sprockets $20
-R6 brake side stock rear set w/o peg $15
-R6 stock brake pedal $5
-R6 rear tire hugger $25
-R6 coolant cover $5
-GSXR stock brake light $25
-R6 coolant cover $5
-GSXR grips $5
-R6 EBC rotors these came with my bike and are supposedly warped. i know that GMD Computrack straightens them for about $60 and they are around $300 new. $100
-GSXR lowering links $10
-R6 2 clutch levers $15 each
-R6 brake lever for standard/conventional forks $15
-R6 brake lever for inverted forks(like on the 05') $15
-GSXR left mirror (perfect condition except the two base bolts need to be replaced) $30
-06 R6R stock tool kit $5
-06 GSXR stock tool kit $5
-universal flush mount turn signals(brand new have not been opened) $15
-R6 steering stem and lower tripple clamp $15
-R6 throttle cables $10
-R6 stomp grips (brand new haven't opened them) $55
-R6 chain guard $10
-R6 right mirror $25
-R6 clutch cable $5
-R6 coolant cover $5
-R6 3 sets of tank accents $5 per pair
-GSXR kick stand cut 2" out and rewelded for a lowered bike (w springs) $15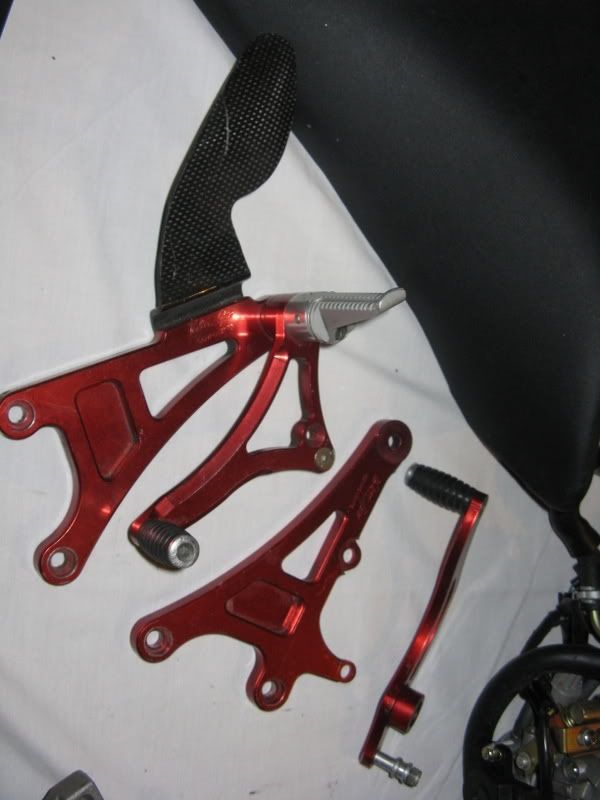 -R6 Valter Moto Rear sets w and extra set of bases and levers(shifter and brake) and extra peg. $275 interested in a trade for woodcraft rearsets to fit 03 R6.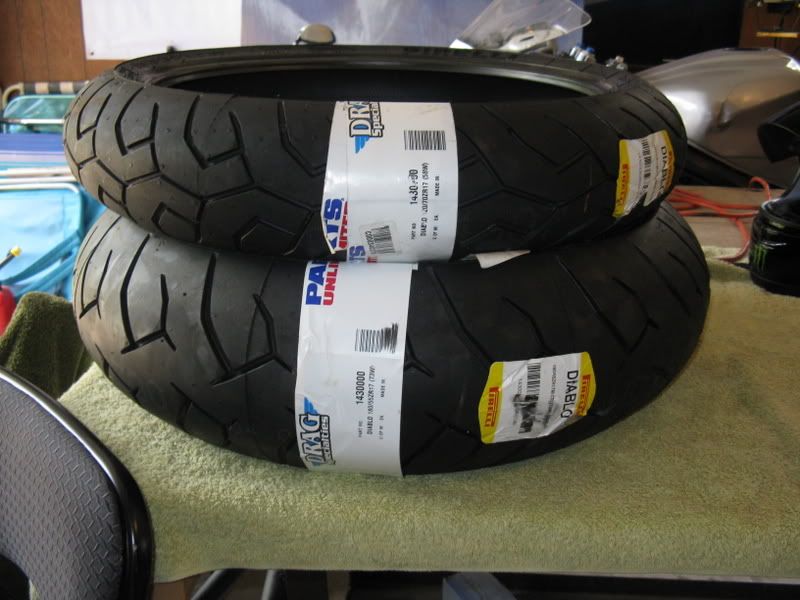 -brand new set of Pirelli Diablos (not rossos, or super corsas, or dragon supercorsas, or corsas, or corsa III's, these are the single compound pirelli diablos) size: 120/70R17 and 180/55R17 these tires are brand new with the stickers and tags still on them. the date code is 0908 which means they were made the 9th week of 2008. i work at cycle gear and we sell these tires for just over $250. price: $220
-Take-Offs these are a set of Bridgestone RACE tires not track/street. size: 120/180 they only have 3 trackdays on them and i use warmers so thats also only 3 heat cycles. price: $100