Discussion Starter
·
#1
·
So heres the story...last night around 3am I was bored so i decided to post my bike on craigslist just to see if I could get what I wanted for it or trade me for an r1 or 1000rr honda..I put it for 7500.00 (06 50th w/4800 miles)
Well four people call me.
1) wants to trade his 07 cherry red r6 w/pc and m4 full exhaust he has 8k miles
but he couldnt meet me until next week..
2) has a 04 cbr 1000rr everything done do it....
I told him no thanks because i didn't want anything older than a 05
3)07 R1 charchoal, completly stock...he wanted my bike plus 2k.....
I told him I didnt want to spend no more than 1k plus my bike so he was like no.
4)05 Kawaski zx-10r Full customized Full taylor made race exhaust, pc, airbrushed with a egyptian theme, vortex clips, vortex rearsets, xenons, integrated blinkers..everything you could put on it...the guy told me it was in several magazines and won some awards...so I decided heck why not lets meet up
So we meet up (he lives 7 hours away) so he drove 4 and i drove 3 hours to meet in the middle and i took my good friend with me who works at the Kawasaki shop to tell me if anything was wrong with the bike...
the bike was in perfect condition except for one thing....He said it looks like someone has been doing hardcore wheelies on the bike and they forks are leaking something, i dunno it was all black around the forks...He said its a simple fix like a 6 dollar piece and hell compress the forks back for me for free.. and the rear integrated blinkers didnt work, but my friend on the spot opened the bike up and replaced some fuses and viola it worked..... So i went ahead and traded the bike ...Im gonna sell it and get a r1 raven becuase that is what my heart is set on...I just figured that I could make more money selling this thing then i could my r6...tell me what you guys think....Some people love it some people hate it..just depends if its your cup of tea..but all i know is this thing is crazyyy fast compared to the r6
(this is what I had)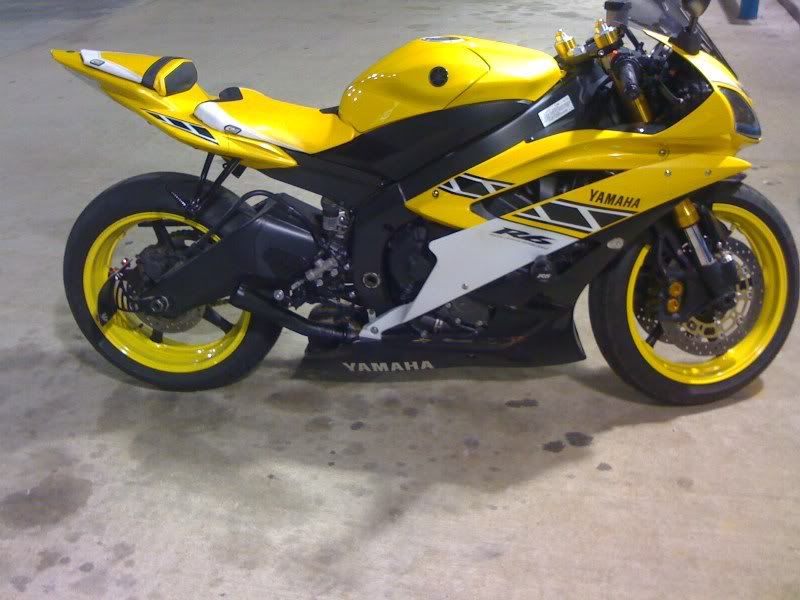 (this is what I traded for)