Discussion Starter
·
#1
·
By size, Suomy motorcycle helmets have always been some of the lightest full face helmets on the market and the Spec 1R Extreme is no exception. The first time you put on a Suomy helmet, you will notice that the interior liner has a rather dense feeling to it. The three-density cheek pads, combined with the occipital ridge towards the base of the skull and the bracing at the forehead are designed to lock the helmet in place on the user's head and prevent it from moving around when at speed. Suomy reasons that, by using a firm liner it is possible to use thinner materials which, in turn, draw the user's head closer to the EPS foam liner. This is a critical factor in the impact management aspect of Suomy helmets. In the event of a crash, by having the user's head as close as possible to the impact-absorbing foam, it does not have to travel as far through the padding (which has almost no effect on impact management) before coming into contact with the energy-absorbing EPS foam liner. As a result, the Spec 1R Extreme is DOT and BSI-approved motorcycle helmet.
Surrounding the internal comfort padding and the one-piece EPS foam liner is Suomy's Structurally Enhanced Composite (SEC) shell that's built with integrated sound-absorbing polymers for a lightweight, yet very rigid outer shell. This shell is then painted with a high-quality finish that's unmistakably Suomy and adorned with the #65 Loris Capirossi's replica paint scheme. The artwork is rendered flawlessly, making it difficult to tell the difference between that which is painted on and what parts are actually decals. Another interesting aspect of the Suomy Spec 1R Extreme helmet is the clear Opalescent Iridium faceshield that comes as standard out of the box. This so-called Ultra Tech visor is hydrophobic (so water droplets easily roll off), fog-resistant
and
heat-reflective with an anti-IR coating that's designed to keep the rider's face cool. All of these design aspects add up to the unmistakable feel of a Suomy helmet.
Call TJ at 866.931.6644 to order this Loris Capirossi Suomy replica helmet. TJ is an expert helmet fitter and can answer any questions you have. If you prefer email, send a message to FORUM at RIDERSDISCOUNT dot COM with SUOMY CAPIROSSI HELMET in the subject line, along with the size you need and we'll get back to you right away.
The Suomy Spec 1R Extreme Loris Capirossi Replica Helmet.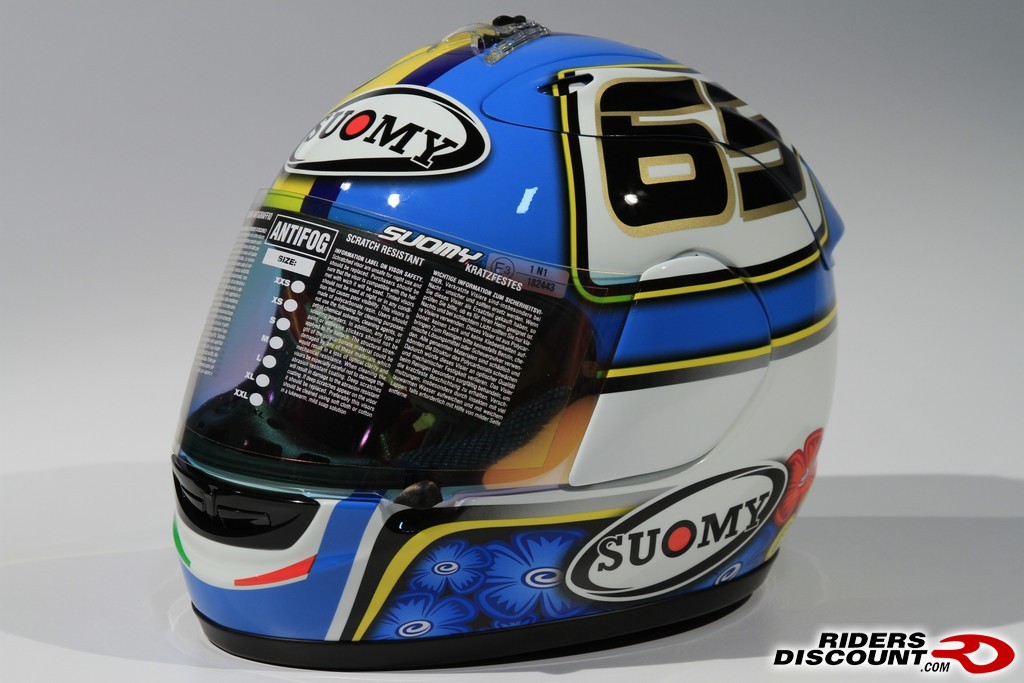 The ventilation system of the Spec 1R Extreme uses an integrated spoiler wedge on the back of the helmet which not only helps to extract warm air from within, but also prevents helmet lift at high speed.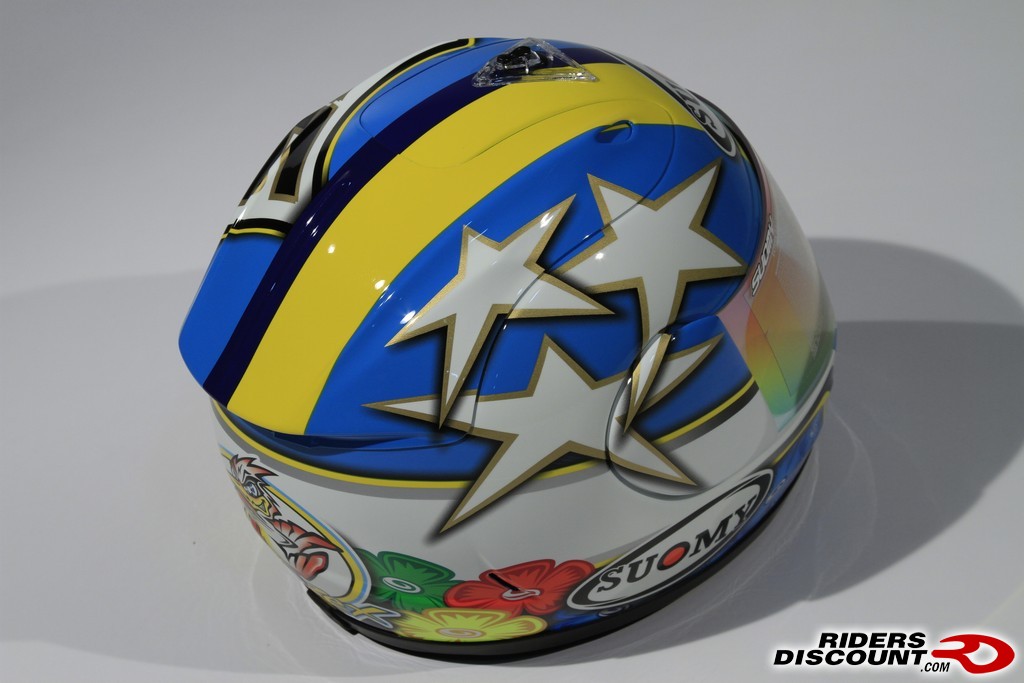 Suomy full face helmets are known for their Alcantara-covered interior comfort padding which has a suede-like feel to it. This same material is used on the upholstery of high-end luxury cars because it is durable and resists staining better than conventional fabrics. The interior comfort padding is fully removable and washable.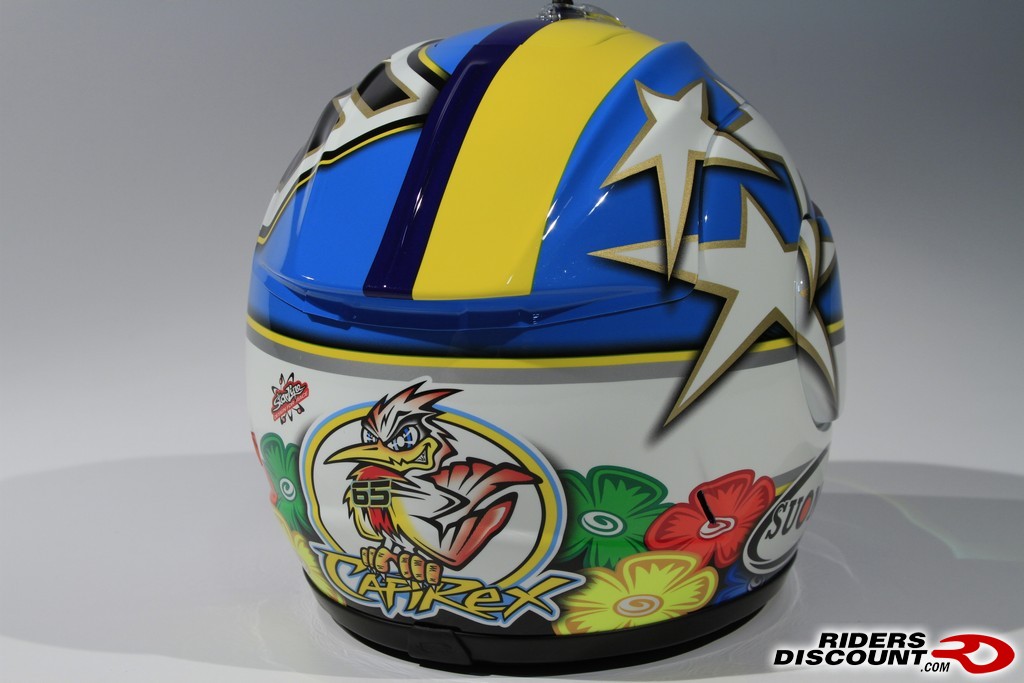 Spare visors, including smoked and iridium-colored versions are available as well as flat faceshields with tear-off posts. Don't forget to ask for one when ordering!