Teknic Xcelerator gloves are built with a combination of modern materials and innovative safety technology wrapped into an effective hand protection package. Starting with a Japanese drum dyed cowhide chassis with .8mm thick kangaroo palms, the gloves provide a surprising amount of flexibility, translate an excellent feel through the bars and do it all with a high degree of impact protection and abrasion resistance. Aiding the kangaroo's hide on the pinkie side of the hand and wrapping under the palm is a layer of Kevlar sewn in below an extra layer of leather. This is done in the areas most likely to come into contact with the ground by the rider in a fall. Throughout the gloves, impact-dispersing hard armor inserts can be found on the knuckles, at the base of the palms and at the ulna side of each wrist. The armor on the knuckles do double duty as intakes to direct cooling air straight to the skin. Furthermore, a combination of high density closed cell foam and low density open cell foam are found around the aforementioned hard armor and on the thumb and pinkie sides of each hand to provide secondary impact protection and aid in comfort. Each glove is pre-curved to impart a neutral feel over the bars and prevent leather from bunching up under the palms.
Teknic riding gear is not yet available on our website. To order these gloves, call MIKE at 866.931.6644 ext 804 for expert sizing guidance and fast shipping. You can also email us with your questions – send those to FORUM at RIDERSDISCOUNT dot COM with TEKNIC XCELERATOR GLOVES in the subject line and we'll get back to you right away.
Teknic Xcelerator gloves in solid black.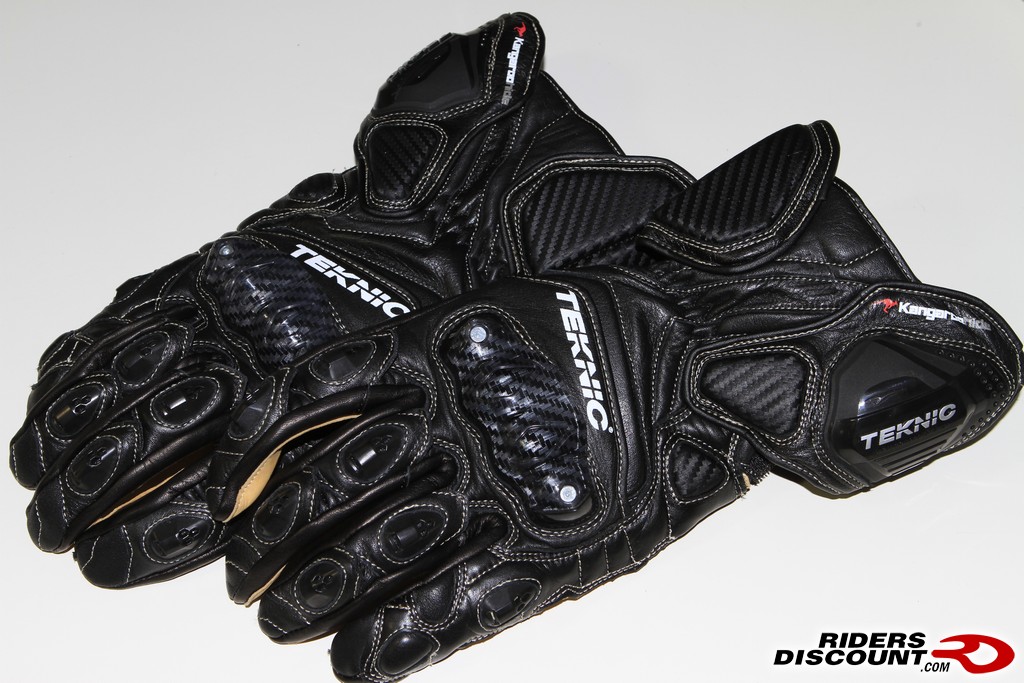 These gloves are also available in white. MSRP $179.99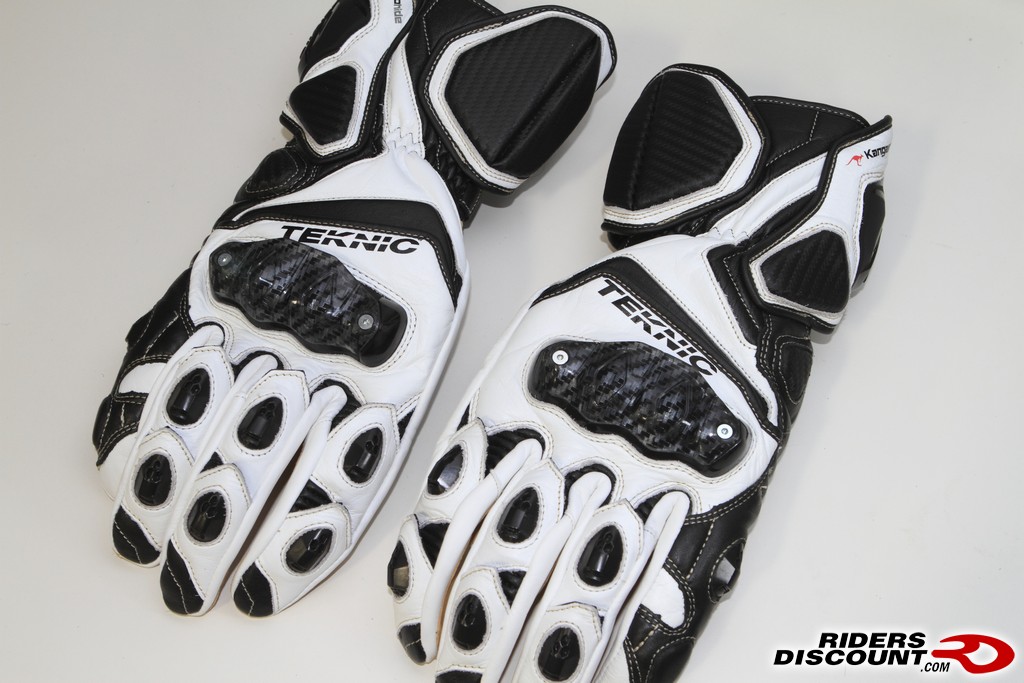 Patented scaphoid protectors reduce the likelihood of mechanical injury by helping the palms slide, rather than catch on the pavement in the event of a crash. In this way, your wrist(s) is less likely to be forced to bend to the point where the scaphoid will be forced to break.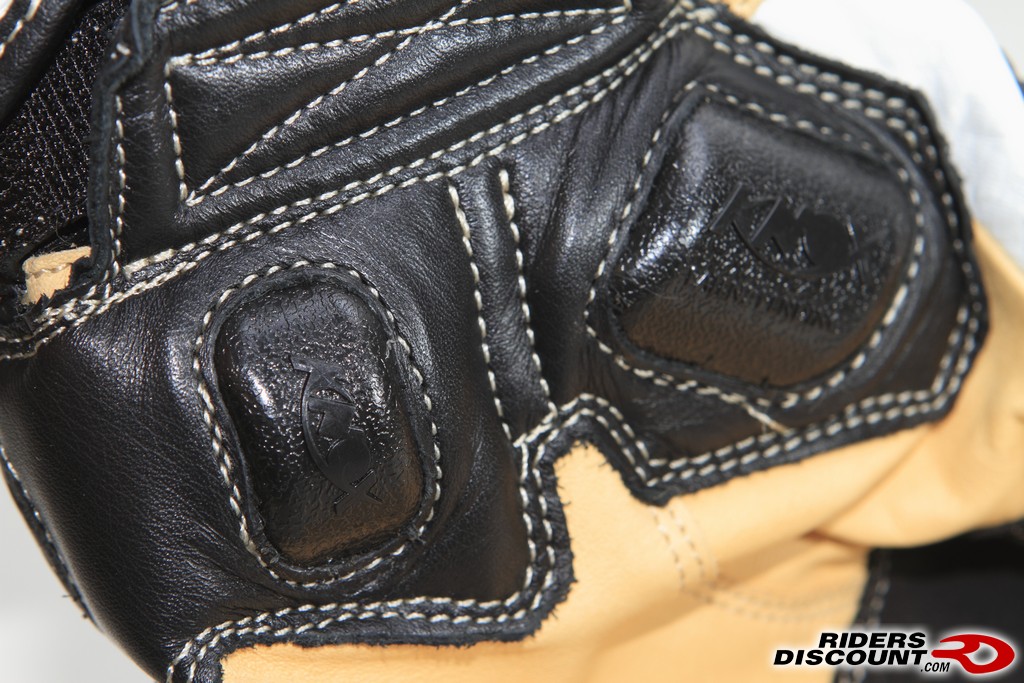 Palms are constructed from kangaroo skin and reinforced with Kevlar and an additional layer of leather near the wrist and along the side of the pinkie finger. The rest of the chassis is drum-dyed Japanese cowhide and assembled using innovative stitching techniques.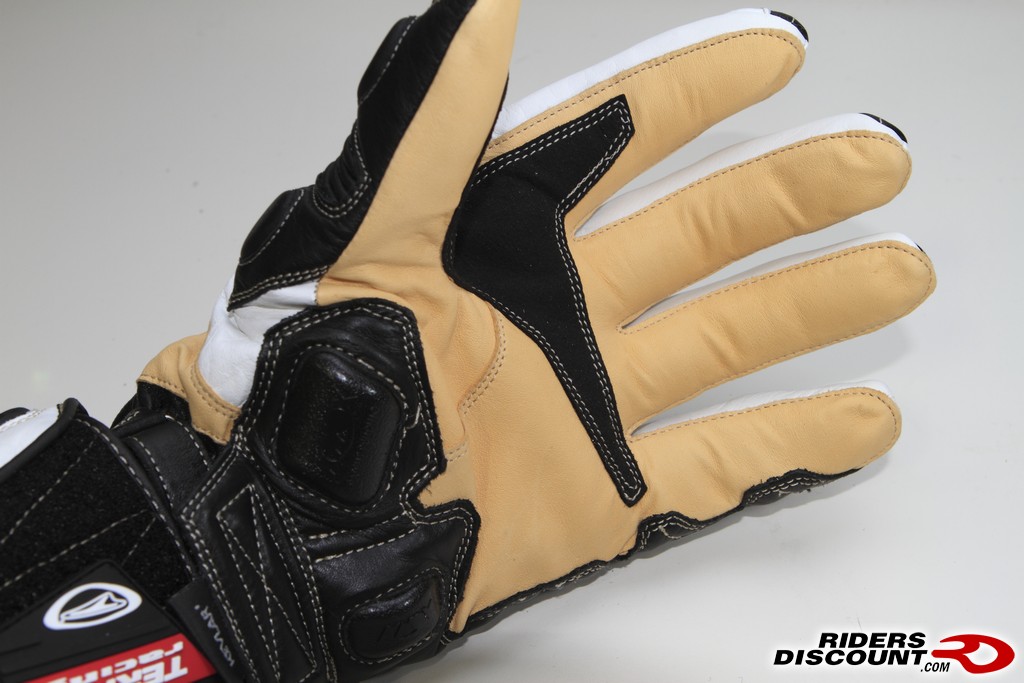 Each gauntlet uses a double-wrist closure to go over your leather suit. The wrist strap itself is hidden behind a protective flap and has Velcro tabs on both, it's inner and outer faces to provide a sure fit and maximum safety.