THE ORIGINAL RESERVOIR COVER :fact
back by popular demand!!!
i'm doing another round of reservoir covers - aka "forum socks" - and we'll do em the same as last time.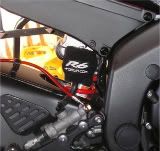 they're black "socks" with white "r6-forum.com" stitching. it's the cleanest option for ALL bikes... (even ducs) :fact :sing
please use the links below for checkout - change the quantity to however many you want.
thanks y'all! $10/each plus $2 shipping for any number you buy.
~Justin/Agg
*use the link below to purchase your socks*
http://aggracing.com/store/index.php?route=product/product&product_id=52
and PM me if you wanna combine these with anything else (speedoDRD, block-off plates, beanie, future upcoming group buys :sing), and i'll be more than happy to work with you on shipping in order to save you more money. :fact