I went out with my fiance last night to the bowling alley, when we pull in there happens to be a cop right in front of us who parks like this:
Notice he is parked halfway on the sidewalk, in a redzone, and is blocking a fire exit ramp. I understand that redzones are for emergency vehicles which is fine. But, not even 30 feet from where he is parked there is a reserved parking spot which is empty, and was empty for the rest of the night.
Now I am very curious why this guy decided to park like a jackass on the sidewalk. Is it just pure arrogance because he has a badge and can do whatever he wants? I still want to give this guy the benefit of the doubt. Maybe something was going down that needed his attention ASAP. This is what was so important: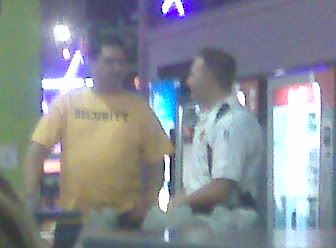 The sheriffs hang out there to make sure they are not breaking liquor laws. This is what I really cant stand about the mentality of cops. This guy cant park in his reserved spot instead he needs to be a big guy with a badge and park on the sidewalk. Just thought I would rant for a minute.