Parts for sale for an 06-07 R6, color where applicable is black (raven).
my paypal is chrisceo at bu dot edu
DISCLAIMER: This stuff is out where I work on my bike. I can only get there on weekends for the most part. If you pay me for something and your payment clears by then, items will be taken to the UPS store on saturday and/or sunday. This is the case whether you pay me on monday or friday. No exceptions.
PM me if you'd like to make an offer on a large group of parts or the whole package. Especially the larger items, if I could ship them all together I'll work out something with you... the big fairings, for example.
PM me if you post in this thread, that's the best way of getting me to see it quickly.
I looked up all the stock prices and then discounted quite a bit. If I am way off on something, sorry.
This is everything I have, don't ask me if I have other parts. The air filter is in the photos but isn't for sale...
Proton flush mount front signals. These were custom wired by Mike Brunton at HighTechSpeed to have yamaha stock connectors on them, you don't have to cut your wires!!! These are the best flush mounts on the market, hands down. Waterproof, too. Comes with the washers and nuts I used to mount them.
***SOLD***
Right front upper fairing, mint.
***SOLD***
Hotbodies undertail. I've never used this, got it from a buddy. Appears to be in mint shape.
***SOLD***
Right side no-cut frame slider with base, puck, washer, bolt.
***SOLD***
Stock taillight. Mint. $45 shipped.
Rear seat. Mint.
***SOLD***
Stock turn signals. One has a small scuff seen in the photo. $35 shipped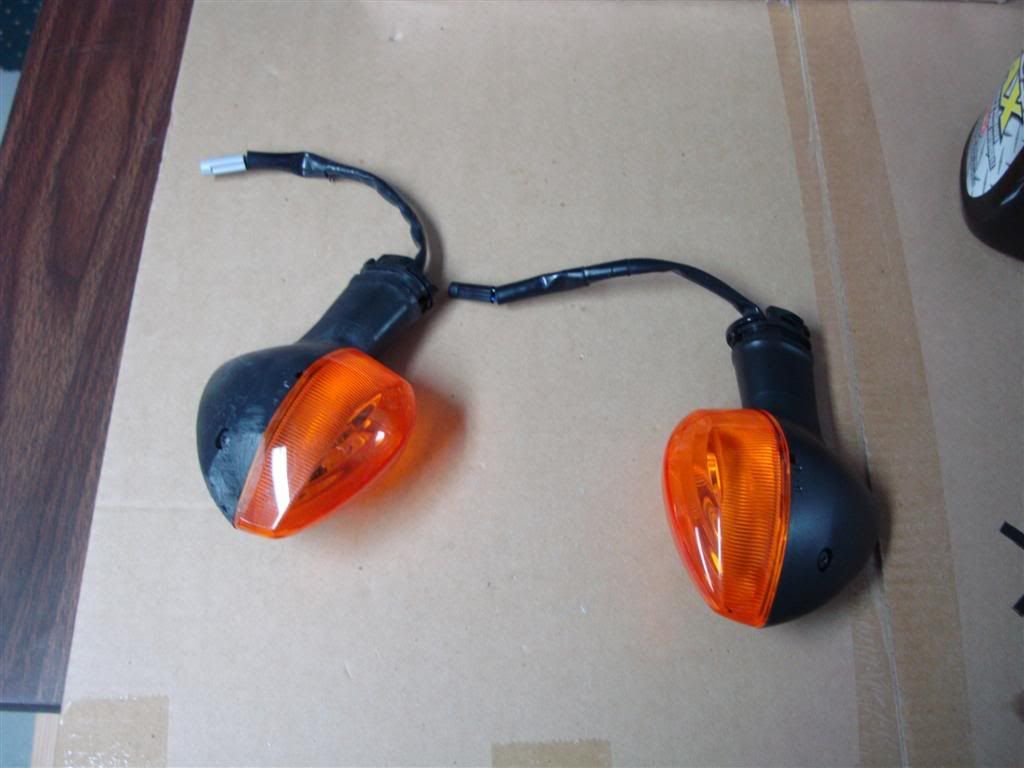 Passenger pegs. Mint. $45 shipped.
Mirrors. One has some light scuffing on the back, from a tree/brush/etc.
***SOLD***
Rider seat. Small scuff on the left rear corner. $50 shipped.
Left side case cover (stator cover). Rashed, but not even close to wearing through. Perfectly functional. $35 shipped.
Right upper mid fairing. Mint. $65 shipped.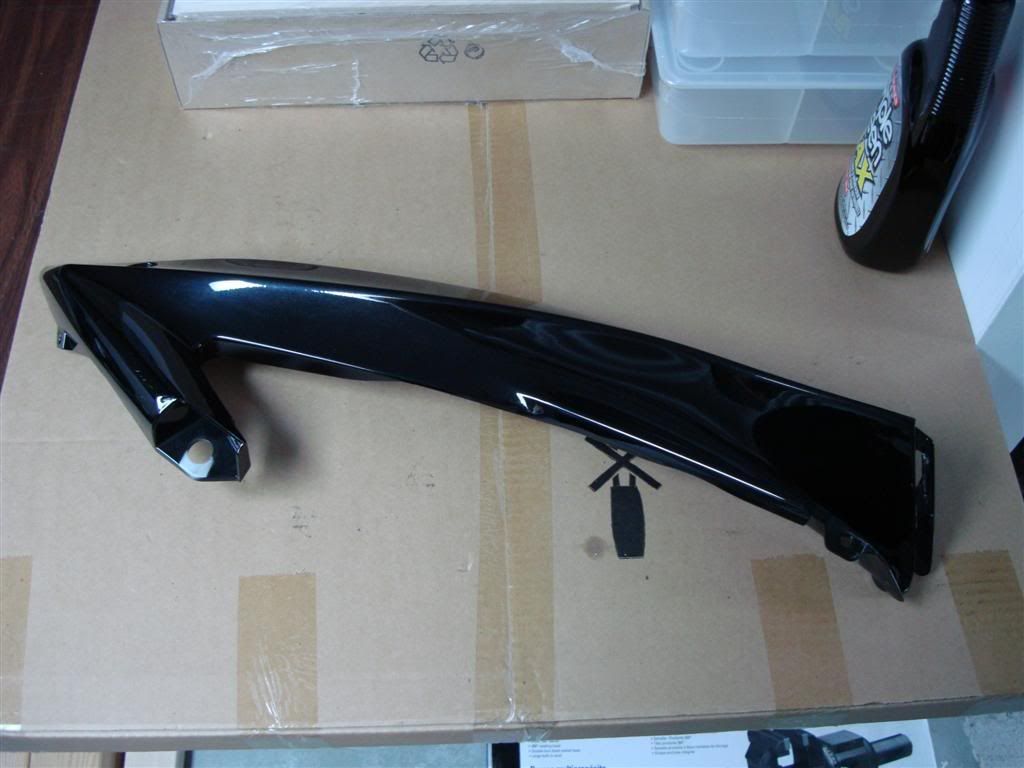 Right mid fairing. Excellent.
***SOLD***
Undertail section. Mint except for a hairline crack near the bottom left hole, you can see it in the photo. It's in a very inconspicuous place on the bike and could easily be perfected with some superglue. $50 shipped.
Stock exhaust with EXUP cables. Rashed and squished, but perfectly functional. EXUP valve still turns and everything. This would be good to keep for those of you who go to a track once in a while that has a noise restriction... $35 shipped.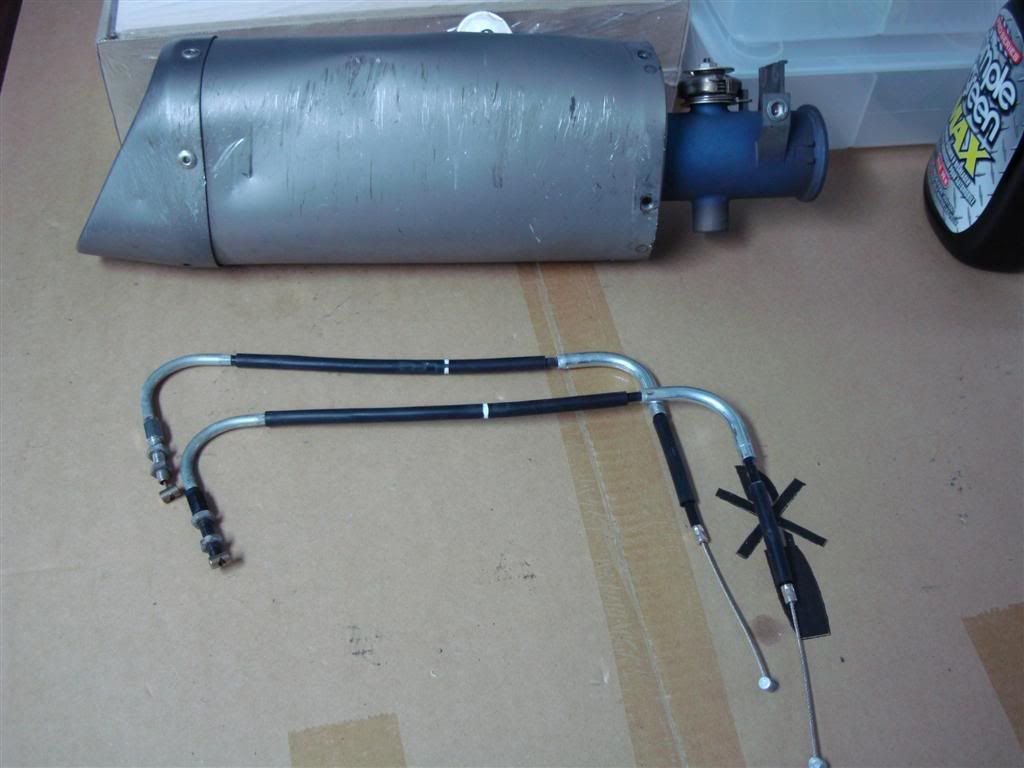 Stock windscreen. I painted the inside of this black and did a really nice job. I also have fast lane velcro on the inside of it for those of you who use a fastlane/ezpass transponder. There are scratches/scuffs on one side/top of it. $20 shipped
Right side headlight. Perfect except for the mounting tabs, which I've included if you want to try to repair them, should be an easy job. The left headlight was beyond repair. Either frankenstein this setup with a left side and you're good to go, or use this one for the parts (lens, reflector, etc etc).
***SOLD***
Front Ram air intake with indicator light. Mint, except that I drilled holes in the bottom in two spots to mount my bullet camera to take video.
***SOLD***
Ram air covers. One has some minor scuffs, other is mint.
***SOLD***